Section Branding
Header Content
Will the governor and Atlanta's next mayor get along? Fingers crossed for 2022
Primary Content
Atlanta mayoral candidates City Councilmember Andre Dickens and City Council President Felicia Moore are set to face each other in a runoff election on Nov. 30 for the coveted position of leading Georgia's largest city. 
But the job comes with a tall task: mending the strained relationship between the Democrat-run metropolis and the Republican-run state.
During the Atlanta Press Club runoff debate Tuesday night, both asserted they were up for the challenge.
"It is fundamental for the mayor to work with the governor and all of the state legislators," Dickens said. "I've talked to Gov. Brian Kemp already, and I've also prepared myself to meet with the Speaker of the House, Speaker [David] Ralston, tomorrow."
Moore boasted her long record in office and relationships built over time. 
"These are things that I've been doing for the decades that I've been serving as council member and now as president of council," she said. "I've had several meetings with the governor. I've met with the lieutenant governor."
When current Mayor Keisha Lance Bottoms announced she would not seek reelection during an emotional press conference earlier this year, she cited the difficulties of leading the city through the pandemic and the mass protests sparked by police killings across the country.
Her tenure was riddled with spats with Republican leadership that peaked at the height of the pandemic, when Kemp filed litigation against Bottoms and city officials, an act she told CNN at the time was "personal retaliation."
The pair sparred over COVID-19 policy decisions — Kemp refusing a statewide mask mandate while Bottoms instituted one within city limits. Later, while crowds of thousands marched past Centennial Olympic Park in downtown Atlanta as part of a nationwide call for social justice, the two batted back and forth on how to handle the law enforcement response.
State lawmakers also dangled the idea of a state takeover of Atlanta-owned Hartsfield-Jackson International Airport — an effort that has swirled for years but saw some legislative movement under Kemp's administration. 
Both Bottoms and Kemp have also been pulled by their respective parties into the national spotlight. Atlanta's high-profile Democratic leader was rumored to be on the shortlist for President Joe Biden's choice for vice president.
Kemp, facing retribution by former President Donald Trump, has launched a string of efforts to court back his deep-red base.
But the passing of the baton between mayors of Atlanta gives an opportunity for respite. 
In a statement to GPB News, Kemp's office offered cautious optimism about the future for the two leadership roles.
"Governor Kemp believes that Georgia succeeds when Atlanta succeeds — and vice versa," the statement said. "To move both forward, it takes a partnership between the mayor's office and the governor's office that can respectfully disagree on a wide range of issues … but come together at the end of the day to do what is right for the people of our state and capital city."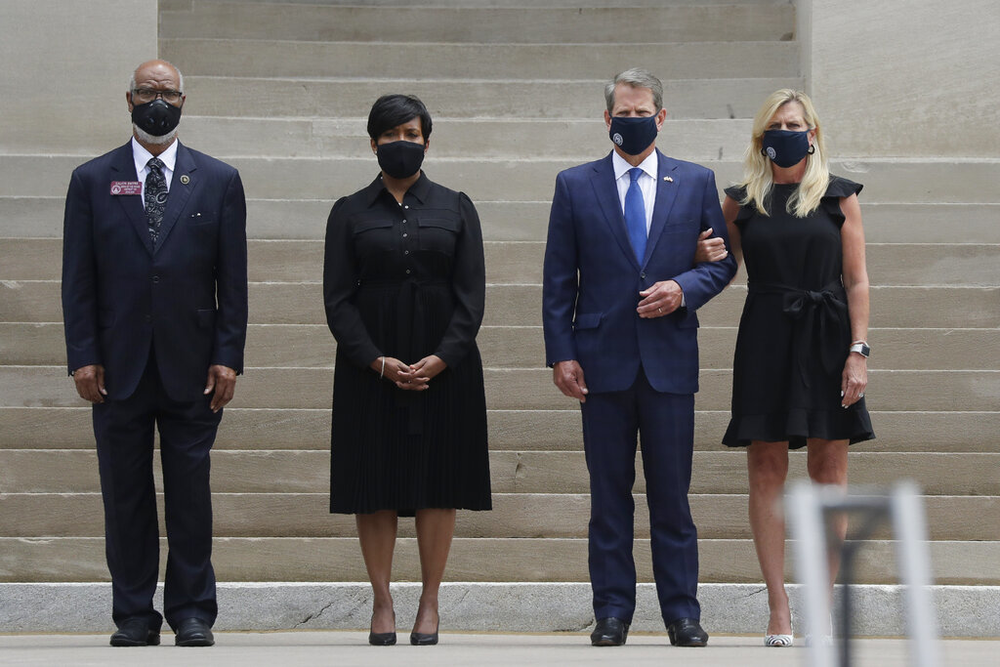 'Some personalities mesh and some don't'
Georgia's two Senate runoffs clinched by Democrats proved the state's a key player in the battle for control in Washington, D.C., and thrust state and local leadership into an enhanced national spotlight that political pundits don't expect to dim any time soon.
But the volatile state of relations between City Hall and the Gold Dome may still have a chance to be salvaged in the remaining months before 2022 — after which Georgia could potentially have a new governor.
Local leaders say the sudden spotlight on Georgia heightened the tension between Republican and Democratic leaders.
"The fact that Georgia has become a battleground state, and it became one following the election, and that [has] exacerbated I think partisan divides in our state," said Michael Thurmond, CEO of DeKalb County. "We found ourselves on the national stage and consequently, unfortunately, in some instances, we became victims of national political discourse and competitiveness."
Georgia's two tight U.S. Senate races, coupled with Trump's scorched-earth campaign to overturn the 2020 presidential election, put — and kept — the Peach State in the national headlines.
The 2022 gubernatorial race is expected to be a rematch between Kemp and high-profile Democrat Stacey Abrams who, since her unsuccessful run in 2018, has become a household name for her voting rights efforts. 
Thurmond, who has indicated his interest in launching a Democratic bid for governor in 2022 if Abrams decides to bow out, said, at the end of the day "politics is about relationships."
"I'm a Democrat from a very Democratic-controlled county dealing with a government run by the Republican Party," he said. "So those realities don't change."
Former Mayor Kasim Reed, who came in third behind Dickens in the November election, boasted about his relationship with former Gov. Nathan Deal during debates and highlighted his relationships built with GOP leadership in his time as mayor.
"No bills moved significantly to take Hartsfield-Jackson airport," he said during one Atlanta Press Club debate. "In fact, I had the best working relationship with a Republican governor of any Democrat mayor in the United States."
Charles Bullock, political professor at University of Georgia, noted that Reed and Deal at the time had a very close working relationship despite their partisan differences. Reed often "ran interference" between the state's initiatives and that of the Obama administration.
But to put it plainly, "some personalities mesh and some don't," Bullock said.
Moore pointed to her involvement as City Council President to prevent the state takeover of the airport.
"When we were under threat at the airport takeover, I was the one that was at every hearing," she said during Tuesday's debate. "I was testifying before the body. I was meeting with the author of the legislation and meeting with the leadership."
Whoever wins the runoff, Dickens or Moore will have a window of opportunity to mend the broken ties with the state as it is in both their and Kemp's best interests.
"I think both sides recognize that it's for the good of the state to have a good relationship between the city's chief executive and the state's chief executive," Bullock said.
A regular thread in Georgia's partisan battle for control is a Republican tactic to paint Atlanta as a failure of Democratic leadership. This election cycle, Kemp and Republican officials have highlighted a spike in violent crime within the city, although the trend is playing out across Georgia and cities around the country.
But the trend goes back decades. Rural politicians even in the 1900s ran "anti-Atlanta" campaigns to rally rural voters, Bullock said. Now, it's an even more defined partisan line between Democratic-held urban epicenters and sprawling, GOP-controlled rural areas.
Both Dickens and Moore face a new Republican-led effort they need to stop: a campaign by some Buckhead residents to secede from the city of Atlanta.
Dickens likened the airport takeover to the new push for Buckhead cityhood. 
"I will continue to work with the state to make sure they don't want to take over our airport and they won't be successful in that," he said Tuesday. "But also working with the state to make sure that they understand the very valuable resource of having Buckhead stay with the city."
Moore again touted her long-standing ties to leaders on both sides of the aisle, saying she has "been doing this for all the time that I've been elected."
Whether Atlantans pick Dickens or Moore, it's clear the next leader of the city will aim to work more closely with the governor in 2022.
Secondary Content
Bottom Content