Section Branding
Header Content
Explosive testimony on tap as witnesses queued up to testify in Arbery case
Primary Content
The fourth week of the trial of three white men charged with murder in the shooting of 25-year-old Ahmaud Arbery is set to resume this week with testimony from a lengthy witness list that includes police officers, GBI investigators, neighbors of the defendants and others set to testify.
Attorneys still aim to finish presenting their cases in mid-November despite a longer-than-expected jury selection process that's drawing criticism for producing only one Black juror in a case where race has become a central issue. The courthouse is in the predominantly Black city of Brunswick and the jury pool came from the city of 18,000 and surrounding Glynn County of about 70,000.
An extended version of the chilling video recording of Greg McMichael, his son Travis McMichael, and their neighbor William "Roddie" Bryan chasing in pickup trucks an unarmed Arbery as the Black man jogged through a suburban Brunswick subdivision played during the prosecutor's opening statement Friday and will continue to be a lynchpin in a case that's drawn national attention. 
The state's witness list includes GBI detectives and the Glynn County police officers who interacted with the McMichaels, Bryan and neighbors leading up to and after the shooting that occurred inside the Satilla Shores subdivision on Feb. 23, 2020. 
Testimony is set to resume at 9 a.m. Monday with the return of the first witness, Glynn County police officer William Duggan who responded in the immediate aftermath of the shooting.
Friday, Cobb County Assistant District Attorney Linda Dunikoski described the fear Arbery must have felt while he was pursued, saying that the actions and statements from the defendants discredit claims that they were making a lawful citizen's arrest of a suspected burglar or that Arbery's killing was simply self-defense.
Dunikoski said it's unclear the exact routes Arbery ran while trying to escape the McMichael's and Bryan, but said part of the harrowing experience included Bryan running Arbery into a ditch and Greg McMichael threatening to kill Arbery before Arbery was confronted with a shotgun by Travis McMichael.
Arbery's father, Marcus Arbery Sr., became too emotional Friday to watch his son's final moments and left the courtroom before the video began to play. Wanda Cooper-Jones, Arbery's mother, sobbed as it played on a screen in the courtroom.
"At some point Greg McMichael told police he told Arbery to stop or 'I''ll blow his f***in head off,'" Dunikoski said. 
"It's a much bigger picture," she said. "It's assumptions and driveway decisions. Mr. Arbery tried to run away from them for five minutes."
Defense attorneys are expected to rely on the testimony of residents of a neighborhood located outside the Brunswick limits to describe their concerns about reported property crimes and other suspicious activity in the months prior to Arbery's killing.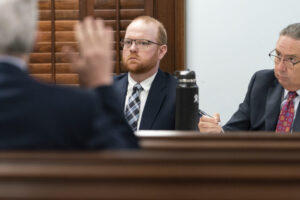 The defense said Friday they would prove the defendants acted appropriately, although the chase ended tragically when a cornered Arbery grabbed the shotgun that Travis McMichael had pointed at him. 
Over the next week, the trial is also set to focus tightly on legal definitions of Georgia's old citizen's arrest statute, which has since been repealed by state lawmakers, and what's considered appropriate self-defense.
Travis McMichael's attorney Bob Rubin said the fact the McMichaels called 911 before Arbery's death indicates they were trying to resolve the situation without harming Arbery.
"It is tragic that Ahmaud Arbery lost his life but at that point Travis McMichael was acting in self-defense," Rubin said Friday.
When the cell footage filmed by Bryan leaked online two months after Arbery's killing, it spurred the appointment of outside prosecutors and the GBI soon arrested the McMichaels on charges of malice murder, felony murder, aggravated assault, false imprisonment and criminal attempt to commit false imprisonment.
Two weeks later, Bryan was also charged with murder. Among the most important testimony will be in a deposition from Larry English about how his Satilla Shores home, which was under construction, became a focal point in the case.
This story comes to GPB through a reporting partnership with Georgia Recorder.
Secondary Content
Bottom Content