Section Branding
Header Content
Atlanta mayor's race is set for a runoff between Moore and Dickens. Kasim Reed is out
Primary Content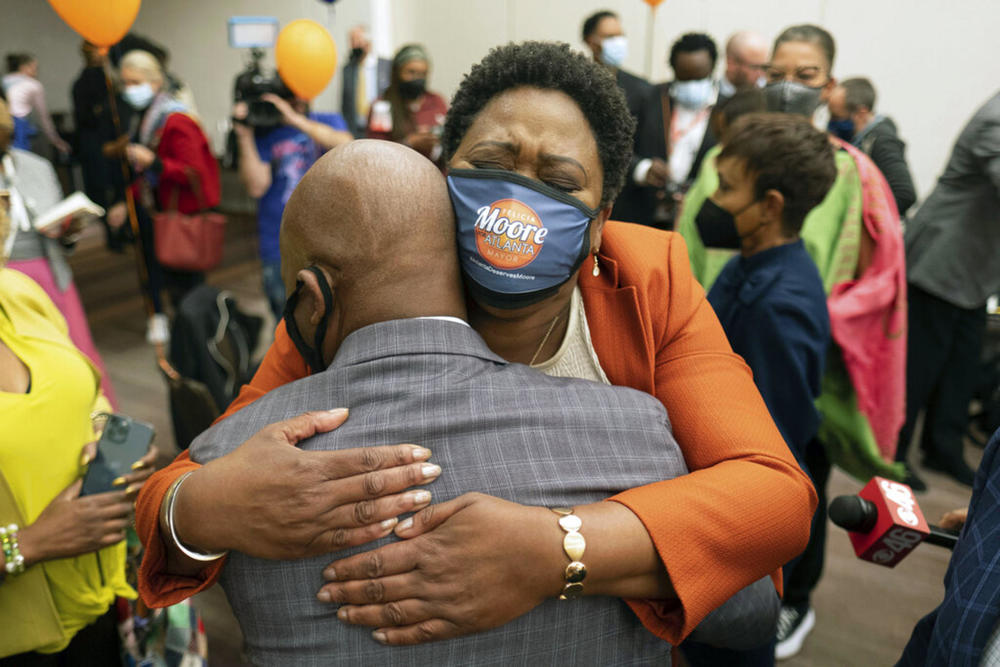 City Council President Felicia Moore and City Councilmember Andre Dickens will face each other in a runoff after emerging as the top two candidates in Atlanta's mayoral race — with Dickens edging out former mayor Kasim Reed.
When voters took to the polls on Tuesday, polls indicated a large chunk did not know who they were going to support. But after ballots were counted, Moore and Dickens earned enough votes to advance to a runoff.
Despite launching a comeback bid to serve a third term after leaving office in 2018, Reed — who had polled among the top two candidates despite his checkered past — came in third. Only the top two candidates advance to the runoff.
"As the race moves forward in a runoff, I will continue to work on behalf of the city that I love to ensure that we remain that shining city on a hill," Reed said in conceding defeat.
The frontrunner, Moore, received about 40% of the votes cast in the municipal election; Dickens followed behind with 23% and Reed came close behind with about 22%.
Buckhead businesswoman Sharon Gay came in fourth with just under 7% of the vote and City Councilmember Antonio Brown finished fifth with about 5% of votes.
Political experts expected Moore to face Reed in a runoff after early polls showed the pair as the top two candidates. During debates leading up to the race, other candidates targeted the pair's political records.
Still, polls indicated about 40% of voters were undecided, leaving an opening for any other candidate to capitalize on in the weeks leading up to Election Day. Dickens took advantage, building a strong ground game in the final weeks to surge into second.
After current Mayor Keisha Lance Bottoms announced she would not seek reelection in May, a crowded field of candidates lined up for the high-profile position.
But the leadership role of Atlanta will come with significant challenges. Atlanta is grappling with a spike in violent crime — much like is being seen across the country. The increase has led to an effort by some Buckhead residents to secede from the city completely.
Moore has a long record in Atlanta government, including serving as a city council member for two decades and city council president since January 2018.
Dickens was elected to a citywide seat on the council in 2013 and reelected in 2017.
Secondary Content
Bottom Content