Section Branding
Header Content
As a potential strike still looms, here's a look inside the lives of Georgia's film workers
Primary Content
For Cristen "Cat" Clark, working on film sets isn't a Hollywood daydream — she's made her living in Atlanta.
"What's interesting to me is growing up on this side of the country, I never expected to really be involved in the film business or TV as it were," she said. "Hollywood might as well have been on the other side of the planet."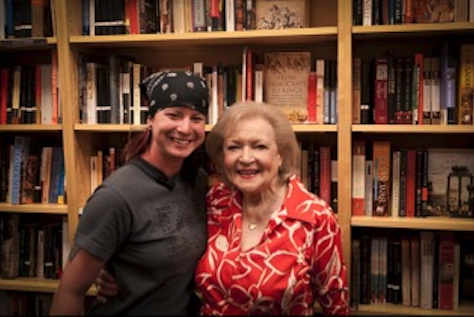 She is one of many Atlanta film workers who live a life that many moviegoers never get to see or consider — one full of shoots with long hours and challenging workloads. 
It's an industry that just 20 or 30 years ago would have been mostly foreign to Georgia. But thanks to tax credit incentives provided by the state in the past decade, Georgia is now a first choice for many production companies and major film studios.
Clark works in the lighting department for sets.
"We're in charge of obviously lighting the film sets, but we're also in charge of providing power to that film set by laying cable," she explained.
Her crews are often responsible for providing power not just for themselves, but other departments across a set, and sometimes will even lay down cables the day they arrive. Her work days are long, sometimes stretching 14 to 15 hours at a time, not factoring in travel times from wherever the production is shooting back to either her house or hotel.
Movies weren't always an aspiration for Clark, an Atlanta native. She initially wanted to be a sound mixer and imagined that one day her life would take her to New York and Los Angeles. However, when movies started to be made more frequently in Georgia, she found her calling.
Her wife of 16 years grew up in Los Angeles and around the film business, but does not work in it.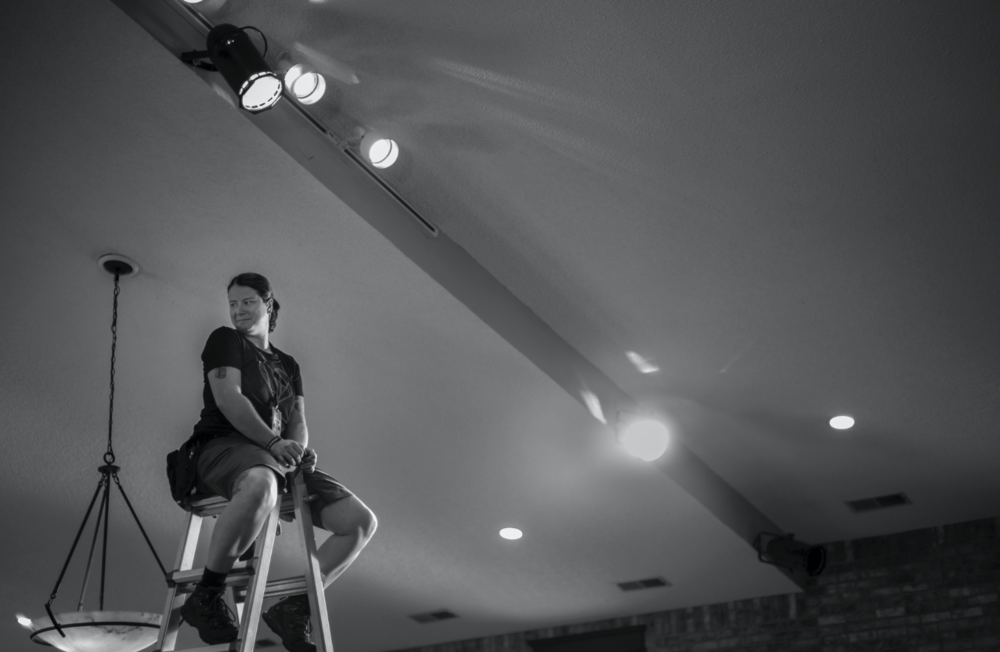 "Lo and behold, four and a half years or so after we met, I got involved in the film business and we all we think it's terribly ironic that I had absolutely no intention of ever doing it," Clark said with a laugh.
She and her wife have two children, 6 and 3 years old. She said the job and its hours can make a family life difficult.
"The amount of hours that we work, I'm lucky if I get to see my kids before they go to sleep at night on Monday," she said.
The hours can also make parenting a challenge.
"For my wife, she's told me on multiple occasions, 'During the week, I feel like a single parent,' and that gets me every time she says something like that," she said.
Those long hours are a point of contention that has been raised by the International Alliance of Theatrical Stage Employees, which authorized a strike last month amidst strained negotiations with film and television producers. Union members are set to vote on a negotiated settlement in the coming weeks.
"We have a joke where we say, 'Oh, you work 40 hours a week? What are you going to do after Wednesday?'" Clark said with a laugh.
Mike Black, another Atlanta resident, works as a key grip (Black explains that a key grip is "in charge of the camera and lighting setups") on sets across the state and country. He's been a part of some of the biggest Marvel Studios blockbusters in the past few years — including Guardians of the Galaxy, The Avengers, and Captain America. 
He started work as an artist, but when he had children, he realized he needed to look for a new job.
"That's when the film industry took my soul," Black joked.
His Tuesday began at 4 a.m. From there, he went to get a quick breakfast and then drove to the set. He spent the next several hours securing different cameras and setting up tall cranes to begin shooting, while waiting for the director and assistant director.
"All the while, it's pouring down rain and stuff is blowing everywhere," he adds. "And we're just trying to secure everything in the space."
Black has a 13-year-old and a 7-year-old. He said there is a challenge in finding the balance with his career's long hours and tough work schedule and his home life.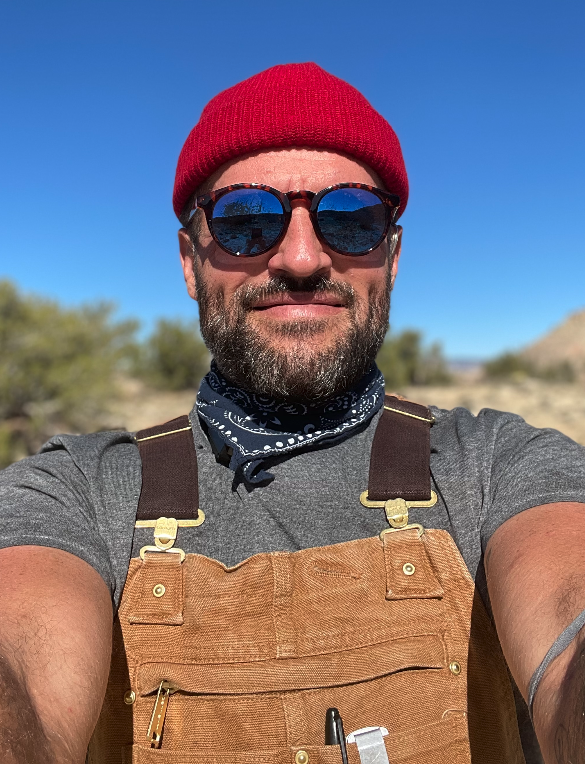 "It's nearly impossible," he said. "You have to put a lot of effort, a lot of conscious thought to do it properly. So it's a fine line of work and home life. It's hard and some people never find it."
Black has also seen the effects of long hours on both his life and his peers.
"Everybody's fighting for not being gone for 16 hours, being paid properly and to actually be respected by these billion-dollar companies that we make money for," he said."We have to beg for scraps."
Still, Black said that the job is a passion for himself and many of his coworkers, who have found a unique camaraderie with each other on set.
"There's good days and bad days, but we do rad stuff," he said. "So, I mean, what better way to spend the day?"
Woody Trend moved to Atlanta from Kansas 17 years ago and began work in the film industry eight years ago. He is a lead on sets across the state, working in set decoration.
"I work directly under the set decorator, who puts all the set decoration elements into the sets on movies and television," he explained.
He usually begins early at 6 or 7 a.m., often responsible for a large team at the very beginning of his work day.
"My job is to supervise all the set dressers," he said. "Our goal is to support the vision of the set decorator and the production designer. So usually, I'll start at the shop or the location, get those guys started and basically just manage anywhere from five to 30 people throughout the day."
From there, Trend gets down to the business at hand.
"Prepping sets, coordinating, picking up all the set dressing that goes inside the sets, coordinating the taking down of sets and the return of all the items we've rented," he said. "It's basically just coordinating people and — for lack of a better word — inventory."
Trend said the reward of his job comes from creating things across different mediums.
"You're working under the ultimate direction of a production designer and then the decorator and helping facilitate what essentially starts as a drawing into something that's three-dimensional," he said. "I feel like you're creating art on a lot of levels, especially when people enjoy it."
Another reward: The job has also opened up Atlanta for him. In working on sets, he's seen a side of the city that is often unavailable to the average citygoer.
"You get a lot of access to different locations in my adopted hometown of Atlanta that you wouldn't have access to," he said. "I've seen incredible rooftop views. It's one of the best parts of the job."
The downside is that Trend is often beholden to a strict shooting schedule and the obligations of what productions need on a day-by-day basis. He said it can often be dificult to take a day off.
"Whatever the shooting crew needs, we tend to sacrifice a lot in our personal lives in order to facilitate that happening," he said. "When you've taken a show and you've committed to a show, it's really hard to plan anything. If you make plans, you have to be able to be willing to cancel them at a moment's notice if something comes up."
It's those same long hours that have created a unique bond for him and his team. They are often on sets for 12 hours or longer at a time and get to know each other very well. The struggles of shooting amidst the pandemic have only added to that.
"You're stuck together for 12 hours a day, often six, seven days a week at times, especially in the past year," he said. "You make bonds."
Brian Marino works on construction for sets in Atlanta. While he said his schedules are more consistent than some other workers on set, workdays for him and his team are still long.
"We'll start at 6 a.m. and we'll either do a 10-hour day or 12-hour day," he said. "We'll do those five, six or seven days a week."
Marino and other carpenters will often be some of the first people on a set to begin working before a production begins.
"We are the first department that is hired," he said. "We can start on a production anywhere from four to eight weeks before and maybe even longer before other departments start showing up, before the film crew starts showing up to film things."
Because of that, the job also brings with it a unique insecurity.
"There have been a lot of shows that I have been on that, you know, by the time camera shows up, we get laid off because there's nothing left for us to build and they only want to keep around like four people," he said.
As with others in his field, the long working times become difficult.
"It is not unheard of for construction to work 30, 40, 50, 80, 90 days in a row," he said. "There's no real protection in it to prevent that sort of abuse."
For Clark, the hours aren't just an inconvenience. She worries that it can become a danger for her peers.
"It breaks down to maybe six hours of sleep," she said. "And you do that every single day on top of a 14-hour day, by Thursday or Friday, you were so fatigued that maybe you missed something you shouldn't miss."
The film industry has been under new scrutiny since last week when a prop gun misfired on the set of Rust in New Mexico, killing a director of photography and injuring the director. Some news outlets have reported that union members had walked off the set prior to the incident because of unsafe working conditions.
"I go from sad to anger and then to even fear because you're afraid that something like that could happen on the set that you're on," Clark said. "I can't speak to any of the details because I wasn't there, but it's it just feels like it shouldn't have to happen."
Black had similar thoughts.
"It's production trying to save a dollar and the wrong people are in the wrong place at the right time and somebody died," he said. "That's what I think happened."
Whether or not IATSE members agree to the proposed contract between the union and producers is still up in the air, but the past several weeks have now shone a new spotlight on the people in an industry that has done much to change the landscape of Georgia.
Trend said that he hopes more Georgians will begin to see that.
"We're your neighbors," he said. "You know, your friends, your fellow Atlantans, all working super hard and grateful for the opportunity, trying to increase the value and the culture of film. We're looking forward."
Secondary Content
Bottom Content