Section Branding
Header Content
Opening arguments begin in trial of three former police officers charged in murder of Eurie Martin
Primary Content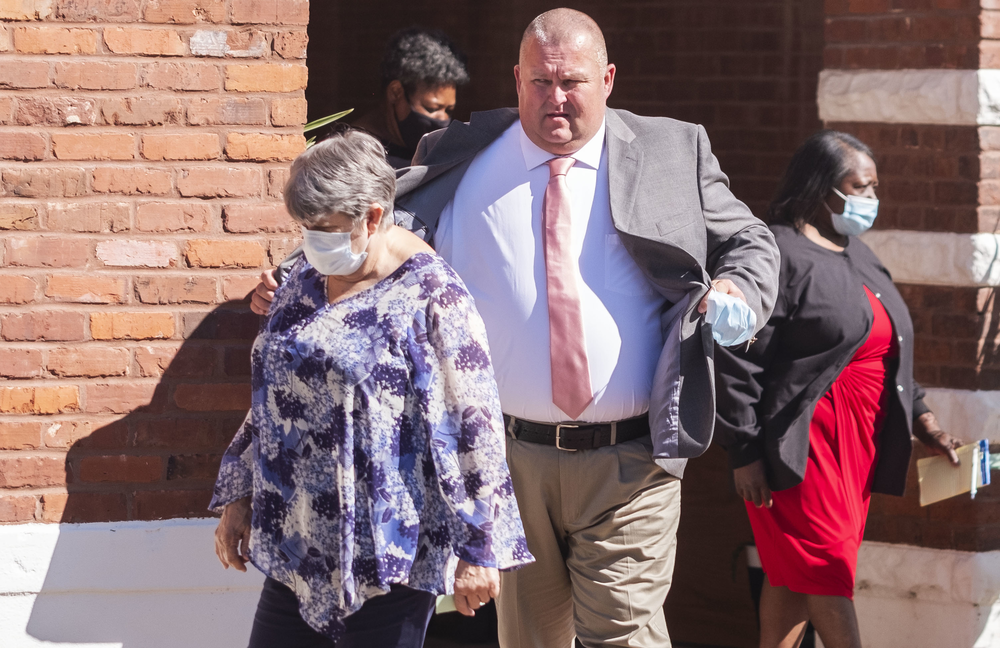 Jurors heard opening statements Thursday in the trial of three former Washington County sheriff's deputies charged with murder in the 2017 stun gun death of Eurie Lee Martin. 
At the core of the argument is whether Martin had a duty to stop for officers when they responded to a 911 call about a suspicious person on a blistering July day. It's a question already dealt with in some detail by the Georgia Supreme Court before the deputies were brought to trial in the Washington County Superior Court. 
In her opening statement, prosecutor Kelly Weathers said Martin, a muscular Black man, suffered from schizophrenia and appeared disheveled when then the three white deputies, Henry Copeland, Michael Howell and Rhett Scott, encountered him in the middle of a 30-mile walk on rural Deepstep Road. 
"Being a strange-looking stranger, being out of place, being misunderstood is not a cause for detention," Weathers said. "It's not a cause for tasing. It's not a cause for arrest. And it was not a cause for Eurie Lee Martin, a human being, to die." 
Defense attorneys for the three deputies said when Martin refused to comply with officers' demands to stop, he "bowed up," or appeared physically threatening.
"Right then, when the deputies were witnessing that, they were witnessing a crime being committed right there in front of them," defense attorney Pierce Blitch said. "It's called 'felony obstruction of a law enforcement officer.'" 
Deputies would ultimately electrocute Martin for two minutes total with stun guns before he succumbed to heart failure. The local medical examiner called that a homicide. 
The defense position essentially resurrects an earlier argument already presented to and dismissed by the Georgia Supreme Court. 
Last year, attorneys for the officers argued before the state's highest court that the deputies were immune from prosecution in Martin's death under Georgia's "Stand Your Ground" law. 
The high court ruled then deputies were not so shielded since they, rather than Martin, started the violent encounter. In arriving at that decision, the court opined that it looked like Martin had never committed a crime that would have given the deputies legal cause to stop him in the first place. 
"Officers cannot have a kind of generalized suspicion that 'I don't know that there's any crime'… I mean, they can go talk to a person, but they cannot do any kind of stop or command to stop until it's a reasonable suspicion of some crime," now-Chief Justice David Nahmias said in the 2020 hearing. "A citizen has a right to say, 'Go screw yourself, officer. I'm walking away.' Right?"  
Defense attorneys also blamed the deputies' lack of training in dealing with the mentally ill to explain why the encounter turned deadly. 
The trial will likely conclude next week.
Secondary Content
Bottom Content