Section Branding
Header Content
Who wins, who loses in Georgia's redistricting? Here's a preview
Primary Content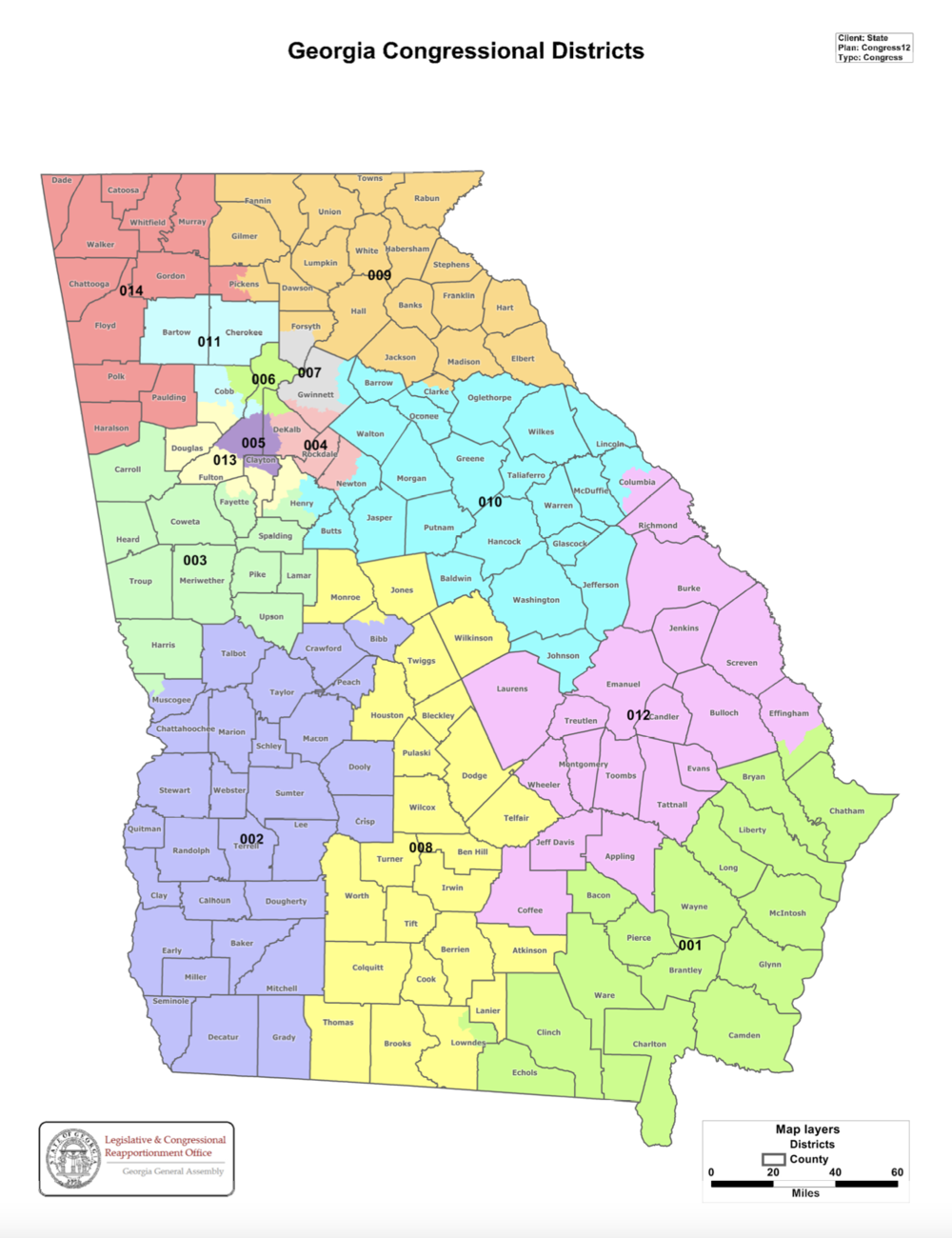 A special state legislation session is less than a month away. Starting on Nov. 3, state lawmakers will tackle redistricting when they will draw new boundary lines for Georgia's state House, Senate and U.S. House districts. 
That process shapes Georgia's power for the next decade. 
GPB political reporter Stephen Fowler joined All Things Considered host Rickey Bevington to preview what Georgians should expect to change. Hint: There will be winners and losers. 
Rickey Bevington: Walk us through what exactly state lawmakers will be doing with this special session and when will it happen? 
Stephen Fowler:  Nov. 3 is when the state House and Senate are going to get together under the Gold Dome in Atlanta. They're going to redraw the U.S. House map and their own 56 state Senate seats and 180 House seats. 
Now they've got to follow rules set by state and federal law. The seats must represent districts with comparable populations. The congressional seats must be equal, but within one voter of each other. That means each of Georgia's 14 U.S. House districts have 765,136 plus or minus one person. And Rickey, those lines must consider things like compactness and consideration of what are called "communities of interest," a.k.a. similar neighborhoods, racial or socioeconomic areas. That means you can't just carve up Atlanta and the 10 different districts that run all the way to Alabama or Florida. And really, you try to avoid splitting cities or counties in general unless you have to. 
Now that's going to be hard to balance. Some districts are overpopulated, while many are underpopulated, and any changes you make to the lines of one district must be done by tweaking their neighboring ones, too. Not to mention the fights over political battles. 
Rickey Bevington: Speaking of political battles, Republicans are looking to use redistricting in their favor. How could the draft map of Georgia's 14 seats in the U.S. House change the state's political representation in Washington? And we should stress: This is just a draft. But it could change things, right?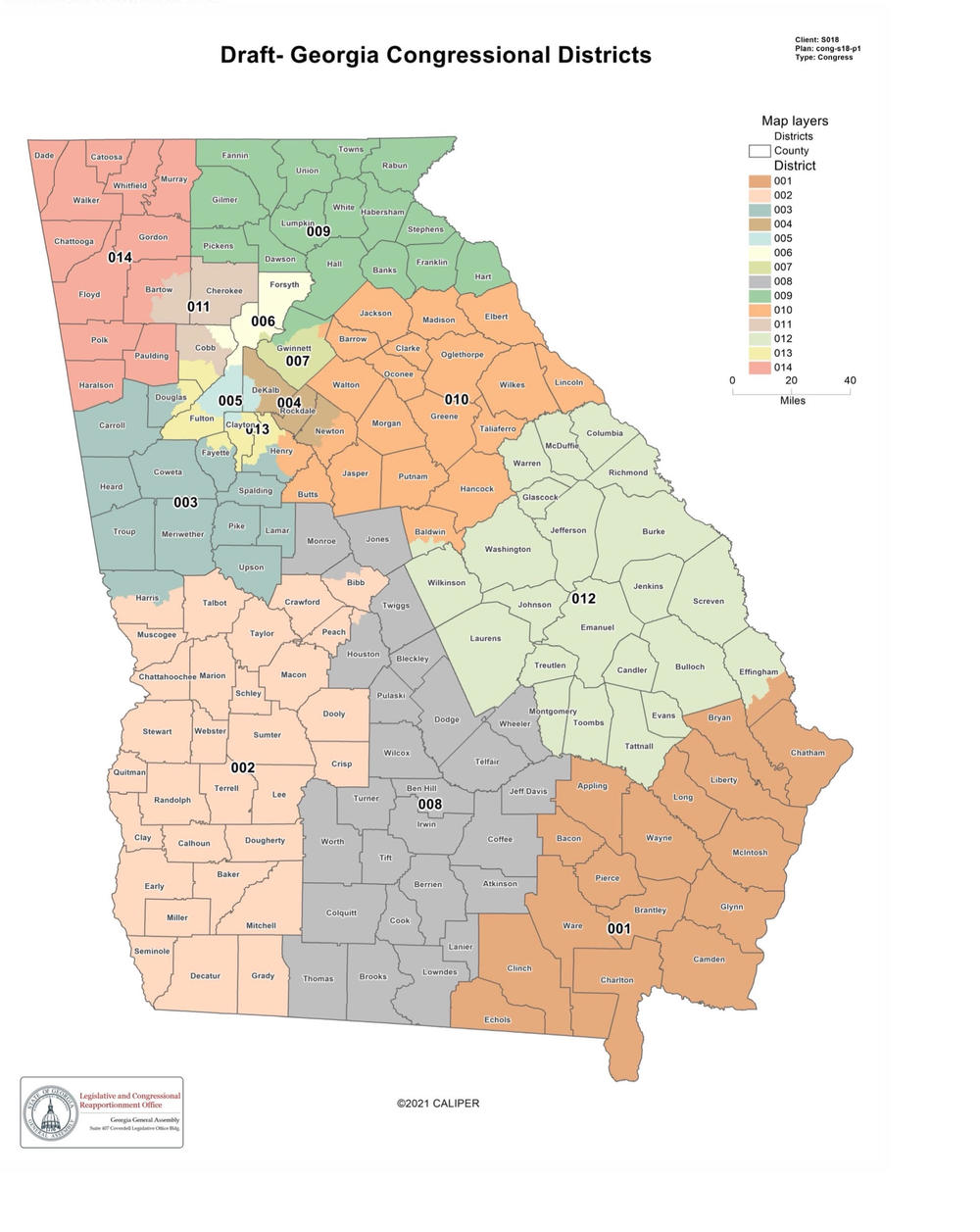 Stephen Fowler: So a couple of weeks ago, Lt. Gov. Geoff Duncan and the Senate redistricting chair John Kennedy, along with Senate leadership, put out a map. And the biggest takeaway there is that Republicans want to try to make [Democratic] Rep. Lucy McBath, a suburban Atlanta seat, more conservative. This would take the 6th District and remove parts of DeKalb County that are in it and add in the conservative-leaning Forsyth County. In turn, the 7th District, currently represented by Democrat Carolyn Bordeaux, would shrink to be just Gwinnett County and be a very heavily Democratic district. That would make her seat pretty secure now. 
But — and here's the big "but," Rickey — this map is only from one of the chambers. This was introduced by Senate leadership, and it's got to be approved by both the Senate and the House. And so for now, we don't know what the State House wants the congressional maps to look like, and there are some other questions. The data shows that doesn't really do as much to shore up Republican incumbents, which is what you would want to do as the party in charge. Another potential problem is that it makes Democratic Rep. Sanford Bishop's district in Southwest Georgia no longer majority Black, which could potentially run afoul of the Voting Rights Act by removing Black residents' ability to elect a candidate of their choice. 
Rickey Bevington: Stephen, Georgia has changed a lot in the last 10 years. Republicans appear to be losing their near-total grip on statewide politics, of course. Electing Joe Biden. Rev. Raphael Warnock. Jon Ossoff. How will those shifts affect how Republicans redraw districts? 
Stephen Fowler: Well, there's going to be a lot of changes. There are more Black, Latino and Asian American Georgians now, and there are more districts that will have to reflect the state's diversity. People are packing into the metro Atlanta area and leaving rural Georgia in droves. That means you'll see fewer lawmakers at the State House in South Georgia and more from Atlanta's northern exurbs as those boundaries shift to match the population changes. And because of all of that, I wouldn't be surprised if GOP lawmakers give up a couple of Republican seats in exchange for making the existing ones safer throughout the entire decade. 
Rickey Bevington: It's going to be a very busy year next year, especially in Georgia politics, and you're going to be helping us understand it all by relaunching your podcast. Tell us about that. 
Stephen Fowler: Absolutely. So Battleground: Ballot Box is coming back on Nov. 3 — same as the legislative special session — to recap the biggest stories that evolved in 2021 and track them all through 2022. Whether it's profiling our U.S. Senate candidates or digging deep on the policy issues Georgians face, it's going to be what you need to know. And you can listen to all the existing episodes at GPB.org/Battleground.
Secondary Content
Bottom Content