Section Branding
Header Content
For some, faith, not science, is key for COVID vaccine decisions. How do you talk about both?
Primary Content
By the time Marlous Thomas found his way to a vaccination event outside a hair salon in Columbus, he'd already spent time in the hospital with COVID-19 and double pneumonia. 
"And it's just by the grace of God that I'm still here," Thomas said. "Because COVID itself was just taking people out."
Thomas is a pastor at Ebenezer Baptist Church in Hurtsboro, Ala., about 30 miles west of Columbus. He said even after being hospitalized, he had to think hard about whether or not to be vaccinated. 
"Because it's either you gonna trust God or you ain't gonna trust God," he said. "I had to really study this thing out, and I've been wrestling with it."
Meanwhile, visiting the same clinic was Dr. Cameron Webb of the White House COVID Response Team. It was just one stop on a swing Webb made through Alabama and Georgia.
The PA from the live broadcast by the local hip-hop station by the salon's front door bumped while, beneath a pop-up tent, nurses got ready to administer the next inoculation as the pastor and the doctor sat down to talk.  
"My father-in-law is a pastor," Webb said. "We spend a lot of time in the Word. And he's had so many folks in his church, the rural community, just talking about the virus and the vaccine and where is God in that conversation."
There's plenty of data  describing how vaccines for COVID-19 save lives. But for many, science is not the first place they turn to when making decisions about whether or not to be vaccinated. Like Thomas and even Webb, they are looking for the place where God is present in the numbers.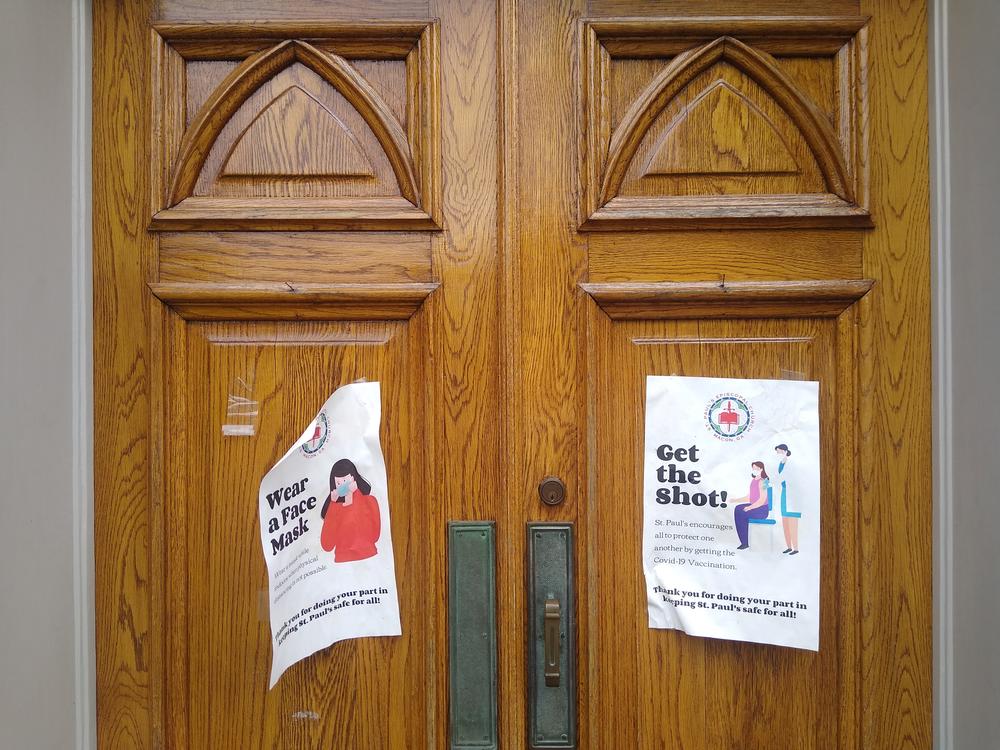 Darlene Flaming is a professor of religion at Mercer University. She said that's a conversation she continues to have with people in her own family. 
"I have some that, right when the vaccine came out, they were lined up and just waiting to get it," Flaming said. "I have others in my family that are anti-vaccination, not only for COVID but for others. And then I have ones that were in that hesitant category of just sort of waiting."
All have lives grounded by faith traditions, she said. Flaming said a strong current running through many of the faith traditions of the South, particularly with Protestant Christians, is a culture of faith healing. 
"Whether it's 'I'm going to go specifically and see the televangelist and have hands laid on me' or just 'I'm going to pray and God will heal me. And, you know, if God doesn't, then it was just my time,'" Flaming said. 
That notion of "It's just my time" has a name: predestination. It plays a big part in the theology of John Calvin, one of the foundational figures in the Presbyterian Church. But Flaming said even the man whose last name often pops up in texts right next to the word "predestination" had his limits during the years of the Black Plague in 16th-century Europe.  
There was a question among ministers then about how to tend to victims of what is now thought to have been a hemorrhagic virus. In Calvin's day, that virus killed as much as a third of the population in some of mainland Europe's most important cities. So, Flaming said, Calvin told ministers to use their own judgment. 
"They can choose whether or not to go," Flaming said of Calvin's guidance. "They don't have to go in every single situation. And they can take some precautions, too, on how close they might get to that patient or, you know, wearing the mask."
In the 16th century, that would have been the beaked plague masks you may have seen images of. 
Since the summer, Flaming has been working with college students who, in turn, have worked with faith leaders. The ultimate aim is to talk to the church faithful and suggest to them that taking action against the coronavirus — to be vaccinated — is not an affront to God. The program is called "Faith in the Vaccine."
Flaming said the first step in the conversation is listening to and respecting faith. After trust is established, she said there is one obvious place to begin talking. 
"We talk about 'Love your neighbor as yourself,'" Flaming said.  "I mean, certainly you see this in the Christian scriptures, but also in other scriptures, too."
In the Gospel of Mark, loving your neighbor is the second most important commandment Jesus gives, right after enjoining his followers to love God. But the idea is central to most world religions. 
"It might be that out of an ethic of love, of care for others, that one would be willing to say, 'Oh,  well, I, I know God's got me, but maybe I can do things  to help my neighbors,'" Flaming said. 
Getting vaccinated in order to slow the spread of a highly communicable, deadly virus to your neighbors, the reasoning goes, is an act of love. 
So far,  this tack has helped Flaming's students find collaborators in both Latino and Black religious communities. And this has led to a number of vaccination events. 
But Flaming said so far her students have not found a pastor in their third community of focus, the white evangelical church. That could be because in that community, vaccination is often wrapped up with the theology of personal liberty.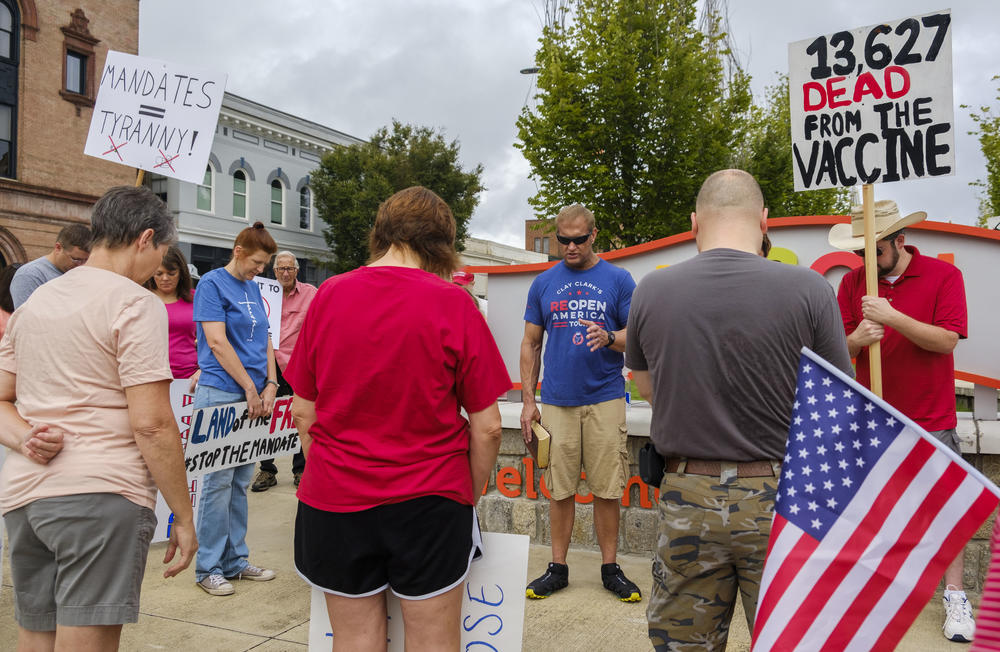 This position was on display over the course of a number of anti-vaccine protests in downtown Macon in August. Georgia gubernatorial candidate Kandiss Taylor spoke at the last of those, after the prayer circle that kicked it off and where placards were decorated with falsehoods like '13,627 Dead From The Vaccine."
"America exists because we came here so we could worship Jesus Christ freely," Taylor said. "This nation belongs to Jesus. It does not belong to communism."
According to a recent survey from the Kaiser Foundation, white evangelicals including Taylor remain the least vaccinated minority in the country. Only Republicans and the uninsured were said to have gotten the shot at lower rates. 
"If people want to take them, that's their free will," Taylor told the approving protesters. "But you will not mandate that on people. It's not OK. Ever."
Back in Columbus, the White House COVID Response Team's Webb had an answer to the question of where in the COVID vaccine one could see evidence of God. 
"It's entirely possible that God's hands were on the scientists who developed it," Webb said. "His words are in the mouths of the physicians who he told you to go get it, right?"
Thomas came to a similar conclusion after his stretch in the hospital COVID ward. 
"The right people was at the right place at the right time, helping me through what I needed to get through — along with God," Thomas said. 
And so after realizing he'd never have survived COVID alone, Thomas went ahead and got the shot.
Secondary Content
Bottom Content