Section Branding
Header Content
Georgia To Get Fewer Monoclonal Antibodies As Feds Take Over Supply
Primary Content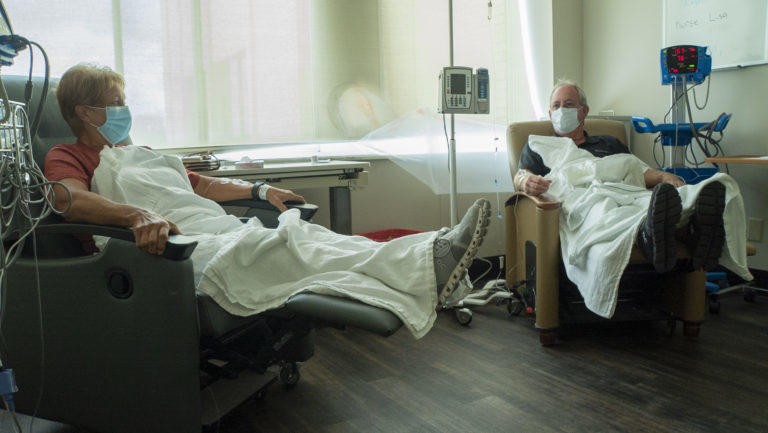 A recent surge in demand for powerful COVID antibody drugs has generated concerns about supply shortages in states that are heavy users of the treatment, including Georgia.
About 70% of these lab-created drugs are being used in the Southeast. With that uneven distribution, federal health officials recently decided to take over supplies and allocate them through state agencies.
Georgia and other Southern states are expected to get less supply of the monoclonal antibody drugs while the shortage continues.
To be most effective, the antibody cocktails must be given within 10 days of COVID infection or exposure.
Michael Purvis, CEO of Candler County Hospital in eastern Georgia, said his hospital was down to just four doses over the past weekend, then got a resupply of 48 more on Monday.
The hospital normally delivers 100 to 125 doses to patients a week, he said. "I'm not going to get as much,'' Purvis said.
South Georgia Medical Center last week said that it postponed monoclonal antibody infusion treatments. The Valdosta hospital reported giving more than 100 doses per day. Also last week, Colquitt Regional Medical Center in southwestern Georgia temporarily closed its infusion center.
Monoclonal antibodies are lab-made proteins that mimic the immune system's ability to fight off harmful antigens such as viruses.
The treatment is authorized for people newly infected with COVID who are at high risk of hospitalization and for high-risk patients who have been exposed to the virus.
Those eligible include people who are overweight or obese; those who have diabetes, heart disease or other illnesses; and those with compromised immune systems, Kaiser Health News recently reported.
The antibody cocktails have been shown to reduce hospitalizations by 70% when given promptly to high-risk patients.
Addressing the supply squeeze, the federal government has bought 1.8 million more doses, expected to arrive in the fall and winter.
Anna Adams, a Georgia Hospital Association executive, said that "we've got hospitals that have had to cancel appointments and shut down their [infusion] sites, waiting for supplies."
"If people don't have access to this, their chances of being hospitalized are much greater,'' she said, adding that some smaller hospitals "have had the busiest sites.''
Damien Scott, CEO of Emanuel Medical Center in Swainsboro, said Monday that he believes the treatment is "one of the most effective tools'' to prevent hospitalizations.
His hospital has given 200 such doses. Successful outcomes of the treatment, he said, help ease the COVID burden on Emanuel's ER and hospital beds during the recent surge.
The federal government is covering the costs of the doses, and hospitals and other providers can charge insurers for administering the treatment.
As of Sept. 15, the federal government has shipped about 2.4 million treatment doses to more than 8,000 sites across the U.S.
About 1 million of those treatments, or about 44%, had been used, according to Dr. Meredith Chuk, who is leading the COVID-19 monoclonal antibody therapeutics team for the U.S. Department of Health and Human Services.
Chuk, speaking in a videotaped presentation to state and territorial health officials, said demand has soared, with shipments of the treatments climbing from about 10,000 patient courses a week in June to more than 200,000 a week in recent weeks.   "It was really not sustainable to ensure that we had product across geographies and across time," she said.
Demand in several Southern states soared in recent weeks, especially in Florida, where Gov. Ron DeSantis opened more than two dozen monoclonal antibody treatment sites and eased requirements to receive them.
"We had about 70% or our supply going to a small portion of the country, given the surges, and we really want to make sure that we have product and that it can be equitably used," Chuk added.
The Georgia Department of Public Health is distributing the state's supply of the drugs. The agency said Monday that it's "not aware of any facilities that lack supplies of monoclonal antibody treatments at this time."
"However, hospitals and clinics should plan their appointments around their current inventory,'' not what they order, the department said. Allocations will be made based on factors including utilization rates, inventory, and storage capacity.
"It is much easier to get a vaccine than risk becoming seriously ill with life-threatening complications," said Dr. Kathleen Toomey, commissioner of Public Health, in a statement last week. "Monoclonal antibodies are in short supply and high demand and hospital beds are full. What Georgia does have is enough vaccine for all Georgians aged 12 and over to be vaccinated."
Antibody cocktails are "not a substitute for vaccine, by any means," Dr. Christian Ramers, chief of population health and an infectious disease specialist at Family Health Centers of San Diego, told Kaiser Health News recently.
Phoebe Putney Health System, based in Albany, said Monday that it has about a two-week supply of doses on hand. It's expecting a much smaller shipment than normal this week.
A good sign for antibody supply is a lower number of infections, said Phoebe Putney spokesman Ben Roberts. "Demand is going down as cases are going down,'' he said.
This story comes to GPB through a reporting partnership with Georgia Health News.
JoNel Aleccia of Kaiser Health News contributed to this article.
Secondary Content
Bottom Content