Section Branding
Header Content
New Buckhead City Feasibility Study Paints Incomplete Picture Of Proposal
Primary Content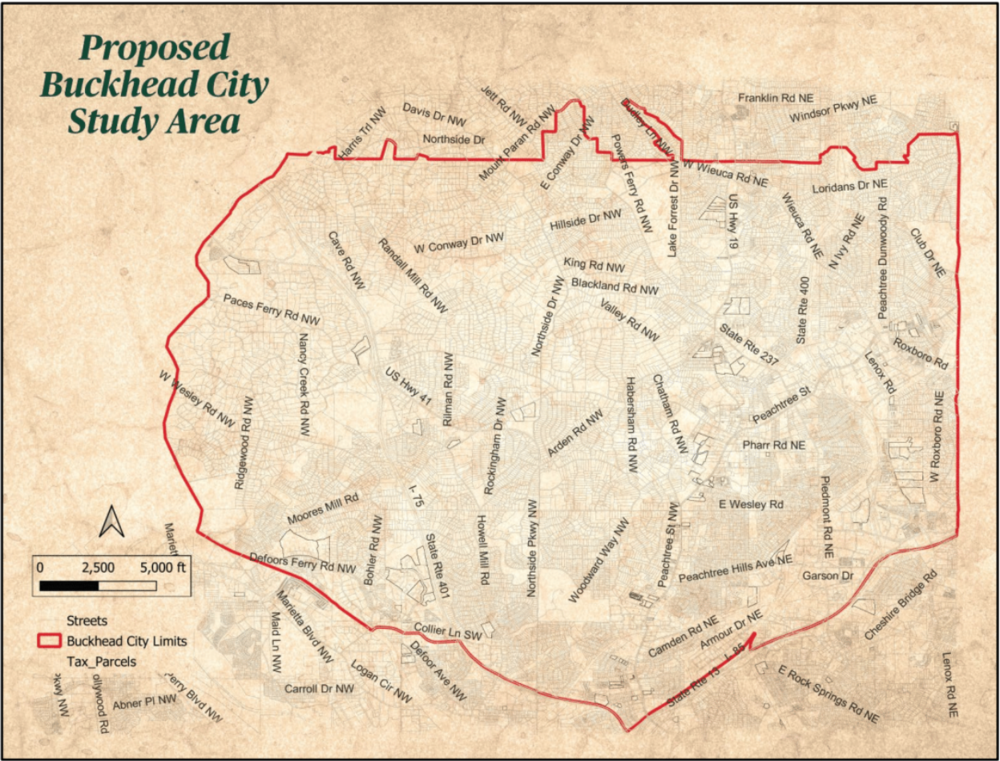 A newly released study commissioned by a group seeking to de-annex about 20% of Atlanta for a new Buckhead City says the endeavor would be financially feasible, but the study leaves out logistical, political and other budgetary costs of such a drastic measure.
The Valdosta State University Center for South Georgia Regional Impact estimates Buckhead City would have revenues of over $203 million with expenditures of about $90 million — leaving a massive surplus of over $113 million a year. But many of the estimated revenue and expenditure sources are imprecise and could paint a rosier picture than the reality of a new city — not to mention the effects of de-annexation on the city of Atlanta's budget.
Buckhead City would be home to about 104,000 people, or about 21% of Atlanta's current population. Most of its revenue would come from real property taxes, which the study estimates to be nearly $120 million, or about 28% of Atlanta's real property tax collection from fiscal year 2020. 
J.C. Bradbury, an economics professor at Kennesaw State University, said the study's findings are the roughest of estimates and it was not designed to critically look at how a new city would operate financially.
"It appears to be based on per capita translations of expenditures in Roswell and Sandy Springs to the geography of Buckhead," he said. "It is a rather simple approach that is unlikely to provide an actual picture of the fiscal reality and challenges a new Buckhead City would face."
For one, much of the estimated revenue and expenditures are based on taking Atlanta's overall values and multiplying them by the percentage of current Atlanta population that would be included in the new city.
This results in likely over- or underestimation of resources, especially for things like hotel/motel tax that other cityhood studies included with more concrete estimates. For example, the proposal for the City of Vista Grove identified five hotels in its study area. 
The Buckhead City Committee's press release also claims that the $203 million proposed revenue stream is only 6% of Atlanta's budget, when accounting for the city's spending and money for Atlanta Public Schools, but the study does not include any money to pay for schools, trash collection, water or other services, and it is unclear how those services would financially affect Buckhead City. 
Perhaps the most detailed part of the study deals with public safety, with police, fire and emergency comprising nearly half the proposed city's budget. Buckhead City would have a 250-person police force for 25 square miles that would include 175 patrol officers making at least $50,000 a year.
Violent crimes in Atlanta — and the upscale areas that make up Buckhead — have been a large factor in the push to have the area secede from the city of Atlanta, led by Bill White, a longtime political fundraiser.
While cityhood issues are not normally something that rises to the level of statewide or federal officeholders, Republican U.S. Senate candidate Gary Black held a press conference Monday in a Buckhead-area shopping mall parking lot to endorse the process that could eventually allow residents within the new city to vote on its future. But success is far from guaranteed. 
An analysis of election results in the precincts that comprise the hypothetical Buckhead City shows it would be a Democratic stronghold, giving 2018 gubernatorial nominee Stacey Abrams about 55% of the vote and President Joe Biden more than 60% of the vote.
A new AJC/UGA poll of Atlanta voters found about 58% polled are opposed to the new city, including more than 70% of self-identified liberal voters, 45% of moderate voters and 48% of conservative voters. The poll included responses from the entire city of Atlanta, but only eligible voters within the proposed city boundaries would be allowed to decide Buckhead City's future.
A similar effort to create the city of Eagles Landing by de-annexing parts of neighboring Stockbridge in Henry County failed at the ballot box in 2018. An analysis by the University of Georgia's Carl Vinson Institute of Government found the proposed city would have taken 32% of Stockbridge's residents but 48% of its residential tax base and 54% of its commercial tax base.
The study is the latest step in a two-year process that requires accompanying legislation to create the new city — which is currently sponsored by Republicans who do not live in Atlanta or Buckhead.
Secondary Content
Bottom Content