Section Branding
Header Content
Mass Pop Culture Celebration Dragon Con Goes On In The Era Of COVID-19
Primary Content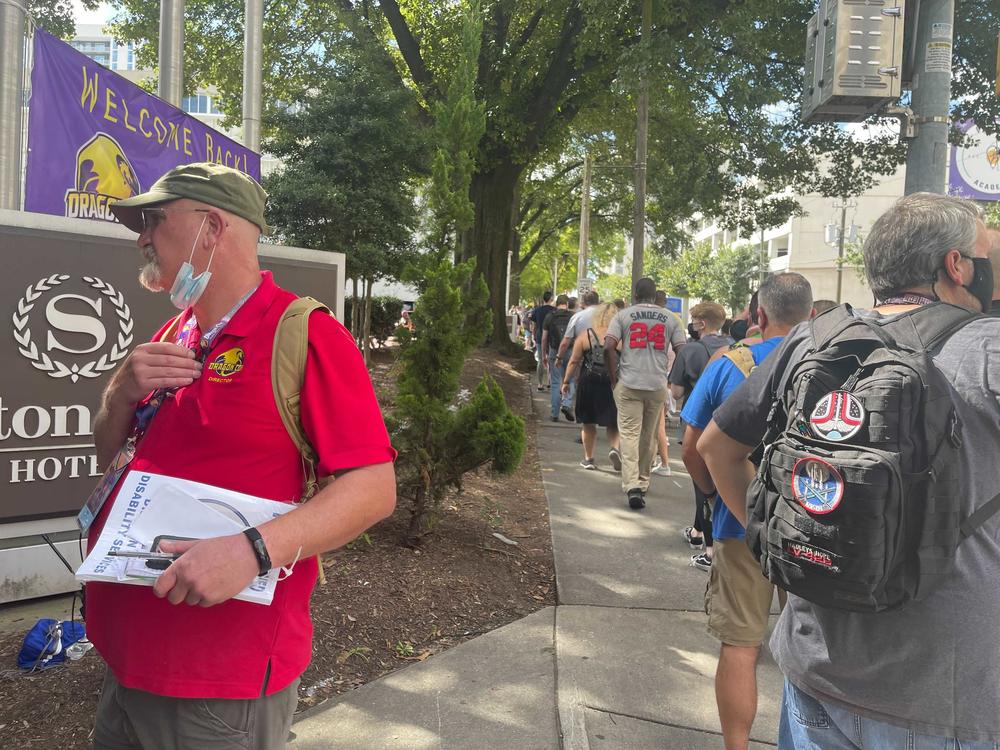 Tens of thousands of sci-fi, fantasy and pop culture fans once again made their yearly pilgrimage to downtown Atlanta on Labor Day weekend for Dragon Con 2021. It marked the return of the convention, now in its 35th year, after the COVID-19 pandemic forced organizers to take the event strictly online in 2020. 
Like many other large-scale gatherings in 2021, what some assumed would be a triumphant return to a post-COVID Dragon Con was dampened by the delta variant surge looming over the state. In mid-August, a change in policy was announced for attendees, requiring either a negative COVID-19 test (with testing being offered on site) or proof of full vaccination. The news came as mounting concern for the event's safety began to circulate online.
The convention was reflective of a year that itself has seemed both resilient and dystopic for American life — with costumed attendees wearing face masks and guests standing between a glass partition to take photos with Star Trek star William Shatner.
By the end of the weekend, an estimated 42,000 people attended the con – a significant drop from its pre-COVID peak in 2019 when more than 85,000 massed downtown.
The lower attendance was noticeable from years prior, with smaller crowds of costumed attendees than usual in the hotel lobbies of the participating Peachtree Street downtown hotels. Events were held at two-thirds capacity and an attendance cap was put in place, with no registrations being sold on-site on Saturday.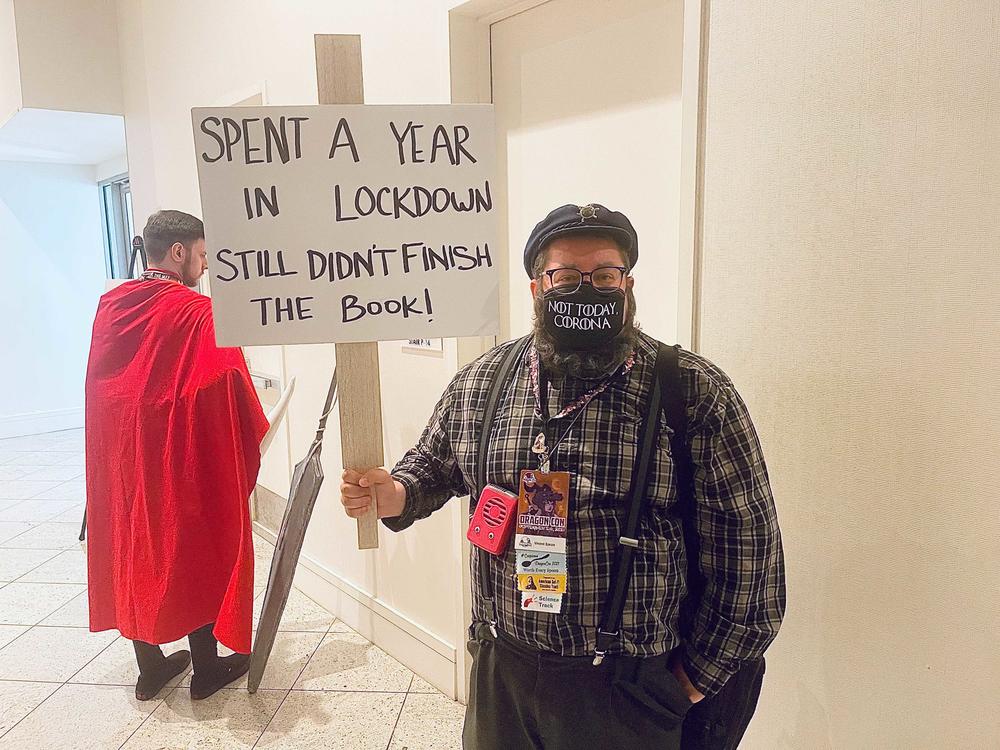 For many, Dragon Con is a yearly institution in the city — with a "you-just-had-to-be-there" culture of inside jokes (ask someone about: The Cult of the Marriott Carpet, Fed Ex Jon, etc.) and familial, fan-driven community.
Dragon Con spokesperson Dan Carroll said that culture and sense of belonging is one reason why the event pushed to move forward.
"I think the thing that really struck me most was that people needed to come because they missed their friends and their connections," he said. "I've already talked to people who have come as far as Maryland and Ohio, practicing the safety of their masks, but still coming here to see their friends and enjoy what Dragon has to offer."
However, he acknowledged the risks and anxieties that came with making the decision.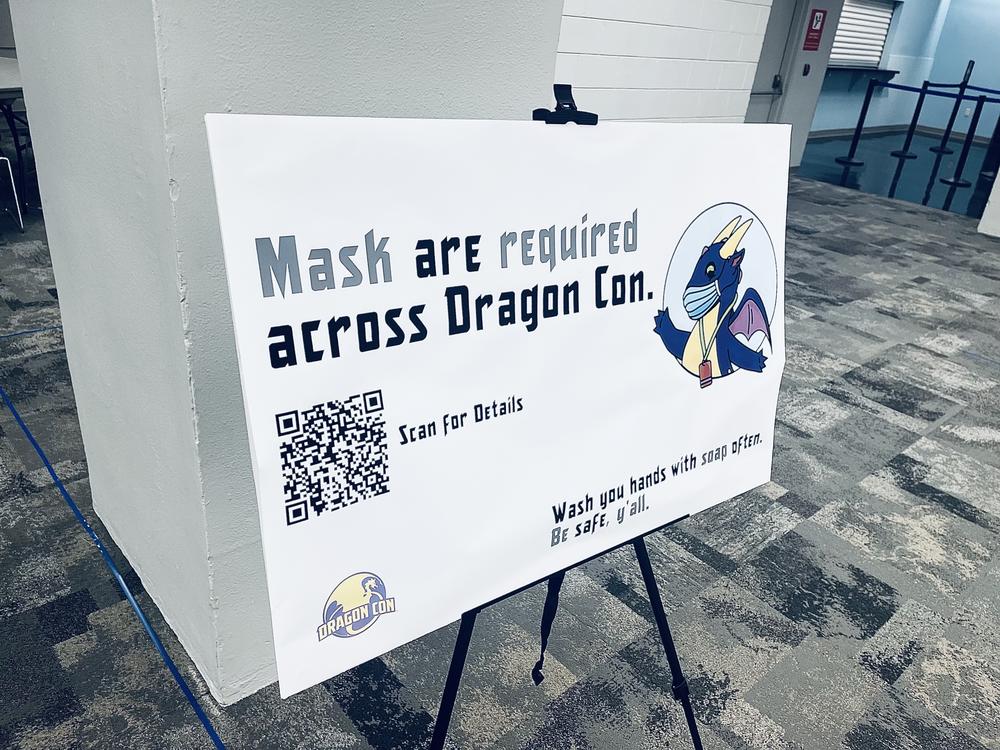 "It's a different show," he said. "It's going to be much smaller. It's going to be something we do in masks, but that's the way we live now. And I myself am just so happy to be here. I had anxiety before I got here, because who knows what's going to happen. But the minute I got here and I got into the Dragon hotels, it just completely lifted. And I knew this was the right thing to do to bring everybody back together in a safe way."
Dragon Con director of video game programming Kevin Stallard echoed that sentiment on the convention's unique sense of family.
"On a personal level, people make friendships here," he said. "They build relationships here. There are friends that I only get to see once a year here. And not having this event, there are friends that I've had for 20 years that I haven't seen in two years, and I miss them and I want them back in my life."
Viral Solutions, which provides rapid COVID-19 testing around the state, was tasked with providing on-site testing at the convention.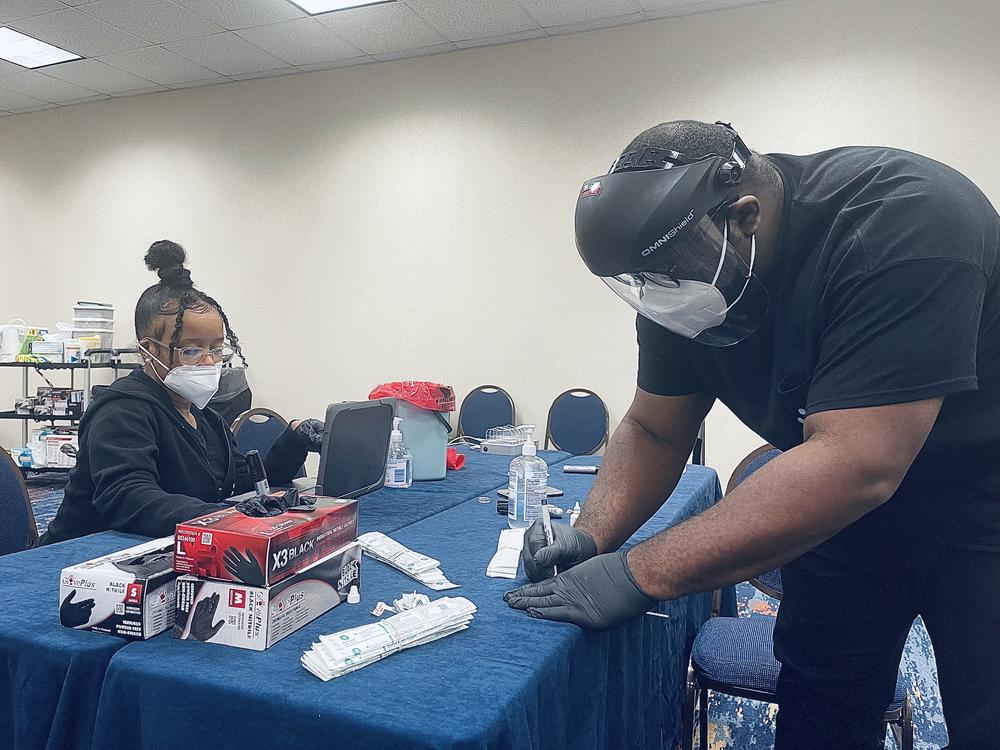 Executive assistant to the CEO Linda Tang was on hand during the weekend and applauded the convention's decision to require testing or a vaccination.
"I truly do believe that once you have more mitigation measures in place, it does increase the safety of an event," she said. "I do think that this was a fantastic convenience. I think it was a great decision made by Dragon Con to be able to check the status of our fans and to have them have the convenience of having a negative test, because we've had a few positives come through."
Tang said that by Friday 1,500 attendees had already been tested at the site. The company had to hold several planning sessions prior to the convention to prepare for the massive amount of people coming through over the course of the weekend — adapting their strategies from their popular "drive-thru" testing sites that have been seen around the state in the last year.
"We specialize in operations and logistics and workflow," she said. "We did have to strategize a little bit, but it wasn't a tall order for us. It was within our wheelhouse. We were like, 'All right, you got a high volume, people? Let's do it.'"
Tang, who is also a longtime Dragon Con attendee, never imagined her professional and personal life would intersect the way it has this year.
"I've been coming here for five years," she said with a laugh. "I never thought that my life of hobbies would spill into my work life, especially like this."
Stallard said on Saturday that he had observed most convention attendees observing the mask regulations.
"The vast majority are here to have a good time and play by the rules, and they're doing what they can to keep each other safe," he said. "There's a sense of community in that regard. There have been a few slip-ups, people trying to walk into events without a mask and that usually takes a quick little reminder to put their mask on. And they do. And there's no trouble."
He said he felt like the convention had taken the steps it needed to in order to move forward.
"I think we're adequately prepared, but with an event this size, you can't prepare for every contingency — it's not possible," he said, "I think we did the best we could under the circumstances. Is it perfect? No, but I don't think you plan for perfect."
Chicago-based supervillain-themed rock act V is for Villains traveled to Atlanta to play this year's Dragon Con. Vocalist Nick Santiago, who goes by his stage name Mr. Agitator, said the trek was worth it.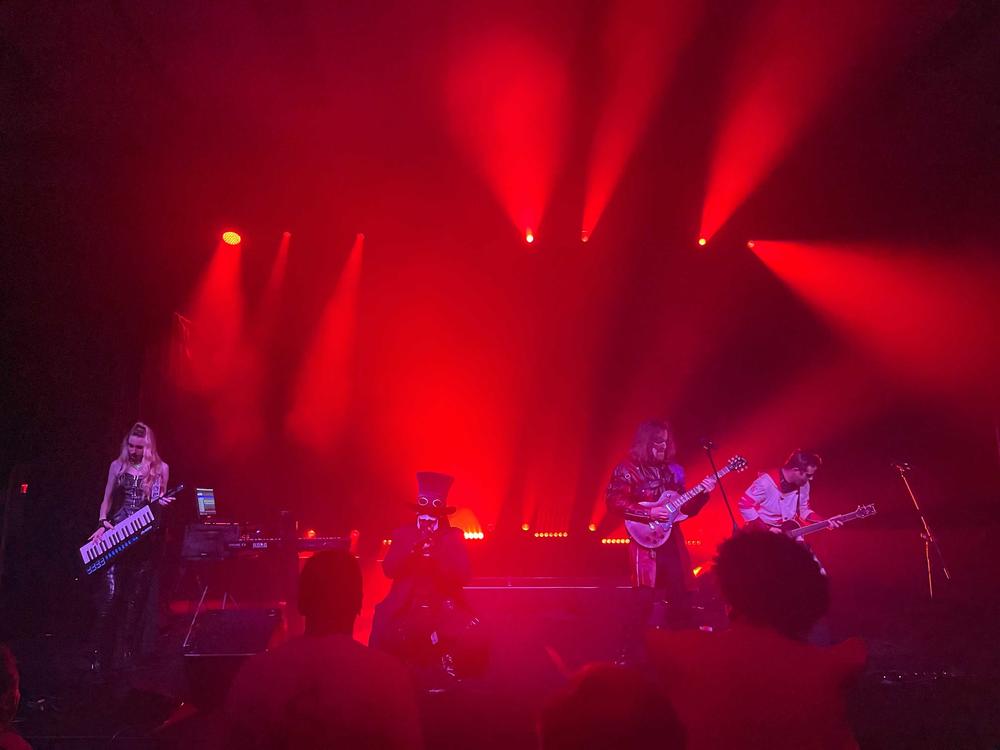 "I think there's an electricity in here," he said. "You know, people I think are so hungry to do something enjoyable — anything enjoyable — that there is a genuine enthusiasm that might have been lost a little during COVID. I think here, it's renewed. People are so excited."
Guitarist Jonathan Santiago echoed that feeling.
"I think all of us entertainers and performers just really savor these interactions and being able to do this again," he said. "It's a real privilege."
The convention announced on Monday that an additional 22,000 people also attended the "online" version of the convention — a carry-over from last year when the pandemic derailed the in-person festivities for the first time in its history.
The convention also raised more than $120,000 for its official 2021 charity, Big Brothers Big Sisters of Metro Atlanta.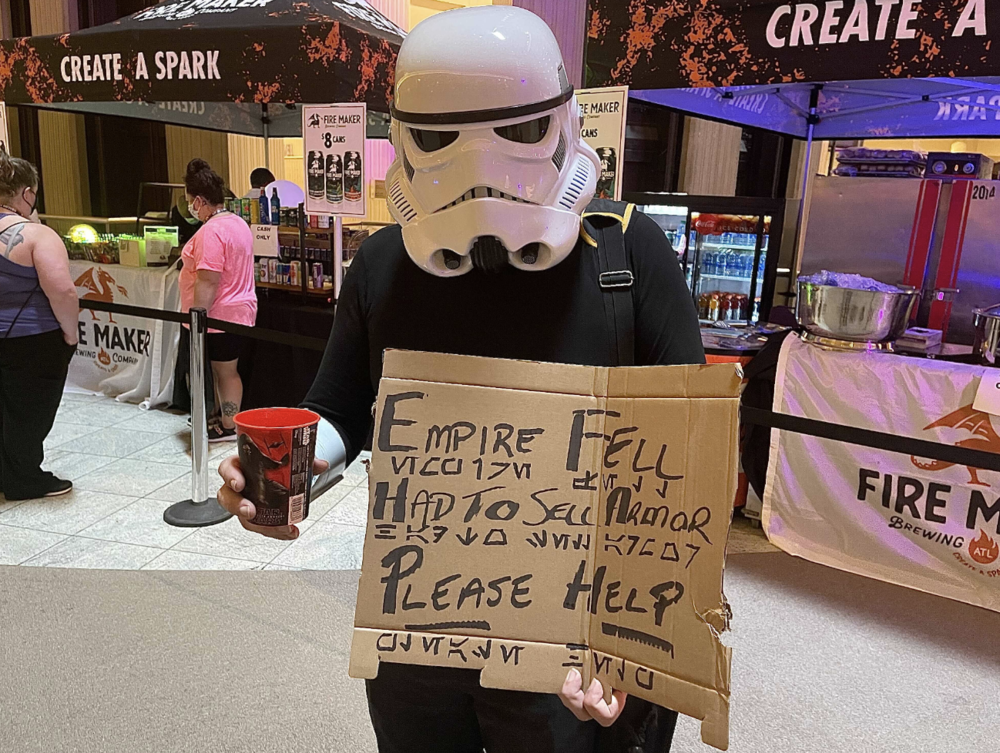 "This year's convention was wonderful," convention co-chair Rachel Reeves said. "It was certainly a little different, as we implemented a number of changes to help protect our fans and reduce the spread of COVID. More than anything, in these times, we were delighted to bring our fans together so they could celebrate the things they love, connect with friends, and forget about the outside world for a few days."  
Morgan Thestle, who traveled from Brooklyn, N.Y., to attend the convention, said that Dragon Con has provided her an escape from a world that has lately seemed stranger than fiction. She has been attending since 2007.
"I grew up reading books about the world ending," she said. "Lately, it feels like that's all I see, so when you can escape somewhere where there's stormtroopers and Cruella de Vil walking around casually, it makes you feel a little less like everything is going to stay horrible forever."
Secondary Content
Bottom Content