Section Branding
Header Content
Kemp Boosts Support To Hospitals, Incentivizes State Employees To Get Vaccinated Amid COVID Swell
Primary Content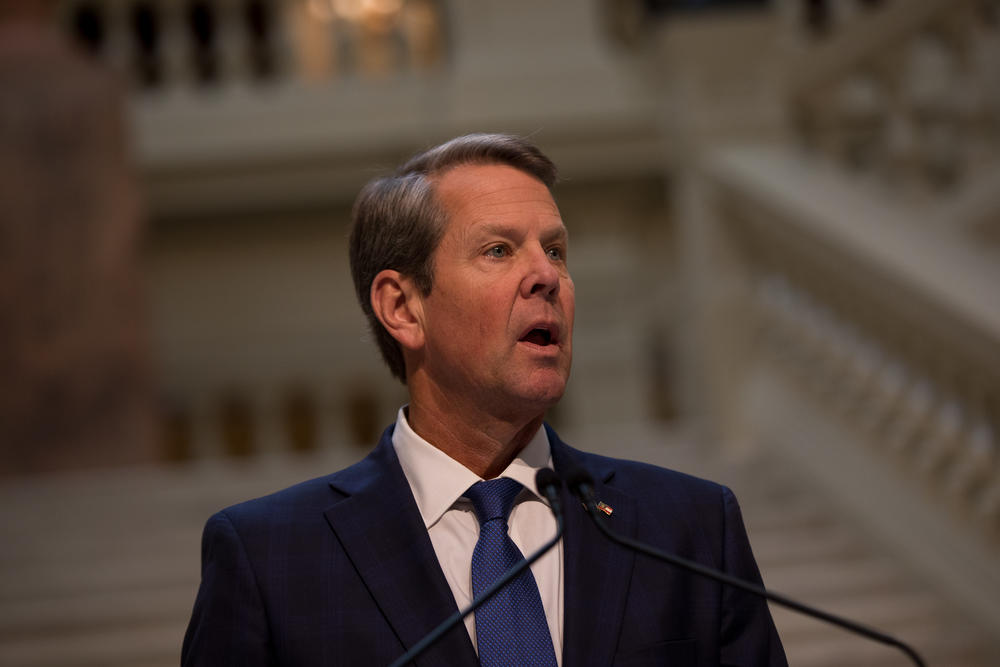 Gov. Brian Kemp announced Monday the state will send additional resources to hospitals battling a new wave of COVID-19 patients. 
He also announced state offices will be shuttered the Friday before Labor Day weekend as an incentive for state employees to get vaccinated.
"I'm asking all state employees who have not yet gotten their shot to consider scheduling it on or before Friday, Sept. 3rd," Kemp said. "For those of you that have been vaccinated or got their shot before Sept. 3rd, please take this day off as a 'Thank you.'"
After nearly five months without a formal news conference to address the coronavirus pandemic and amid the spread of the delta variant across the state, Kemp continued to encourage vaccinations but pushed back against any new restrictions or mandates.
The state is now recording a seven-day rolling average of 6,000 cases a day, with no sign that the spike is slowing. Daily deaths have begun to rise, too, now about 25 per day.
According to the Centers for Disease Control and Prevention, more than 1.2 million COVID-19 cases in the state have been reported since the start of the pandemic, including nearly 22,000 Georgians who have died from the disease.
RELATED: Doctor: COVID-19 Is 'Out Of Control' Again In Georgia
Kemp has been under pressure to craft a new approach to the pandemic as cases rise again. But after more than a year of leading the state's response, little has changed for the Republican governor.
He will neither mandate vaccinations for state employees nor institute any new facial covering requirements, indoors or outdoors.
"I want to reiterate that Georgia will remain open for business," he said. "We will not shut down. We will not prevent families from earning a paycheck."
After the state of public health emergency ended in June — ending Kemp's emergency powers along with it — local officials across the state started instituting their own mask mandates, setting up a repeat of the legal battles seen between the state and local government last year.
Kemp is also under pressure by constituents and some fellow Republicans to ban masks in schools, even as some districts have been forced to go virtual or temporarily shut down not long after opening for the year due to coronavirus spread.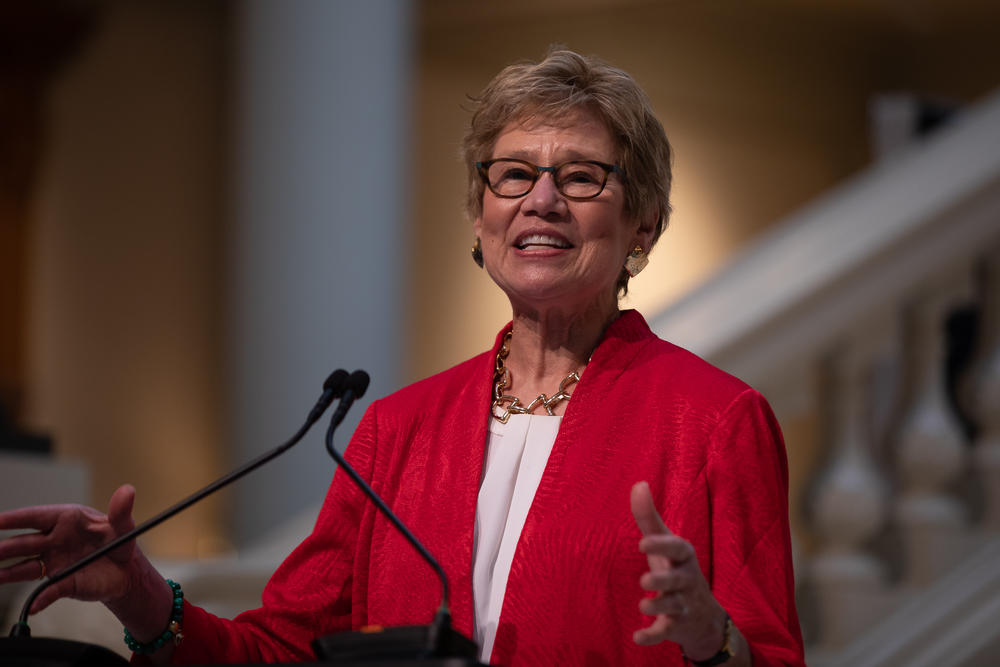 As of last week, according to the Department of Public Health, 129 of 159 counties were said to have "high" levels of COVID-19 spread among K-12 aged kids. 
But throughout the pandemic, Kemp has been undeterred in his message: Georgians don't need mandates. 
He has continued to dismiss the idea of limiting business and boasted on the campaign trail of Georgia's economic rebound after the state's delayed shutdown and hasty reopening.
The first-term Republican is on the cusp of a crucial time period of his reelection bid. In recent months he's launched a string of efforts to court his conservative base, including banning "vaccine passports." 
But as the vaccination rate in Georgia has stalled, hospitals have felt the impacts.
Breakthrough cases and deaths in Georgia still remain low. Coronavirus cases in vaccinated individuals account for less than 1% of total cases and a little more than 2% of total deaths.
Last week, Georgia Public Broadcasting reported that across Georgia, emergency rooms were reaching their breaking point and intensive care units have been forced to send patients away — sometimes out of state.
Hospital administrators cite a surge of severe cases among unvaccinated, middle-aged Georgians that are filling up beds.
During his press conference Monday, Kemp announced the state would more than double the number of supplemental staff it has been sending to regional hospitals throughout the pandemic to help offset a staffing shortage.
The state will spend an additional $125 million to pay for 1,500 more hospital staffers, bringing the total number of state-sponsored health care workers to 2,800. Kemp also said officials are propping up an additional 450 beds in nine hospitals to help accommodate the increase in patients.
The state will not yet reactivate the makeshift hospital in downtown Atlanta's World Congress Center used earlier in the pandemic.
DPH Commissioner Dr. Kathleen Toomey said Monday that about 90% of the new cases in Georgia are from the delta variant.
"Not surprisingly, it's making a beeline for unvaccinated individuals," she said. "The good news is that vaccines do work. They are protecting people from the consequences of what is a potentially more dangerous virus."
Despite Kemp and Toomey's pleas for Georgians to be vaccinated, Kemp said he won't go any further with a mandate.
"My message to people is talk to your doctor, talk to your local pharmacist, talk to whoever you trust that is involved in health care or your faith leader about the vaccine," he said. "Then make a good decision for yourself. To me, that is the best way for us to handle this going forward."
Secondary Content
Bottom Content