Section Branding
Header Content
Partisanship, Self-Interest Poised To Drive Georgia's Redistricting Process
Primary Content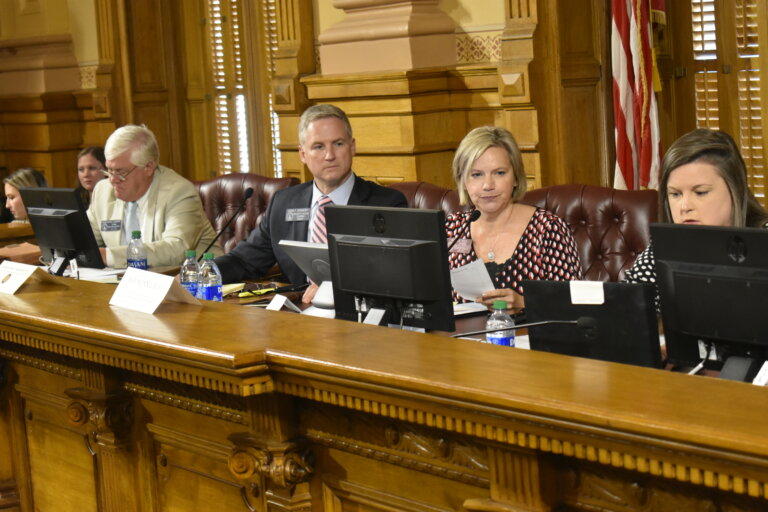 When Georgia lawmakers convene this fall to draw new legislative boundaries, they will bring a political eye to the process, colored by partisanship and a distinct self-interest in the outcome.
The once-a-decade redistricting cycle has profound and far reaching implications for a state that has become a political battleground and demographic melting pot. Legislative and congressional district maps drawn by state lawmakers will help determine control of state and national government and their policies for at least the next 10 years.
But for some, the stakes are more personal. Several members of the House and Senate redistricting committees represent districts that are undergoing dramatic political and demographic shifts that threaten their ability to retain their seats.
Republican lawmakers who control the redistricting process by virtue of holding majorities in the General Assembly will have to balance rapidly diversifying metro Atlanta suburbs with slow-growing rural communities in an effort to preserve their power.
"It's pretty much driven by the majority party leadership," said Ken Lawler, board chairman of the nonpartisan group Fair Districts GA, which advocates for unbiased maps. "They're going to work to engineer these maps to achieve one outcome that they want, which is maintaining the majority. That's their game plan."
The issues will play out differently in the state House and Senate — and across the metro and rural divide.
In the House, several members of the Legislative & Congressional Reapportionment Committee represent larger communities that have seen explosive population growth since 2011, and will get to choose which voters to jettison to protect their seat.
The chair of the committee, Bonnie Rich (R-Suwanee), represents House District 97 in rapidly diversifying Gwinnett County. Once a GOP stronghold, Gwinnett flipped blue in the 2016 presidential election, and Rich beat her Democratic challenger by just 4.4% in 2020 after first winning the seat in 2018 by nearly 12%. 
According to the latest U.S. Census Bureau numbers, Rich has more than 8,300 extra people in her district, which has a fast-growing Asian American population. Three of the four neighboring districts in Gwinnett County are held by Democrats.
Other Republican members of the House committee from suburban Atlanta districts face even greater challenges. 
Five-term incumbent Rep. Chuck Efstration (R-Dacula), who helped author Georgia's new hate crimes law, won reelection to his Gwinnett County seat by just over 2% in 2020 after winning by nearly 8% in 2018 and running unopposed in the prior two cycles. And eight-term incumbent Rep. Ed Setzler (R-Acworth), the chair of the House Science and Technology Committee, beat his 2020 Democratic challenger in Cobb County by just 280 votes.
On the Senate side, the committee includes several rural Republicans who represent large areas with relatively slow-growing populations. Committee chair John Kennedy (R-Macon), Sen. Marty Harbin (R-Tyrone) and Sen. Ed Harbison (D-Columbus) serve neighboring districts that will each need to add population in the map drawing process.
Meanwhile, Sens. Greg Dolezal (R-Cumming), Bill Cowsert (R-Athens) and Doc Rhett (D-Marietta) each represent areas with higher population growth. Census numbers released Thursday show Dolezal must shrink his district by more than 56,000 people to reach the target size of 191,284 Georgians.
Heading into an election year, there is added volatility in the Senate's mapmaking endeavors.
With several state senators running for higher office, multiple districts will have no incumbent and could be carved up to meet the population needs of the remaining legislators — or new candidates waiting in the wings.
There have been growing calls for Georgia to ditch partisan mapmaking and move to an independent, data-driven commission.
"When you are basically drawing the lines to set the boundaries of your own election it's a fundamental conflict of interest," Lawler said. "The process is largely driven by the top down engineering for the partisan outcome."
At redistricting town halls across the state recently, Georgians repeatedly called for fairness, transparency and a nonpartisan redistricting process to prevent lawmakers from picking their own voters and ensure residents' interests are properly represented.
At an Athens town hall, multiple members of the public asked lawmakers to draw maps that would give Athens-Clarke County representation that reflects the community's political preferences.
Although the county votes overwhelmingly for Democrats, it is represented by two Republican House representatives (plus one Democrat) and two Republican senators, including Sen. Cowsert, the vice chair of the committee.
"Sen. Cowsert, your district does not represent Athens," one speaker at the town hall said. "It is a split-up district that is not fully representative of the city and is meant to diffuse the power of your voters."
Cowsert's leadership role on the committee gives him added power to shape his district, which is about 6% larger than the target size.
At the Macon town hall, several politicians and members of the public had a different message for Sen. Blake Tillery (R-Vidalia), calling for Toombs and Montgomery County to stay together and keep their existing representation.
"I'd like to give you an easy decision when you start thinking about the area around Toombs and Montgomery," area resident Don Betts said. "Make it an easy decision and keep us together." 
"There are too many good things going on that we've had happen and we are really working and striving together," Betts said. 
While Georgia's 10.7 million residents are now only 50.1% non-Hispanic white according to newly released data, most of the lawmakers on the committee are white. Republicans dominate the committees in both chambers, as do lawmakers from rural Georgia.
Fulton, Gwinnett, Cobb and DeKalb counties are home to nearly a third of the state's residents but only comprise seven of the 33 committee spots — not quite a fifth.
The redistricting committees will next meet in Atlanta on Aug. 30 for an educational and business session.
The special session of the General Assembly to draft new lines for the legislature and 14 Congressional districts is expected to take place later this fall.
Secondary Content
Bottom Content