Section Branding
Header Content
Georgia Reps Talk Infrastructure At Chamber Event In Columbus
Primary Content
Democrats and Republicans may not agree on much these days, but at the Georgia Chamber's annual Congressional Luncheon, some measures in a massive federal infrastructure bill stood out.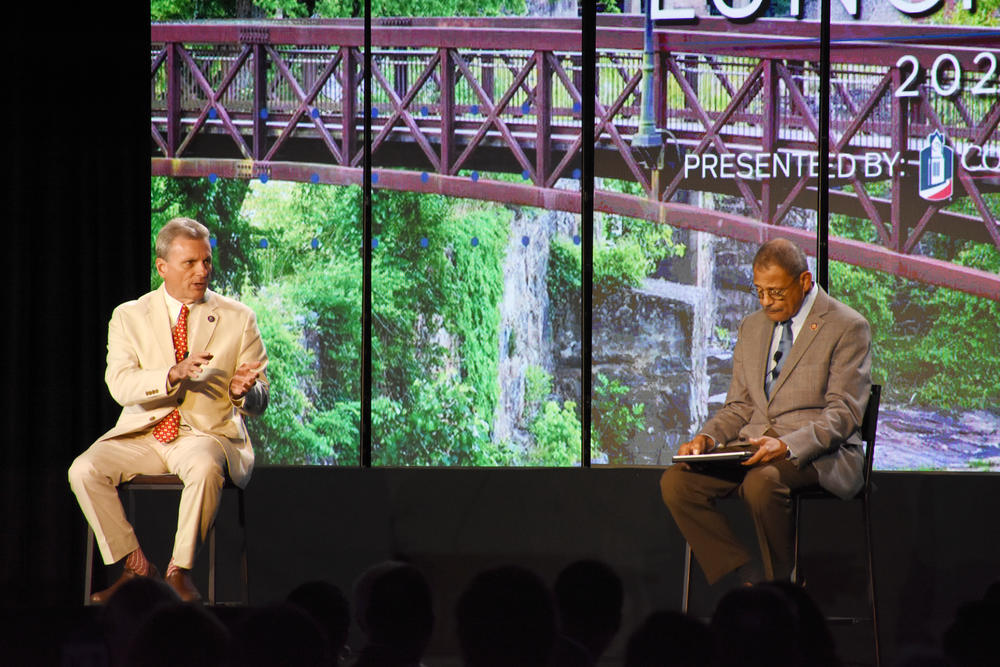 Democrats and Republicans don't seem to agree on much these days, but a $1 trillion bipartisan infrastructure bill is giving Georgia lawmakers some common ground for celebration.
At the Georgia Chamber's annual Congressional Luncheon, four of Georgia's 14 U.S. House representatives highlighted aspects of the measure that would benefit Georgia residents.
One of the bill's biggest programs is $65 billion for expanding internet access nationwide.
Rep. Drew Ferguson (R-West Point) said the larger bill will likely face challenges from both parties when it is taken up in the House, but there are elements such as broadband that are a no-brainer for bipartisan support.
"When you don't have broadband in a rural community, you're not Republican, you're not Democrat — you're just without broadband in a rural community," he said. "So I think that's a good example of where we can come together."
Ferguson also said the responsibility for policymakers in Georgia is to figure out the best way to leverage whatever money comes into the state to improve quality of life for Georgians. More than $11 billion of the package would head to the state's highways, transit, airports and other infrastructure, including $100 million for broadband expansion. 
Democrat Carolyn Bourdeaux, who represents Gwinnett and Forsyth counties in the 7th Congressional District, pointed to work done throughout the coronavirus pandemic to help small businesses stay afloat.
"There are many issues I know that businesses face; I spent a lot of time doing roundtables in my districts with different groups," she said. "If you give the businesses the goals of what they should achieve and the freedom to achieve that, I believe that they can and will do it."
Reps. Sanford Bishop (D-Albany) and Buddy Carter (R-Pooler) were also on a panel together and discussed the importance of two major pieces of the state's economy: agriculture and the ports.
Bishop, chair of the House Agriculture Appropriations Subcommittee, pointed out how crucial rural broadband is to the success of the state.
"The broadband infrastructure can help us tremendously, whether it's health care, whether it's education, whether it's business development or all those things, to improve the quality of life in rural communities," he said.
Carter, who serves on the Energy and Commerce Committee, touted legislation he introduced that would streamline the federal regulatory process that would help cover 20 million Americans without high-speed internet more quickly.
Carter also touted the Georgia Ports Authority and the deepening of the Savannah River Harbor to accommodate larger ships and more traffic.
"I cannot say enough good things about them; they are the economic engine not just of the state of Georgia, not just the Southeast, but their impact goes all the way up to the Ohio River valley," he said. "And the ripple effect that approach has on our economy is enormous."
Also at the event, Gov. Brian Kemp urged the local business community to encourage people to get vaccinated, and that the best way to stop the spread of the virus (and the new delta variant) is to get the shot.
"It is now more important than ever for unvaccinated Georgians to talk to a medical provider and make the right health care decision for them and their family," he said. "And as we continue our fight against COVID-19, the most effective weapon we have are these three life-saving vaccines, which are doing just that: saving lives each and every day."
Kemp also said one of the top threats to the state's future is public safety, and asked the chamber to help work towards solutions to curb rising violent crime rates in some parts of the state.
"If crime is rampant on your streets in your local community, businesses will look elsewhere, workforces will leave, visitors certainly won't show up and investors will stop," he said. "Chambers of commerce across our state, including the Georgia Chamber and the Metro Atlanta Chamber of Commerce have a responsibility, just like I do, to speak up about crime and work toward meaningful solutions."
After the meeting, Chamber President and CEO Chris Clark echoed Kemp's concerns in a statement, noting that the Chamber believes "safe, healthy communities are paramount to our overall growth and economic stability."
"Crime and violence inhibit our recovery, lessen upward mobility, and perpetuate generational poverty," Clark said. "We stand with Gov. Kemp, Lt. Gov. Duncan, and Speaker Ralston in the fight against crime and applaud their efforts to make our state safer through policy solutions and partnerships with public safety entities across the state. Together, we can foster a stronger, safer business climate for our future."
Secondary Content
Bottom Content