Section Branding
Header Content
'Recipe For Outbreaks': Georgia Health Experts Raise Alarm Over Low Vaccination Rates, No Masks
Primary Content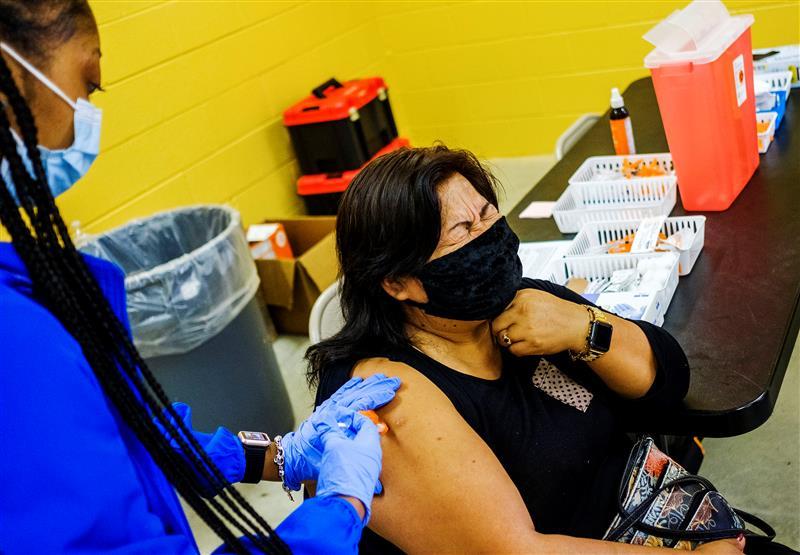 Top Georgia public health experts raised the alarm Wednesday over the state's low vaccination rates and the continued politicization of mask wearing, with one official saying it is a "recipe for outbreaks" around the state.
"We are at exponential growth in our state, and we have got to all decide that we don't want that to continue," said Dr. Jodie Guest, a professor of epidemiology and vice chair of Emory University's Rollins School of Public Health.
Dr. Rodney Lyn, the dean of Georgia State University's Public Health School, added: "The virus thrives when it's allowed to transmit at high, high rates and more variants are likely in an environment of uncontrolled spread."
Lyn urged Georgians to heed public health warnings of getting vaccinated and to wear masks indoors in public spaces.
"Vaccination," he said, "is the most important step we can take."
The warning comes as 154 of Georgia's 159 counties are experiencing "substantial" or "high" levels of community transmission of COVID-19, according to data from the Centers for Disease Control and Prevention.
Only 40% of Georgians are fully vaccinated, ranking the state among the worst in the nation. More than 940,000 people have tested positive for COVID-19 in Georgia since the pandemic began, with nearly 19,000 people dying from the disease, according to the state Department of Public Health.
Adding to public health concerns, the officials said, were reports in the Atlanta Journal-Constitution that Gov. Brian Kemp is facing mounting pressure from a fellow Republican to ban mask mandates in schools — what the health experts said would guarantee the virus continues to spread.
"Viruses don't recognize geopolitical borders," said Dr. Amber Schmidtke, one of the state's best COVID-19 data crunchers. "They don't recognize political affiliation. They don't recognize education level. They're coming for you."
With the delta variant ripping through the state, Schmidtke urged those who haven't been vaccinated to get the shots: "If you haven't been vaccinated, it's a matter of when it is coming for you."
GSU's Lyn agreed.
"I would encourage everyone to avail themselves of these highly effective vaccines that are available, given what we know today," he said. "Additionally, wearing masks in public indoor facilities is a vital prevention and protection strategy."
Not doing so, Lyn said, is "a recipe for outbreaks."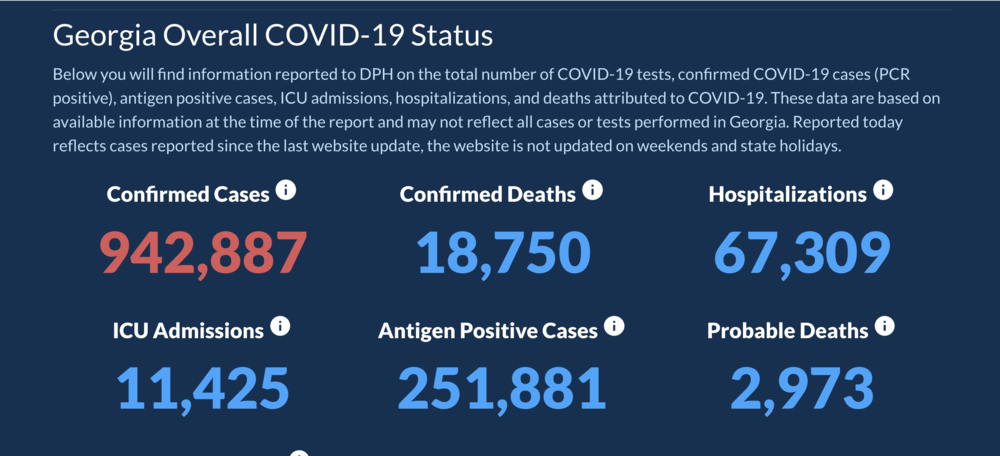 The comments were made during GPB's Political Rewind in which Guest, Lyn, Schmidtke, and Emory's Dr. Benjamin Lopman joined host Bill Nigut for a discussion on the current spread of COVID-19.
Each guest emphasized that breakthrough cases — when vaccinated individuals still get the virus — remain a tiny blip of the state cases and that nearly every case in the state over the past six months has been among the unvaccinated.
"The breakthrough cases are not common, and so we want to make sure we understand the data," Guest said. "So, out of over 4 million fully vaccinated people in our state, 4,908 have had a breakthrough case since January of 2021. That is 0.12%."
Schmidtke said she was disturbed many school districts were ignoring CDC guidance for children to wear masks, especially because those under the age of 12 are not eligible to be vaccinated and can bring the virus home.
"That's really troubling to me, both as somebody who cares deeply about public health, who cares deeply about Georgia," she said.
Emory's Lopman said it's imperative to do everything possible to protect children. Although children are less likely to fall seriously ill from the disease, he said they can be major factors in helping spread COVID-19.
"They can get infected and, even if they're not showing symptoms themselves or have a mild infection, they can transmit to other students, to teachers; they can bring the virus back home," he said.
Having children wear masks is an effective way of slowing possible transmission, the panel said, compared to shutting schools down completely.
Emory's Guest said the delta variant has become "a game changer," putting the nation and the state back to "those really basic measures of public health prevention."
"The more cases of COVID-19 we have, whether in pockets or widespread, the more likely we are to have another variant or mutation come along," Guest said. "We don't like this delta one. We certainly don't want to see what's behind it."
She and the other panelists said doctors and public health experts are having hourlong conversations with Georgians who have yet to be vaccinated. Sometimes, the conversations devolve into debunking misinformation. But they said it's imperative for health officials to listen to patients and layout the effectiveness of the vaccines.
This not where they wanted to be at this moment in time, but it's the reality.
"The most effective strategy is to increase vaccination rates," Lyn said. "We've known for many months that was the priority and that remains the priority."
Secondary Content
Bottom Content