Section Branding
Header Content
Amid COVID Rise, Kemp Won't Mandate Masks, So Local Leaders Take Matters Into Own Hands — Again
Primary Content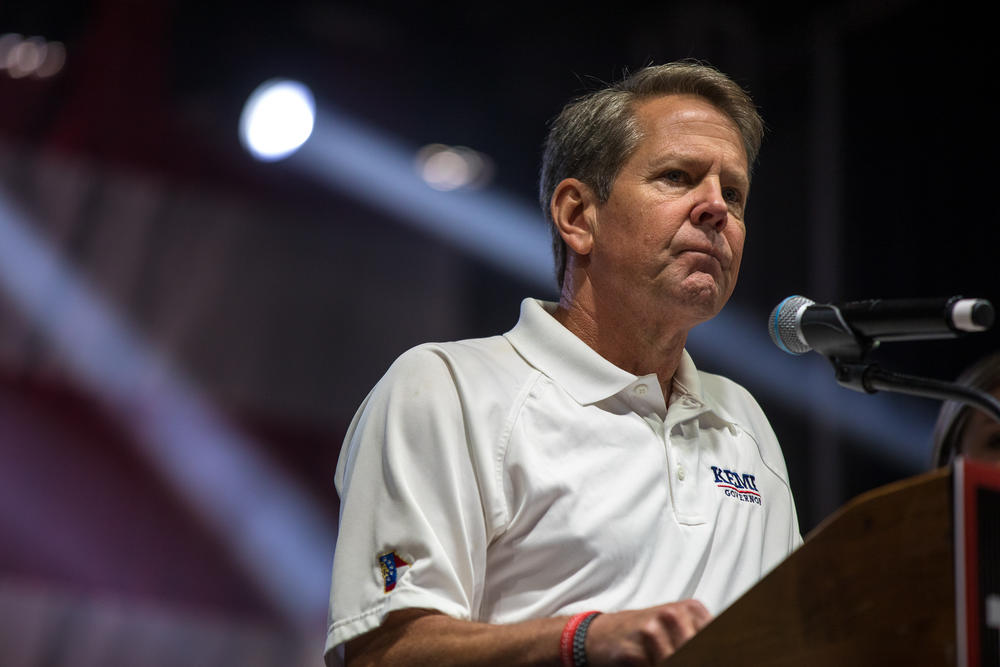 Not long after Gov. Brian Kemp confirmed he would continue to push back against a statewide mask mandate, Atlanta Mayor Kiesha Lance Bottoms issued an executive order requiring masks in public spaces in the city.
The push and pull between the state and local officials is familiar: The same situation played out last year when the Republican governor blocked local leaders from imposing their own facial covering requirements. At the time, Kemp and Bottoms got in a heated public tit-for-tat over masks that drew national attention.
"Georgia will not lock down or impose statewide mask mandates," Kemp tweeted Wednesday afternoon.
Just hours later, Bottoms issued her order requiring that all the city's residents wear a mask in public while indoors — including within private businesses.
The renewed battle over mask mandates comes as Georgia's COVID-19 infection numbers and subsequent hospitalizations have jumped — largely a result of the highly contagious delta variant spreading among the state's unvaccinated.
New numbers from Georgia's Department of Public Health show that a little more than 98% of the over 335,000 COVID-19 cases recorded since mid-January were among the unvaccinated. 
The Centers for Disease Control and Prevention, based in Atlanta, backtracked on its own guidance earlier this week and announced that it was recommending masks again for vaccinated people in some cases.
"Public health experts overwhelmingly agree, and the data has proved, that wearing a face covering helps slow the spread of the deadly virus," Bottoms said in a statement.
On Monday, Savannah Mayor Van Johnson reinstated the mask mandate in Chatham County as transmission rates are on the rise in the popular, seaside tourist destination.
"I'm just afraid that if we don't, we'll find ourselves in March and April 2020 all over again," Johnson said during a press conference.
The announcements set up another potential legal battle between the state and local governments.
In 2020, Kemp used his unprecedented powers under the public health state of emergency to initially block cities and counties from imposing mask requirements that were more lenient or restrictive than the state measures.
The governor even took Bottoms and Atlanta officials to court — a case that was eventually dropped — and a compromise was struck in which local officials could require masks if infections within their locality were at a certain level.
But the public health state of emergency expired July 1, ending Kemp's sweeping powers.
Already in campaign mode for 2022, Kemp has initiated a string of efforts to curry favor with his far-right base, including issuing an executive order to ban "vaccine passports" in May.
At his campaign kickoff event in Perry, he touted Georgia's economic recovery throughout the pandemic and his decision not to close the state down like many Democratic-leaning states did.
The Republican has long put the onus of slowing infection rates on the willingness of Georgians to be vaccinated.
But the state's vaccination rate has slowed dramatically and hovers at just around 40%.
"My family, myself, and other state leaders have all rolled up their sleeves and gotten their shot," Kemp tweeted on Wednesday. "I encourage all Georgians who have concerns or questions to talk to a medical provider and get vaccinated as quickly as possible."
With the state of public health emergency ended, it is unclear what measures Kemp can take to block local mask ordinances.
Secondary Content
Bottom Content