Section Branding
Header Content
Football Player From Macon High School Dies After Collapsing At Practice Monday
Primary Content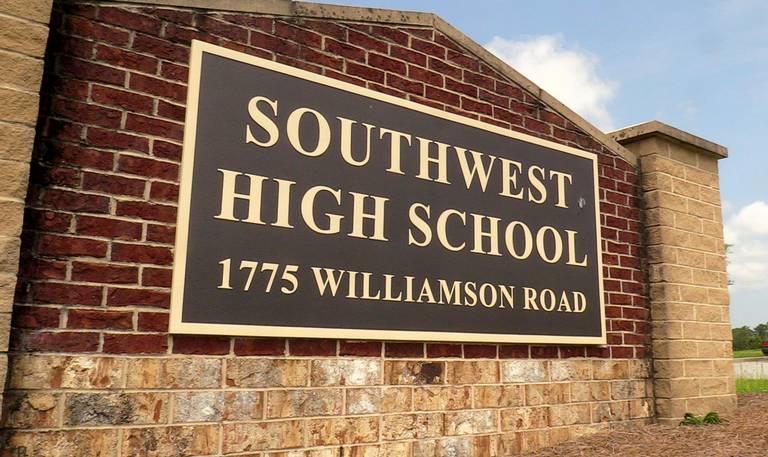 A Southwest High School football player died Monday night after collapsing at the team's practice earlier in the day.
15-year-old Joshua Ivory Jr. died following a medical emergency at practice, according to the Bibb County School District.
Head coach Joe Dupree and his staff recognized that Ivory Jr. was in distress and immediately called 911, according to Bibb County Athletic Director Barney Hester. The coaches are CPR and first aid certified. Ivory Jr. was transported to a local hospital from practice, which started at 6 p.m. Hester said that all Georgia High School Association (GHSA) protocols were followed.
"We called 911, the fire truck was here in 5 to 6 minutes," Hester said. "It was handled in a timely manner... Joe Dupree and his staff did a really remarkable job when we realized we had a student in distress."
Monday was the first day of practices for teams around the state of Georgia, part of the five-day acclimation period in which players practice in shorts and helmets. Aug. 2 is the first day that players are allowed to practice in pads. At this time, no cause of death has been released for Ivory Jr.
"The loss of one of our students in Bibb County is huge," Hester said. "We are all grieving. We have a young man that unfortunately is not going to be with us anymore and we have to deal with that."
The district canceled all practices countywide on Tuesday out of respect for Ivory Jr. District leaders are reviewing current practice protocols.
"Joshua was a wonderful young man full of promise and zeal. He had an infectious smile and a very kind heart. He enjoyed sports and spending time with his family," Southwest principal A. Bernard Young said in a release. "Joshua's personality made it easy for him to make a great impression and huge impact on his teammates, coaches, and the entire Southwest family. He was one of a kind. A great example of a Southwest High School Patriot."
The school will provide updates on arrangements and any special memorial services, and a "crisis team" from the district will be available to players and staff members.
"This is not how anyone envisions the start to a new school year, but I know we will get through this together as Patriots," Young said. "Supporting each other as I know we can is what will help us get through this difficult time."
Hester said that they want to continue to honor Ivory Jr. and make sure that the students at Southwest are taken care of. Counseling services will be available to students throughout this week.
"We will honor Joshua's presence at Southwest High School," Hester said. "The Bibb County family and specifically the Southwest family could use some prayers now. We just want to make sure we support them and take care of those students and those families and the family of Joshua."
The GHSA released the following statement to The Telegraph via email:
"We are aware of the incident and are still gathering information. We have no comment at this time other than to say our prayers are with the child's family and fellow students at Southwest."
This story comes to GPB through a reporting partnership with The Telegraph.
Secondary Content
Bottom Content