Section Branding
Header Content
Atlanta Seeks To Address Soaring Joblessness Among Hard-Hit LGBTQ Community
Primary Content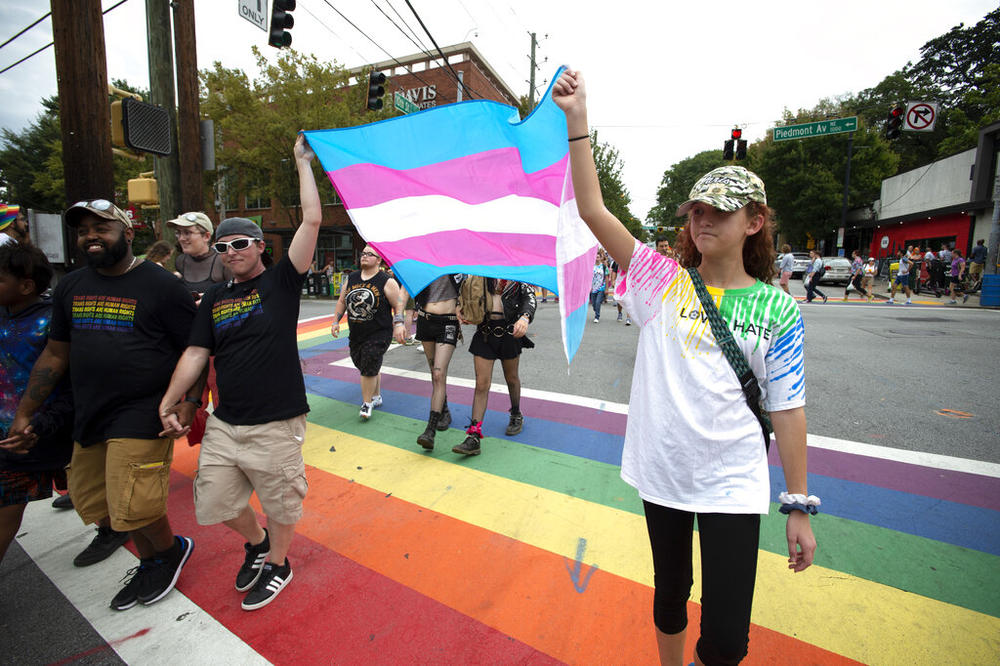 Atlanta resident Rachael Philips worked for a small trade show company — an industry that relies heavily on showing off wares to crowds. As the COVID-19 pandemic suddenly and quickly swept across America and the world in March 2020, all of that came crashing down. 
"By March 13, I was furloughed indefinitely," she said. "This caused me to lose everything. I lost the ability to pay for my house, day care, bills."
Philips was one of many members of the LGBTQ community who was not spared by the COVID-19 recession.
She was forced to move to Alabama with her previous partner and ended up taking a job at Walmart just to make ends meet. She said she struggled daily with depression, only exacerbated by the isolation of the pandemic. In one of her darkest moments, she even considered taking her own life.
"I was certain if COVID didn't take me out, I would do it myself," she said.
Kyra Philips (who is not related to Rachael) has a similar story, working for a government subcontractor before COVID struck. For her, problems were there even before the pandemic was a factor.
Philips was openly bisexual but, at the time, still closeted as transgender. The work culture left her struggling daily to reconcile her own mental health with her work life.
"Numbers for placements and things were low and it was not a good environment for someone openly LGBTQ, owing to a complete bro culture and a company of nothing but cisgender white males," she said.
When the pandemic began, she was left trying to figure out her next moves.
Kyra and Rachael's stories are not uncommon for LGBTQ Atlantans and queer people across America. Historically, the LGBTQ community has faced higher-than-average unemployment rates and workplace cultures that are often difficult to navigate — especially for transgender women. COVID-19's impact on the American economy has only deepened those difficulties for those seeking work.
Atlanta Mayor Keisha Lance Bottoms, the city of Atlanta and Goodwill of North Georgia are now taking a step to connect LGBTQ Atlantans with more job opportunities by partnering up for the city's second annual virtual LGBTQ Opportunity Fair.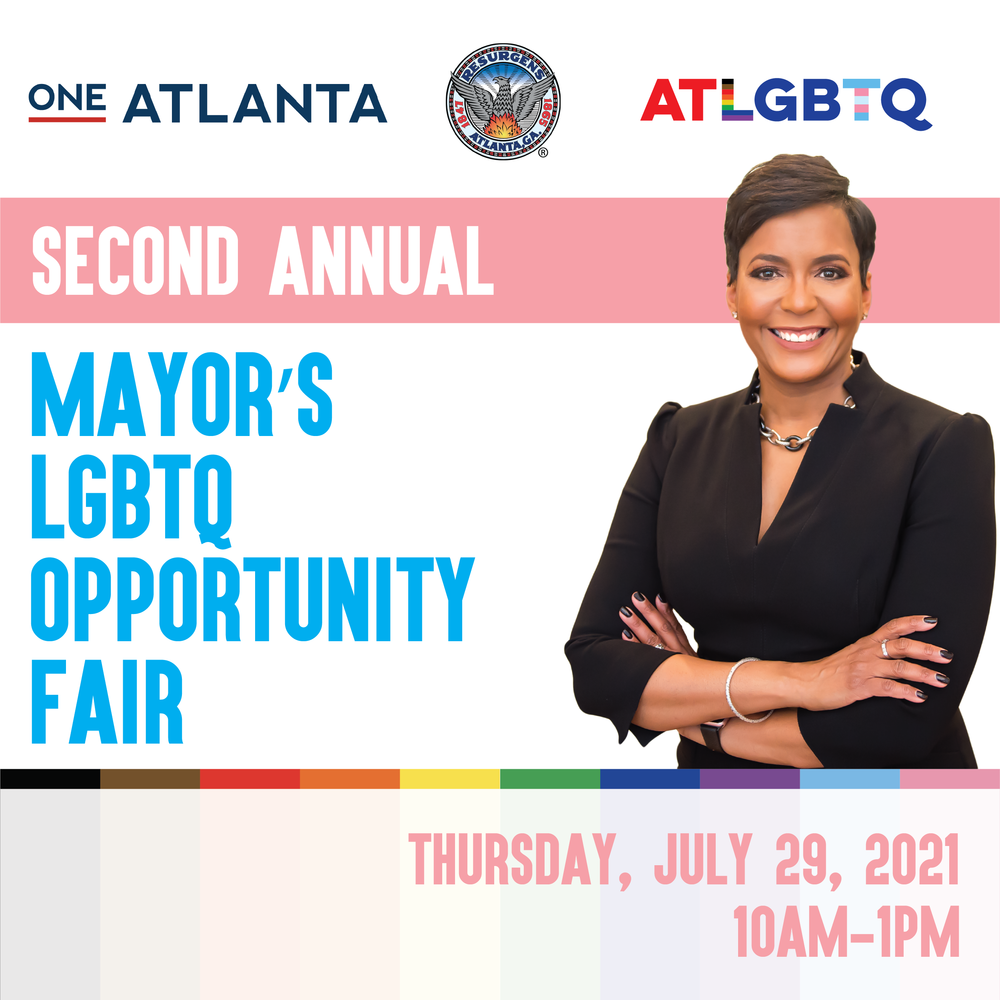 Some of the city's biggest corporations, including Equifax, Amazon, and Advance Auto Parts, will be taking part. Goodwill of North Georgia will provide the online infrastructure and platform, something that CEO Keith Parker said they have experience with.
"Goodwill has been doing job fairs for years and years, and we've done job fairs for various chambers of commerce or particular counties and just other subgroups," he told GPB News. "I don't know whose idea it was first, ours or the city, to jump there. But once we heard about it, we were all in."
Parker said that those who may be on the fence should feel encouraged by the amount of jobs being offered.
"The first thing that I would say is there are 2,000 jobs available — literally 2,000 jobs available — and a ton of different companies who will be there, some of whom are ready to hire on the spot," he said.
For Alejandro Ugarte, who is Goodwill of North Georgia's Diversity and Inclusion officer, the mission statement of the job fair is personal. As an LGBTQ immigrant from Venezuela, he believes in empowering marginalized voices in the workforce.
"I've seen those that are very skilled and that have not had the opportunity to be able to move forward into the workforce," he said. "And there are those that have been victims of lack of privilege, not being able to enjoy the same benefits as everybody else. Goodwill offers that kind of skills training."
Malik Brown, director of LGBTQ Affairs for the city of Atlanta, said the fair is part of an effort on behalf of the city to address the unique issues facing the community.
"The mayor's LGBTQ Opportunity Fair is the latest in a series of actions Mayor Bottoms has taken to provide direct COVID-19 support and relief to our communities," he said. "Goodwill of North Georgia is a leader in workforce development, and we are proud to continue our partnership with Goodwill on this initiative."
Keith said that while America has gone through a pessimistic year and-a-half, he still is looking toward the future.
"I think I am extremely optimistic about what the next few months can bring," he said. "Economists are saying there have never been more jobs available than there are right now, never in the history of the world. And the need for talent is through the roof everywhere."
For Kyra, she still believes there is more that Georgia can do to empower its LGBTQ workforce — primarily, the issues that can be faced working in a right-to-work state.
"The biggest threat to LGBTQ employment in Atlanta is Georgia being an at-will state with zero protections under the law," she said. "I was constantly afraid of being let go for any other cause they could gin up."
She also believes the city can do more within its own LGBTQ advocacy.
"The city should also look beyond tokenizing particular community members internally, and seek to hire more non-cisgender male people to positions of trust and authority," she said.
Brown said the city will continue to partner with Goodwill in the future, and that the city of Atlanta has been proven as an LGBTQ-forward city.
"Atlanta is home to many corporations who score perfect or near-perfect on the Human Rights Campaign's Corporate Equality Index (CEI)," he said., "The CEI is the national benchmarking tool on corporate policies, practices, and benefits pertinent to LGBTQ employees, and we are appreciative of the corporate leaders who take such important steps to ensure their workplaces are affirming and safe for the LGBTQ community."
The fair is scheduled to begin 10 a.m. Thursday.
Secondary Content
Bottom Content