Section Branding
Header Content
'I Need To Be Able To Vote': Probation Law Opens New Pool Of Voters
Primary Content
After more than a decade of being barred from the ballot box, Macon resident Frances Jones can finally vote.
The 49-year-old is one of hundreds of thousands of Georgians serving a probation or parole sentence that kept them from participating in elections.
But a new law passed by the Georgia General Assembly last session creates a pathway to early felony probation termination that, advocates say, will ease individuals reentry back into daily life and give a voice to many previously disenfranchised. 
"We have to get out of this mentality that voting is a privilege," Jones said. "Voting is not a privilege. It is a right. You're born in the United States. You have a right to vote."
Georgia has more individuals serving probation or parole than any other state in the country — 1 in 18 residents, which is more than three times the national average, according to advocacy group Georgia Justice Project.
Advocates say it's largely due to the extreme length of sentences. Nearly half of all Georgia's probation sentences exceed 10 years. Georgia's average length of sentences — more than six years — is longer than most other states, too.
Criminal justice organizations are working to reach tens of thousands of Georgians who may qualify for early termination of their probation sentence, part of an outreach campaign to let people know of the new law. 
"As with so many changes in the law, it is all about the implementation; it's all about the enforcement," said Atteeyah Hollie, managing attorney at the Southern Center for Human Rights. "Really being sure that these changes touch people's lives and lead to shorter sentences — that's kind of like where the rubber hits the road."
Upwards of 48,000 Georgians may be eligible — Jones being one of them.
The new law means hope for Georgians on probation to end their supervision period early, easing barriers to finding employment and housing, seeking an education and finally making their vote count in crucial elections.
The new law's passage was in stark contrast with the sweeping and controversial election restrictions passed by the Republican-held state legislature in the wake of the 2020 election.
Being able to cast a ballot again is something Jones is ecstatic about. "The main thing is I need to be able to vote," she said.
A system 'holding you back'
When Frances Jones went to prison in 2010 after being convicted on shoplifting and forgery charges in Douglasville, she said her life changed forever.
Jones served two years of her 15-year sentence behind bars and the remaining time on probation.
After being released, she worked to pick up the pieces of her fractured life.
She's been able to reconnect with all seven of her children, except one son who chose not to be adopted. Jones and her other sons have been unable to track down their sibling, Roy Daniel Lee Miller, born in 1998.
Aside from reuniting with her family and making TikTok videos with her grandchildren, Jones spends her days as a gas station inspector.
In a dire effort to find financial stability after being released, she took an online course to teach herself how to build credit, invested in the stock market and worked to buy her first rental property.
But under the lingering cloud of felony probation, she said, many things were still out of reach. She was unable to attend truck driving school, an industry suffering from a shortage of workers, because of the years left on her probation.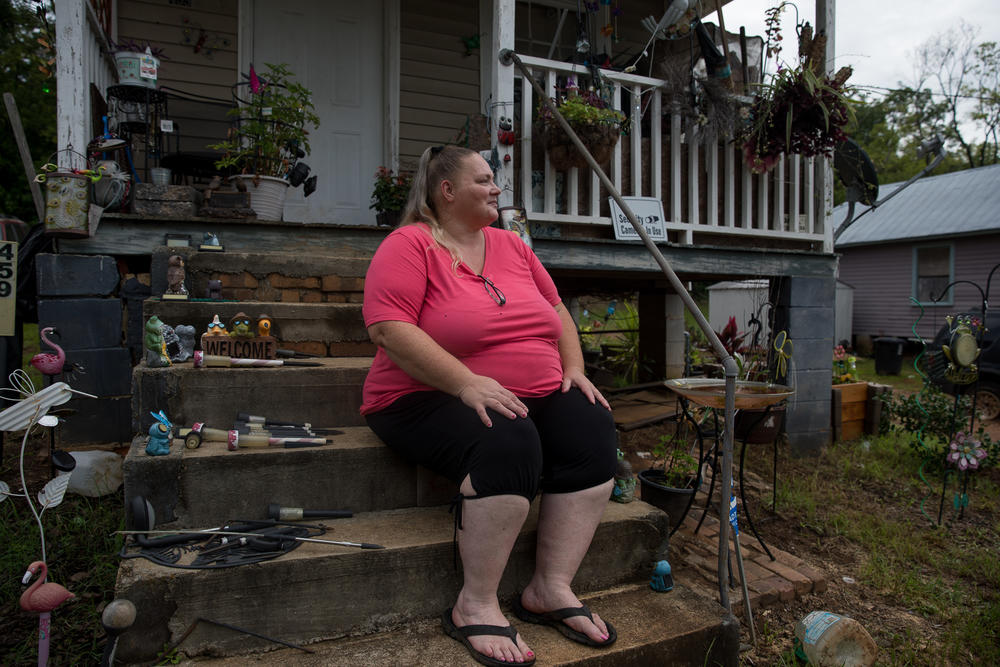 "Basically, you would say I've become a productive member of society, but I'm taking the steps that I need to take to break the bonds of poverty and impoverishment," Jones said. "But it's difficult. It's difficult with a system holding you back."
'Stripped of their rights'
Hollie said Georgians face extreme probation sentences for often minor charges, sometimes even simple traffic offenses.
"You would just see people in court getting 10-year sentences, 20-year probation sentences," she said. "And if you're faced with the prospect of prison, if that's on the other side, then naturally you're going to take that excessively long probation sentence. It just keeps people in this revolving door of correctional control and jail that they just don't need to be in."
Jones was able to terminate her probation four years ahead of schedule after lawmakers nearly unanimously passed Senate Bill 105 — a small reform to the criminal justice system in Georgia that many anticipate could have a big impact.
Individuals on felony probation who have served at least three years of their probation sentence, have had no new arrests, have not had their probation revoked in the last two years and have paid all the restitution owed in their case are eligible. 
A similar piece of probation reform passed in 2017 that allowed Georgians to get off probation for good behavior. But the Georgia Justice Project found that of the 50,000 people who qualified, only slightly over 200 actually had their sentences terminated early.
McDonough Republican State Sen. Brian Strickland championed the bill this session. He noted that left-leaning advocacy groups such as the Georgia Justice Project and the powerful conservative lobbyist group, the Faith and Freedom Coalition, worked together on the legislation despite the ongoing partisan fights over election legislation.
"(Senate Bill 105) is the exact opposite of the divisive nature we had with election reform," he said. "This is something where you saw all of us come together."
More than 190,000 Georgians are currently serving a probation sentence, according to the Department of Community Supervision.
"In Georgia, you're allowed to vote as soon as you're off of paper, which means as soon as your sentence is done," Rachel Holmes, managing attorney for Georgia Justice Project, said. "[Senate Bill 105] would enable all those people to be able to vote. All they have to do is just register now."
The group estimates up to 25% of those on felony probation qualify for early termination immediately. 
That's a large voting population that has been left out of having a say in the state's politics, Hollie said, while every vote becomes more and more critical.
"We're not talking about 10 people, we're not talking about a small group of people," she said. "We are talking about, again, hundreds of thousands of people who are stripped of their right to vote because of probation."
Racial disparities plague justice system
It's a population that is also disproportionately made up of Georgians of color.
Racism persists at every level of the criminal justice system, Hollie said. 
"It just seems odd to me that we recognize that Black people are more likely to end up in prison," she said. "Black people are more likely to be saddled with extreme lengths of probation and then Black people are more likely to be disenfranchised because of that. And then we just allow those patterns to happen."
Jones, although white, pointed out the glaring disparities in the system.
"If we disenfranchise people that are incarcerated and on probation and parole, then we can disenfranchise more African Americans and other minorities," she said. "People need to start pointing this out, that we recognize this is a form of racism. It is systematic racism in this country. I've seen it firsthand."
Nationally, The Sentencing Project, a criminal justice reform nonprofit, estimates that more than 6.2% of the adult African American population is disenfranchised, compared to 1.7% of the non-African American population.
In Georgia in 2020, the group estimates 6.27% of the Black population was disenfranchised due to felony convictions.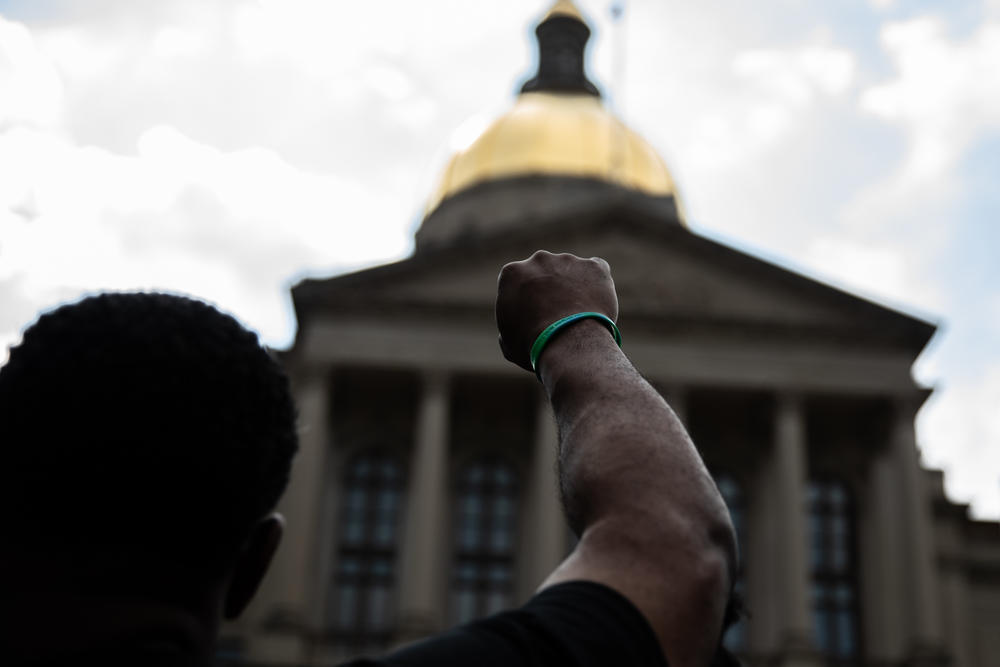 Georgia lawmakers previously wrestled with relaxing the state's felon disenfranchisement laws. But efforts had fallen short.
Criminal justice lobbyists have fought for years to change Georgians felon disenfranchisement laws but hit roadblock after roadblock.
Holmes and other advocates give some credit to the mass protests last summer after the death of George Floyd, in which Atlantans joined the country in calling for racial justice.
"Black individuals are twice as likely to be on probation and eight times more likely in certain counties," she said. "That is just something that people are starting to reckon with and starting to understand what being under correctional control, being in the criminal justice system, what that does."
The challenge now: to reach the thousands of Georgians whose lives could be changed drastically by the new law.
"There could be a lot of people that actually get terminated that aren't even aware they were eligible for it," Holmes said. "But we're trying extensively to get the word out."
Much of the outreach burden weighs on the shoulders of the Department of Community Supervision, but Georgia Justice Project is spreading the word through webinars and, during elections, at voter mobilization events.
Eight years sober, Jones said, her prior drug problem led her down the path that eventually put her in prison.
After the successful early termination of her probation four years ahead of schedule, she said she wants to be an advocate for other formerly incarcerated Georgians who "just want a chance to live out their life."
"A lot of people think that people on probation and parole are lowlifes," Jones said. "They don't know everybody's story. They don't know everybody's situation."
Her story now includes the right to vote.
 
Secondary Content
Bottom Content