Section Branding
Header Content
Georgia Hospital Workers Vaccination Rates: The Good, The Bad, And The Unknown
Primary Content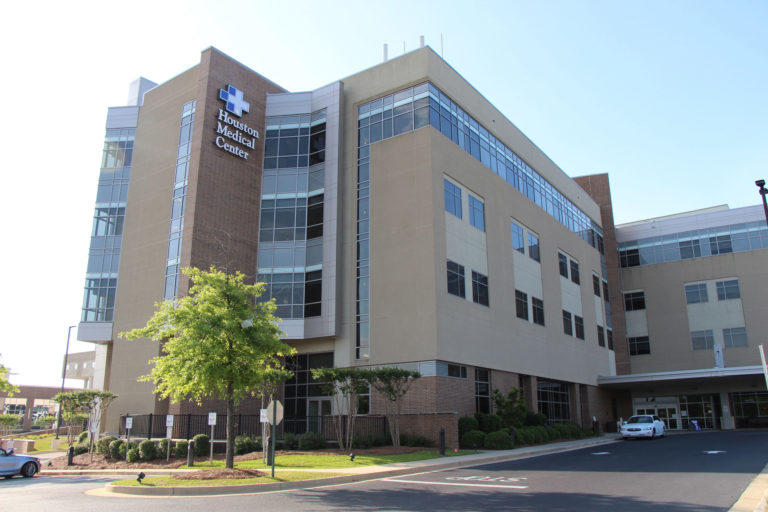 Houston Healthcare did the typical things to promote COVID-19 vaccination among its hospital workers, including stressing the importance and safety of getting a shot.
But the Warner Robins-based system's successful vaccine effort had a personal dimension as well.
The deaths of three beloved staff members from COVID-19 motivated employees to get the shots, says Houston Healthcare's CEO.
The dietary director for both of the system's hospitals — Houston Medical Center and Perry Hospital — was one of the COVID deaths. The others were a secretary for a COVID unit at Houston Medical, and a general surgeon who worked in the community for 40 years.
"They weren't just three individuals,'' says Charles Briscoe, president and CEO of the Middle Georgia system. "They were very much loved.''
More than 80 percent of employees at the two hospitals have been vaccinated for the coronavirus. That's a much higher percentage than the average for Georgia hospitals. The data from Houston Medical and Perry Hospital are shown in federal health statistics on COVID vaccinations for hospitals' employees.
That rate is also more than double the percentage of vaccinations in the communities around the hospitals.
The feds are asking hospitals to report their employee vaccination rates, but it's voluntary, and many have chosen not to reveal their numbers.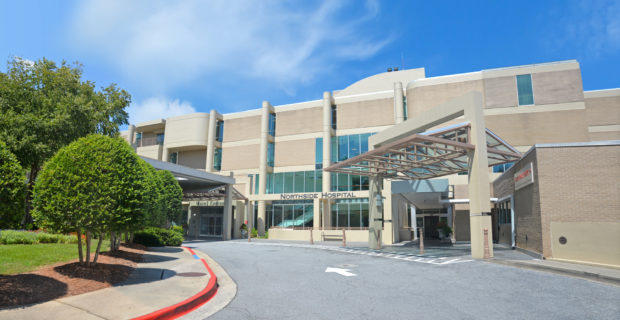 Large multi-hospital systems in Georgia such as Piedmont Healthcare, HCA Healthcare, Wellstar Health System and Northside Hospital haven't reported their rates of employee vaccination. The percentage of Georgia hospitals reporting their numbers, though, is higher than the national average of 52 percent.
Several rural hospitals report high rates of unvaccinated employees – 50 percent or more. Two AdventHealth hospitals, in Calhoun and Chatsworth, had mostly unvaccinated workers – 66 percent and 56 percent, respectively – when they reported the information to the U.S. Department of Health and Human Services (HHS) in mid-May. Now, the two hospitals appear not to be reporting their percentages, according to a recent check of HHS data.
Piedmont and Northside, each based in Atlanta, have offered financial incentives for employees to get COVID shots.
The 11-hospital Piedmont system has offered employees $400. Northside, with five hospitals, is giving workers up to $500, depending on how many hours they work. Officials in both systems say the incentives have boosted their employee vaccination rates.
"Northside recently began providing financial payments to employees for completing their COVID-19 vaccination regimen. This program has been well received, and our vaccination levels have been rising,'' said Katherine Watson, a Northside Hospital spokeswoman. "Because a vaccination is a medical procedure, employee medical information has to be protected. We are compiling employee vaccination data, but not submitting to other groups at this time.''
Neither Piedmont nor Northside disclosed its employee vaccination rate to GHN.
Piedmont, in explaining why it does not report employee vaccine data, said its data requirements are already burdensome. "We focus on complying with more than 1,200 required reporting data elements to various federal and state government agencies on a routine basis and, as a result, we opt out of those that are voluntary.''
HCA, a Tennessee-based company, said the employee vaccination rate in its Georgia hospitals is "far higher'' than that of Georgia as a whole, which according to the New York Times is 54 percent of adults having at least one shot.
There have been some data hiccups involved in the employee vaccination reporting.
Grady Memorial Hospital, Atlanta's big safety-net facility, reported to HHS in May that 98 percent of its employees had received at least one shot. That number was in error, Grady says now.
"Because anyone working at the health system (Emory/Morehouse physicians, cleaning and food services staff, etc.) can receive the vaccine here, the staff vaccination rate looks higher than it is,'' said Grady spokeswoman Denise Simpson. "The number in the report is not just Grady employed staff.''
That actual rate of Grady employees vaccinated is about 57 percent, Simpson said. In a recent check of HHS data, Grady did not report a vaccination rate.
Mandating shots is a delicate issue
COVID vaccinations for hospital workers should be required, said Dr. Mark Ebell of the University of Georgia College of Public Health.
"It's about protecting the patients,'' he said.
Ebell noted that hospitals can legally require employees to get flu shots. And a federal court has upheld a Texas hospital's right to require its workers to get COVID-19 vaccinations or lose their jobs.
In recent weeks, dozens of hospitals and medical groups in Indiana, Maryland, New Jersey, New York, Pennsylvania, Washington, D.C., and elsewhere began issuing vaccination requirements, Stateline reported. Experts in public health law say the moves are a legal means of ensuring a safe, COVID-19-free environment for patients and workers.
The high percentages of unvaccinated hospital workers being reported are "startling,'' Ebell said. "They are people who should know better'' after having lived through the pandemic, he added.
Houston Healthcare arrived at its high employee vaccination rate without offering incentives. "It's a very impressive number,'' said Briscoe, the CEO. "It's not meant to diminish the efforts of my colleagues around the state. We know all administrators are doing everything they can to emphasize the importance of the vaccine."
Hospital officials have not analyzed the characteristics of workers who are still unvaccinated. Briscoe speculated that some of them are women of childbearing age, worried about the unsubstantiated claim that the vaccine can cause infertility. Others could be waiting for full FDA authorization of a vaccine, or may have been swayed by misinformation about the shots.
Briscoe said requiring a COVID vaccine for workers isn't out of the question in his Middle Georgia system. "We'd have to know a lot more facts first,'' he added. "We do mandate the flu shot.'' But Houston Healthcare may not take that step with COVID shots, citing the voluntary compliance already taking place.
In South Georgia, Miller County Hospital also has reached the 80 percent vaccinated rate.
Robin Rau, the CEO, said the hospital offered a $20 incentive for vaccinations "as a gesture,'' and also held drawings open to vaccinated employees, giving them a chance to win a wide-screen TV or $500 in cash.
Rau said she would like to require the shots for all the facility's workers. "I know it's the right thing to do,'' she said.
But she won't make vaccination mandatory because she fears that would cause a few workers to leave for jobs elsewhere. And even a few can make a difference. Hospitals already are dealing with what some call unprecedented shortages of medical professionals, from nurses to respiratory therapists to certified nursing assistants.
"The biggest problem in health care is staffing,'' Rau said.
This story is the second in a series.
This story comes to GPB through a reporting partnership with Georgia Health News.
Secondary Content
Bottom Content