Section Branding
Header Content
Secoriea Turner's Parents Sue City Of Atlanta Over 8-Year-Old Girl's 2020 Death
Primary Content
GPB's Amanda Andrews reports on the lawsuit filed against the city of Atlanta for the death of Secoriea Turner, an 8-year-old girl killed during a July 2020 protest.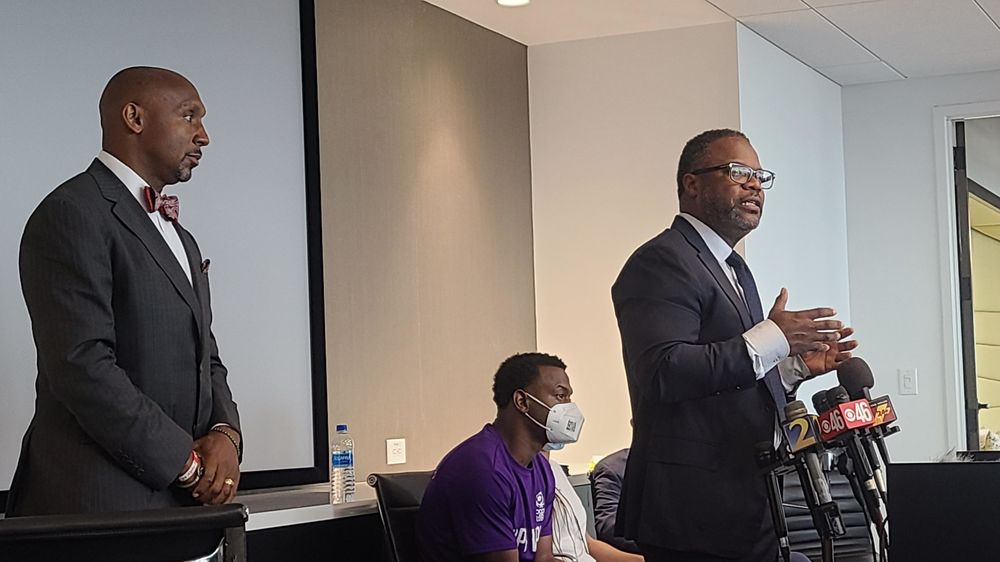 Civil rights attorneys announced Monday they filed a lawsuit against the city of Atlanta for the death of 8-year-old Secoriea Turner during demonstrations last summer.
Turner was shot and killed July 4, 2020, during protests following the June killing of Rayshard Brooks in a Wendy's parking lot by an Atlanta police officer. She was riding in an SUV with her mother in an area where armed protesters had blocked the street when one or more fired shots into the car.
Julian Conley, then 19, has been charged with murder and aggravated assault in the killing of Turner. He has maintained he is innocent, telling FOX 5 that he was at the scene, even carrying a firearm, but did not fire the fatal shot.
Her parents, Charmaine Turner and Secoriey Williamson, say negligence from city officials created the dangerous circumstances that lead to her death.
"Secoriea should be here," Turner said. "None of what we're doing will ever bring our baby back. Her life is priceless. We deserve justice. Someone needs to be held accountable."
The lawsuit filed in Fulton County State Court names Mayor Keisha Lance Bottoms, Atlanta Police Chief Rodney Bryant, Atlanta Councilwoman Joyce Sheperd, Wendy's International, and the company that owns the property where the Wendy's was located as responsible parties. 
Lead attorneys Samuel L. Starks and Mawuli M. Davis allege in the suit that city officials were aware of the dangerous situation and allowed it to happen. Bottoms said the city planned to clear the area weeks before Secoriea's death, but Sheperd asked for more time to talk with protesters, the lawsuit says.
Davis said this case is unique because of a June 17 police department email quoted in the lawsuit that called for officers to respond to victims of violence but "not be overly proactive in any shape, form or fashion."
"You shoot a man at the Wendy's and then you say 'Well, y'all are mad about that so we won't police at all,'" Davis said. "That's essentially what the rationale has been: 'If you're critical of us, then screw you.'"
The suit also names private individuals for their alleged failure to uphold their responsibilities as property owners and business operators under Georgia law. The legal team asserts that businesses have a responsibility to maintain security and report dangerous activity on the property, which they ignored.
"We intend to do everything within our power as unified legal team to hold them accountable for that which they cannot return to this mother and father: the precious life of 8-year-old Secoriea Turner," attorney Harold W. Spence said.
The attorneys say they plan to continue filing civil suits throughout June on behalf of other families affected by similar violence in the city until they are satisfied officials are taking the issue seriously.
Secondary Content
Bottom Content