Section Branding
Header Content
From Citizen's Arrest To $27.2B Budget, Here's What Bills Gov. Kemp Signed Into Law In 2021
Primary Content
More than 300 bills from the 2021 legislative session made it to Gov. Brian Kemp's desk, and he only vetoed one of them.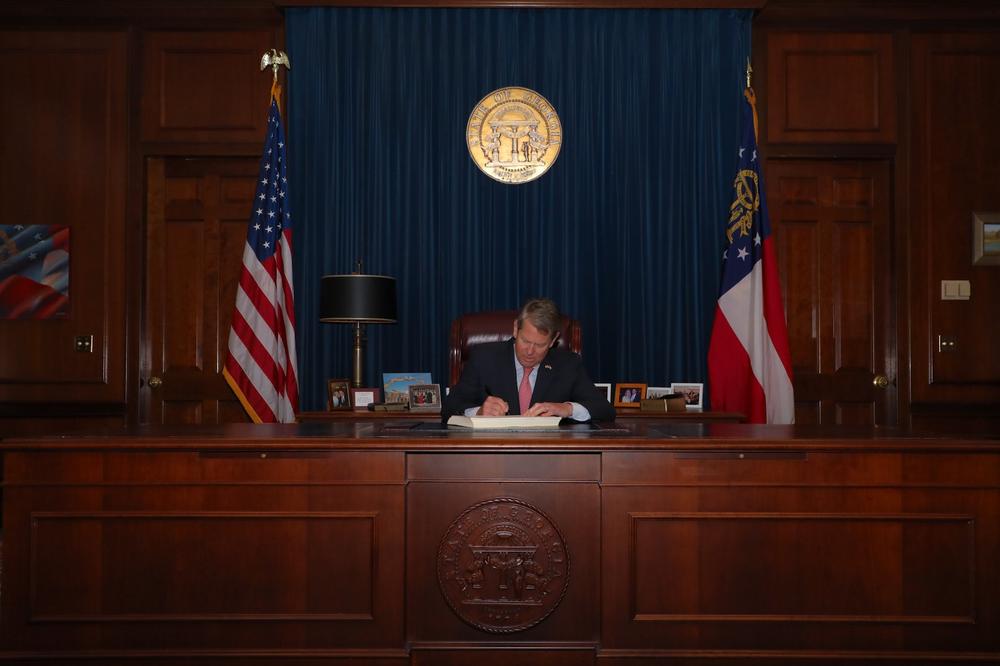 From a $27.2 billion budget to adoption reform to making the pecan the state nut, more than 300 bills and resolutions made their way to Gov. Brian Kemp's desk from the 2021 legislative session — and only one bill was vetoed.
Georgia election officials are already grappling with the effects of a 98-page voting law signed by Kemp in late March, and at various press conferences around Georgia the governor touted everything from adoption reform to allowing to-go cocktails.
But SB 156, passed with bipartisan support in both the House and the Senate, was nixed by the governor on the final Monday deadline.
The bill would have created a chief labor officer role appointed by the legislature that would have effectively usurped most of the powers of the elected Labor Commissioner after incumbent Mark Butler — a Republican — and the Labor Department came under fire for handling a glut of pandemic-era unemployment claims.
"While I understand the frustration that many in our state have felt regarding the backlog of unemployment claims, Senate Bill 156 proposes significant infringements on the separation of powers guaranteed by Georgia's constitution," Kemp said in his veto statement.
The most important bill Kemp signed — and the only one the General Assembly is required to take up — is the fiscal year 2022 budget that begins July 1. The $27.2 billion spending plan adds back many spending cuts approved last year when the state's economic future was uncertain at the start of the coronavirus pandemic.
Tax collections have been up so far over the 2021 fiscal year that ends June 30, so lawmakers restored 60% of funding from earlier cuts to the state's education budget.
"It's much more enjoyable to rebuild a budget, but it's certainly no less complicated," House Appropriations Chairman Terry England said when the budget was passed. "It's not just enough to refill cuts or reductions that have been made in previous years, but to go in and look at those funds that you're putting back to make sure that they're being put back in the proper place."
In other economy-related bills, Kemp signed a modest tax cut earlier this year that would save married couples about $100 a year by increasing their standard deductions.
Earlier this year, Kemp also signed SB 222, making the pecan the state nut; SB 100, which would put Georgia on permanent Daylight Saving Time if Congress allows it; and Georgians of age can order to-go cocktails from their favorite restaurants thanks to SB 236.
In recent weeks, Kemp held signing ceremonies for a number of priority bills, ranging from adoption and foster care reform (including an increase in the adoption tax credit from $2,000 to $6,000), a crackdown on street racing, and allowing college athletes to earn money off of their name, image and likeness.
Last week, Kemp inked a bill that will give about 250,000 state employees three weeks of paid parental leave, and Monday, the final public signing was reserved for the repeal of Georgia's Civil War-era citizen's arrest law, spurred into existence by the killing of Ahmaud Arbery by three white men.
Flanked by Arbery's mother and sister, Kemp praised the overwhelming support lawmakers poured into the legislation.
"Today we are replacing a Civil War-era law ripe for abuse with language that balances the sacred right to self-defense of a person and property with our shared responsibility to root out injustice and set our state on a better path forward," he said.
Not every bill was met with such bipartisan support: the Republican-controlled legislature passed a measure that bans local governments from defunding police services and another that prohibits cities from banning natural gas.
And ahead of a bruising 2022 election, Kemp signed SB 221, which would allow new committees for Kemp and other leadership to raise and spend unlimited amounts of money during the General Assembly session - which is currently not allowed otherwise.
Secondary Content
Bottom Content