Section Branding
Header Content
Piedmont Buying 4 HCA Hospitals In Macon, Cartersville, Snellville
Primary Content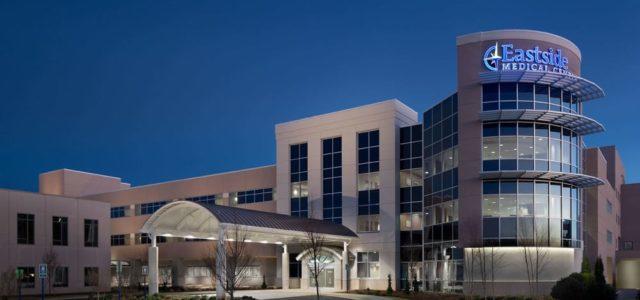 Piedmont Healthcare is adding four HCA hospitals to its network in a deal valued at close to $1 billion.
The purchases from HCA, announced Monday, would make Atlanta-based Piedmont the leading system in Georgia in number of hospitals, at 15. The Emory and Wellstar systems are next, at 11.
The deal had been rumored for several days. 
If regulators approve the acquisitions, as expected, the nonprofit Piedmont system will acquire Eastside Medical Center in Snellville; Coliseum Medical Centers and Coliseum Northside, both in Macon; and Cartersville Medical Center in Cartersville.
The targeted closing date is July 31. HCA, a chain based in Tennessee, valued the acquisition price at $950 million.
"We're very excited to bring our care model to these communities,'' Kevin Brown, the Piedmont president and CEO, told GHN in an interview after the announcement.
Piedmont already serves communities that have more than 70 percent of the state's population. The system's goal, Brown said, is to provide seamless, high-quality care in the hundreds of medical locations, including urgent care facilities, that Piedmont operates.
HCA is expected to sell its Rome hospital, Redmond Regional Medical Center, to Florida-based AdventHealth, which already has two hospitals nearby in northwest Georgia.
But HCA is moving to strengthen its presence in east and southeast Georgia. On Saturday, it announced that it had finalized its $73 million purchase of Meadows Regional Medical Center in Vidalia.
HCA said in a press release Monday that "the commitment of HCA Healthcare colleagues at these hospitals [being sold] has helped the facilities achieve national recognition for quality patient care, even though these facilities were not able to fully benefit from a broader HCA Healthcare presence in their areas.
"Given Piedmont Healthcare's history of serving the region's health care needs, the affiliation will better position the hospitals to continue providing excellent care to their patients,'' the statement added. "At the same time, the transaction provides strategic value to HCA Healthcare by increasing financial flexibility for investments in ongoing and future initiatives in core markets.''
Brown of Piedmont noted that of the four HCA hospitals that his system is buying, three scored an "A'' grade in the recently announced Leapfrog Group ratings.
"We're not trying to grow for growth's sake,'' Brown added. "We probably passed on 15 other opportunities.''
HCA has done "a phenomenal job'' on operating the four hospitals, he said.
He said Piedmont will eventually issue bonds to cover purchase costs.
Among Piedmont's notable purchases have been Athens Regional Medical Center, in 2016, and Columbus Regional, in 2018.
Josh Berlin, CEO of rule of three, a health care consulting firm, said the transaction makes strategic sense for both HCA and Piedmont.
HCA previously "was pretty spread out'' in Georgia, and didn't have much presence in metro Atlanta, Berlin said. The deal will allow the system to concentrate on its eastern and southeastern markets in Georgia, he added.
Besides Rome, HCA operates hospitals in Augusta, Savannah, Waycross, Dublin and now Vidalia.
"For Piedmont, it gives them a great opportunity to expand their network in metro Atlanta and outside metro Atlanta,'' Berlin said.
A bigger health care system brings economies of scale, including on purchasing supplies and technology, Berlin added. Larger companies have the clout to cut better deals with vendors and insurers.
Among the properties Piedmont is purchasing is Eastside Medical Center, a 310-bed, two-campus system in populous Gwinnett County. The north campus has 229 beds supporting acute care services, including a 46-bed emergency department.
The south campus currently offers a 61-bed inpatient psychiatric center, a 20-bed inpatient rehabilitation facility, and an 11-bed emergency department.
Coliseum Health System includes two acute care hospitals: Coliseum Medical Centers with 310 beds, including a 40-bed inpatient behavioral health facility (Coliseum Center for Behavioral Health), and Coliseum Northside with 103 beds. In addition, Coliseum operates an ambulatory surgery center in Macon with three operating rooms.
Cartersville Medical Center is a 119-bed acute care hospital that includes a 43-bed emergency department, with a Level III trauma center.
In addition, Piedmont would become a partner in a joint venture for 12 urgent and family care clinics.
This story comes to GPB through a reporting partnership with Georgia Health News.
Secondary Content
Bottom Content