WATCH LIVE | GHSA Flag Football Division 1 Championship: Southeast Bulloch vs. North Oconee, At 2 P.M.
Section Branding
Header Content
As Georgia Mass Vaccination Sites Close, Grassroots Efforts Try To Fill In The Gaps
Primary Content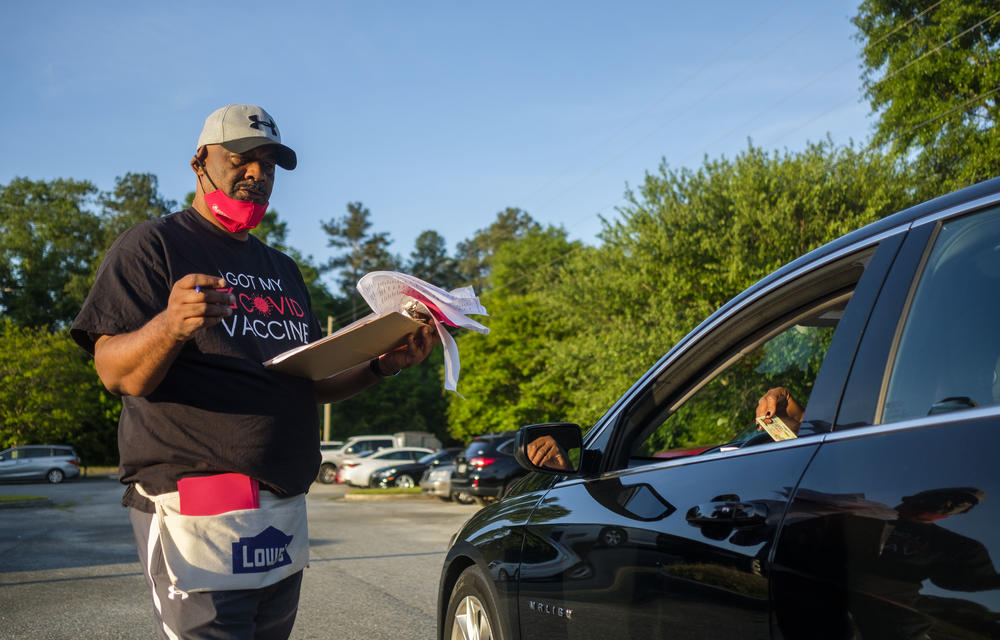 From here on out, getting vaccinated against COVID-19 in Georgia will be less about how people find the vaccine and more about how vaccinators find them.
When cars began snaking around St. Paul AME Church in Macon little after 7 a.m. Tuesday, it was because people were looking to sign up for help with future power bills from the Macon Bibb County Economic Opportunity Council. Summer's coming and A/C will be running non-stop, again.
As the Rev. James Baker of New Beginnings Missionary Baptist Church checked people into the program, he offered them another service, too.  A disease fighting side benefit. 
"Have y'all took the vaccination shot?" he asked two women in the latest car. "We're doing them this morning and we're giving $25 Walmart cards."
Baker was trying to steer people to the pop-up tent with a handful of medical technicians at the end of the traffic spiral around the church. They were staffing Atrium Health's first-ever no-appointment needed COVID-19 vaccine event.
Data suggest the country is hitting a plateau in the pace of COVID-19 vaccination. In Georgia, the slowdown is comes at the same time as the decision to shutter its mass vaccination sites next month even as the state remains near the bottom of national rankings for how many residents have been vaccinated. At least one major regional healthcare provider, Phoebe Putney Health System in southwest Georgia, is also winding down its mass vaccination sites in the face of lagging demand.
The Georgia Department of Public Health says what comes next, beginning on April 30, will be that first doses in two-dose regimens previously slated to go to the huge GEMA sites will instead go to mobile clinics or faith- or community-based vaccination events like the collaboration between the Macon-Bibb County EOC and Atrium Health where Baker cajoled people to stick around for a shot. The mass sites will administer second doses through May 21.
According to GEMA, their mass sites have administered 282,833 vaccine doses. That's a little less than 5% of what has been administered in Georgia in total.
"You got both of yours?" Baker asked one of the women before sending them on to the energy assistance process. She nodded. Her companion did not. 
"Convince her by the time you come around, OK?" Baker said.
Until now, vaccinations in Georgia have either required people to take the initiative to make an appointment or they have been made possible by massive vaccination sites prepared to dole out thousands of shots a day.
Carol Babcock is in charge of this Atrium Health pop-up and of the medical group's Macon vaccine effort in general. She said times have changed. People who want the shot have gotten it. What's left are unreachable people or people who would get vaccinated if it were easy. The latter were the target here.

"So we're kind of anxious to see," Babcock said. "This Is the first time we're doing one where we're not registering people. We are just here on site and whoever wants the vaccine, we registered them and give the shot all in one sweep."
Eula Faye Johnson was convinced to wait the extra 20 minutes for her first shot after being screened for help with her power bill. But even as she waited, she admitted to something that's probably true for a lot of people.
"I'm just scared," she said with a laugh.
Easing people's vaccine fears is the main goal today of Fair Count, the group founded by Stacey Abrams and until recently devoted to equity in the U.S. Census.
Jeanine Abrams McLean heads the COVID-19 efforts at Fair Count and is a former Centers for Disease Control and Prevention researcher. She says Fair Count's work now was inspired by watching the mass vaccination site in Albany.
 
"Seeing that site open up with the capacity to give out 1,100 shots a day and only seeing a few hundred people show up, that was the first thing," Abrams McLean said.
 
Abrams McLean said it's not enough to open up a mass vaccination site and wait for people to come to you, especially in economically challenged neighborhoods and towns.  
"It's also about getting information about how to get to the site, how to sign up," she said. "You know, these are communities that lack Internet access, and having to go online and get a QR code and bring that QR code for people that don't have Internet or just aren't tech-savvy, that's daunting."
Today, Fair Count is tackling that divide through education. The group says it will later get into appointment-free vaccine pop-ups, too. It is looking at partnering with food banks.
But on a recent day, Fair Count fieldworker Stephen Galloway canvassed Macon's Tattnall Heights neighborhood by hanging one-page brochures from doorknobs. He'd already had a day of the same work in Quitman in southwest Georgia under his belt.
The tags had a little information about coronavirus vaccines, a URL for more info at a website plus a phone number to call.
"You want one, sir?" Galloway asked of a middle-aged man chatting with two other women, one his age, the other elderly, on an apartment stoop.
Occasionally, Galloway ran into people on their stoops such as Mildred Elams.
 
"See, if you go on there on the website, it shows you all you need to know about —" Galloway began, before Elams cut him off.
 
"I'm vaccinated by the Holy Ghost," Elams said.

Galloway said that response was a first for him. But at least, he said, he'd left Elams with a gateway to real information in her hand.
"So hopefully she'll take a look at that and hopefully she'll change her mind," Galloway said. "But in cases like that, you know, it's good not to preach."
At the vaccination pop-up at St. Paul AME, Baker had no such qualms. In fact, as a church leader, he says preaching about COVID-19 vaccines is his duty.
"I could give scripture: 'Faith without works is dead,'" he said. "So we got to do something to protect ourselves when God gives us — he provides for us a protection."
That's why he steered Johnson to the vaccination tent. Even though she didn't know the road would take her to a COVID-19 vaccination when she woke up, she saw it through.
"I hope I'll be OK," Johnson said, still a little nervous about side effects. "If I do good, maybe my daughter will come. 'Cause she's scared, too."
Organizers of the pop-up said they expected to dose out shots in the tens at the event rather than the hundreds or even thousands at mass vaccination sites.
"I mean, these are relatively low numbers, but they add up pretty quickly," Carol Babcock of Atrium Health said. "Anybody that we can get to, it's better than nothing."
Before she backed her Honda out of the space where she'd been vaccinated, Johnson let everyone know she was feeling better. Maybe even happy about the way the turn the morning had taken.
"I did it!" she exclaimed with laughter. The workers from Atrium Health briefly clapped and cheered, celebrating one more shot along the way to immunity against COVID-19.
Secondary Content
Bottom Content