Section Branding
Header Content
Some Fulton Commissioners Launch Plan To Fight Georgia Voting Law
Primary Content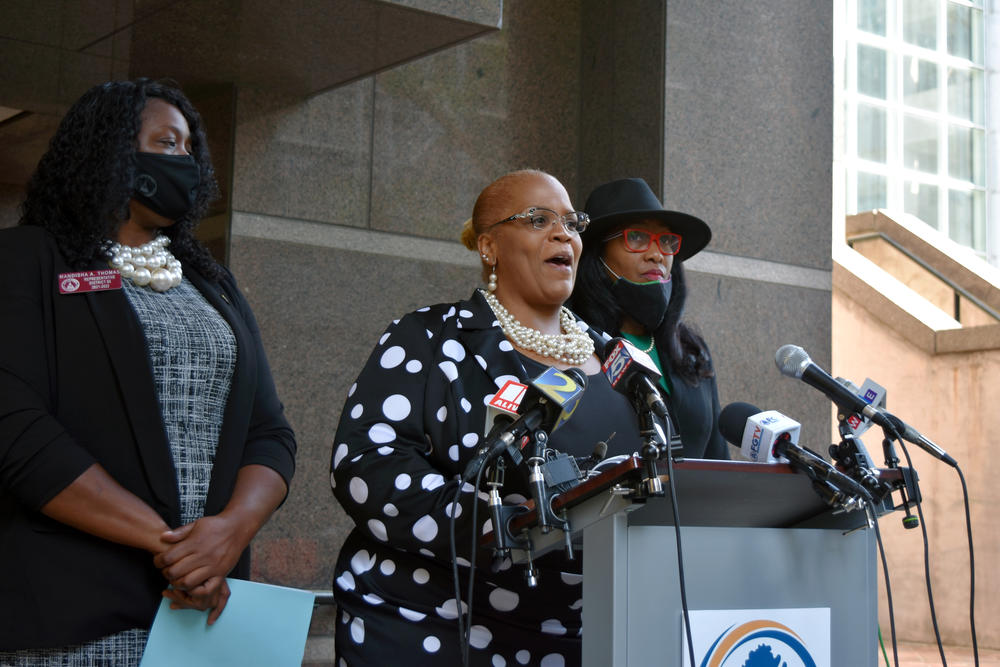 Democratic Fulton County Commissioners are sponsoring a resolution that directs the county to mitigate potential negative effects of Georgia's sweeping new voting law — especially the provisions that explicitly and implicitly target the state's most populous county.
Led by Commissioner Khadijah Abdur-Rahman, the resolution set to be introduced Wednesday expresses support for federal voting rights legislation, ask the county attorney's office to explore legal options to fight parts of the bill and have the elections office find ways to expand voting access in spite of new changes that she called "legislative terrorism."
"You can call it Jim Crow, you can put it in a bow, but it's still targeted voter suppression," Abdur-Rahman said at a press conference Tuesday. "We stand as commissioners on the premise that access to the ballot should be easy and accessible, not hard."
Several provisions of SB 202, signed into law March 25, are aimed at how Fulton County conducts its elections. Nearly one in five votes in November's record-setting general election were cast using mobile voting units or secure absentee drop boxes, two voting methods dramatically overhauled by the law.
The county can no longer use their two mobile voting buses equipped with ballot-marking devices that were used as pop-up early voting locations in the November and January elections, unless the governor declares a state of emergency. More than 11,000 people took advantage of the sites that were spread throughout the county to cut down on lines.
"Fulton County has two mobile units that helped 11,000 people vote," Abdur-Rahman said. "Were these the 11,000 votes that Trump was looking for? I ask you to think about that: 11,000 voters will not be able to vote because SB 202 will take that and make it a trash can."
While the new law codifies drop boxes for the first time, it places a cap on when, where and how many can be used. For November, Fulton had 38 drop boxes that were located within three miles of 90% of the county's 806,000 registered voters. Now, the law mandates one drop box per 100,000 voters or one per early voting site, whichever is smaller. That leaves Fulton with eight drop boxes.
One of the most controversial provisions outlines a method where the State Election Board — now with a majority of seats appointed by the legislature — can investigate and temporarily suspend failing local elections boards that have multiple repeated problems. The law was drafted with Fulton in mind, especially after the June 2020 primary that saw catastrophic wait times in majority-Black communities, problems with voting equipment and a meltdown of the absentee ballot process overwhelmed by record turnout.
But some Republican lawmakers have also engaged in conspiracy theories about the 2020 election and Fulton's role, including false accusations of absentee ballot fraud.
The Fulton elections board also voted to fire its director Rick Barron after the election, a decision that was eventually reversed by the Democratic-controlled County Commission.
There are currently at least 5 lawsuits against SB 202 pending in federal court, arguing that parts of the 98-page law are racist and violate the Constitution and Voting Rights Act. The Fulton resolution does not expressly direct the county attorney to join any of the suits or file their own, but Abdur-Rahman said they should explore all options.
The resolution comes before the commission on Wednesday.
Secondary Content
Bottom Content