Section Branding
Header Content
Employer Teamwork Boosts Vaccine Access For Latino Community In North Georgia
Primary Content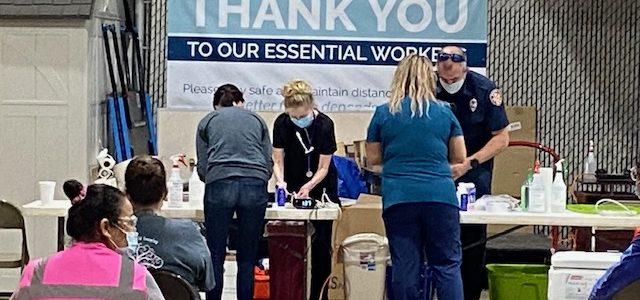 Three rival Georgia carpet companies took a break from their floor-covering competition to focus on a foe that united them: COVID-19.
Mohawk Industries, Shaw Industries and Engineered Floors collaborated on a COVID vaccination event for the workers at their Dalton-area plants recently. Almost 5,000 shots were administered over two weeks in the northwest Georgia city that's called the "carpet capital of the world."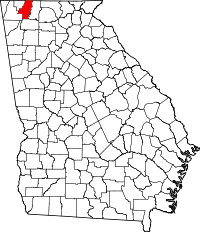 A large majority of those getting vaccinated were Latino workers at those companies.
"Competitors worked together for the betterment of the community,'' said Santiago Marquez, CEO of the Latin American Association, a social services nonprofit that helped bring the carpet companies together.
Latino/Hispanic leaders in Georgia say more such outreach is needed to increase vaccinations in their communities.
Their vaccination rate lags far behind those of other Georgians, public health data show.
Officially, about 11 percent of Latinos in Georgia have had at least one shot, though Public Health officials say that's probably an undercount. Still, among the overall state population, 26 percent have received at least one dose — among the lowest rates in the country.
The Latino community has been hit hard by the virus in terms of cases and deaths, said Gigi Pedraza, executive director of the Latino Community Fund.
Whitfield County, where Dalton is located, shows one of the highest COVID case rates in the state, as does Hall County, where many Latinos work in the poultry plants.
An Atmosphere Of Trust
Latino leaders say it's important to bring the vaccine to places where people feel comfortable going.
Community partnerships have worked, said Pedraza. "Overwhelmingly, our people want the vaccine."
A recent Kaiser Family Foundation poll found that about 55 percent of African-American adults said they had been vaccinated or planned to be vaccinated soon, up 14 percentage points from February. The rate now approaches that of Hispanics, at 61 percent, and whites, at 64 percent.
But Hispanic people across the U.S. continue to be underrepresented among those vaccinated for COVID-19, according to a recent New York Times analysis of state-reported race and ethnicity information. The Hispanic share of the vaccinated population is less than the Hispanic general population in all states with large Hispanic communities.
Though hesitancy about the vaccine is a factor, as it is in all communities, there are other major barriers for Latinos, including lack of transportation, language issues and unfounded fears that the program could be used to target undocumented immigrants.
Alejandro Coss of the Latin American Chamber of Commerce of Georgia said he got his shot at the Mexican Consulate in Atlanta, where more than 200 people were vaccinated on the same day.
It's important for people to go to a location "where they feel at ease,'' Coss said. The chamber is planning an upcoming vaccine event at a Latino shopping center in Lilburn. "People need the right opportunity,'' Coss added.
The message must get out that the vaccine is free, that no insurance is needed, and that no Social Security number is requested.  "There's no immigration enforcement,'' Pedraza said.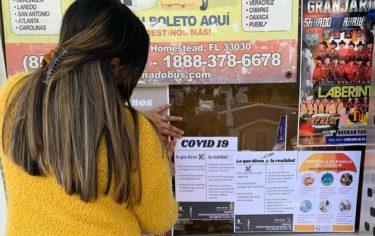 Her organization was among more than 40 groups that sent a letter last month to Gov. Brian Kemp, requesting that state officials prioritize improving vaccine equity.
"Thousands of individuals are unable to make appointments and access this life-saving vaccine because of the lack of language access in appointment platforms,'' the letter said. "Every week, we receive dozens of reports of individuals turned away and denied the vaccine because they presented a passport as an ID, or lacked a Social Security Number or insurance.
The letter urged state officials to publicly announce and visibly post at all vaccination sites a notice that no one will be denied a vaccination for lack of a Social Security card, insurance or documentation of immigration status.
Other recommendations include offering Spanish-language information on appointment platforms, and prioritizing local and community clinics for vaccine distribution, especially those serving immigrants and rural communities.
Reaching A Lot Of Workers
Marquez of the Latin American Association said of the Dalton initiative: "We felt it was a moral imperative to do this.''
Just under 5,000 people were vaccinated over two weeks, he said.
Marquez believes a similar initiative could work in Gainesville, where the poultry industry employs many Hispanic adults, and in South Georgia farming communities, where Latinos serve as agricultural workers.
Shaw Industries told GHN on Tuesday that the collaboration "was important from a community perspective.''
"We compete with our competitors in the marketplace,'' said Mike Fromm, chief human resources officer for Shaw. "We don't compete with them in the community we serve.''
Shots were offered to people on night and weekend shifts, as well as to workers on daytime schedules, Fromm said.
He said vaccine hesitancy is gradually decreasing. "As more and more of their co-workers are getting [vaccinated], more people are coming forward'' to get shots, Fromm said.
The key to the event was collaboration, he said, "putting your company's interests behind the community's interests."
This story comes to GPB through a reporting partnership with Georgia Health News.
Secondary Content
Bottom Content