Section Branding
Header Content
Georgia Schools Turn To 'Camp-like' Summer School To Stem Learning Loss
Primary Content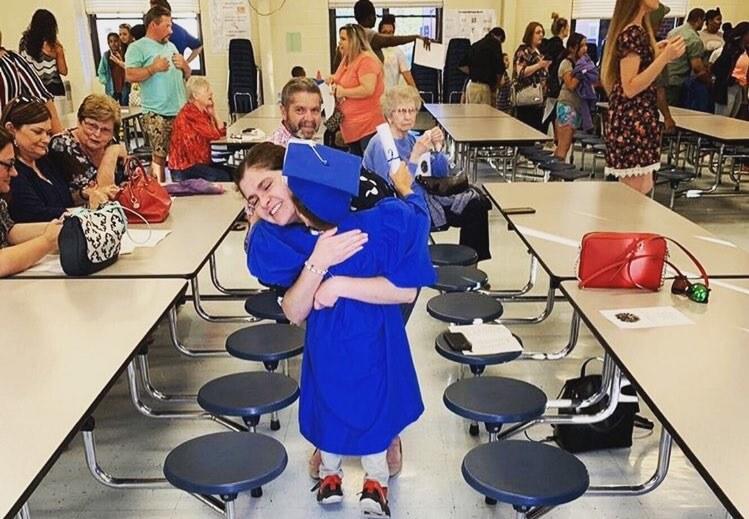 Early last year, Coweta County mom Rachel Moss had a meeting with her son Jase's kindergarten teacher.
"Essentially, she was saying he wasn't the most behind kid in his class, but he was definitely struggling and falling behind, and she was giving me some ideas of things we can do to try and get him caught up," Moss said.
Jase, who is now 6 years old, was one of the youngest in his kindergarten class. He loves learning about numbers and science, but his teacher thought he would benefit from some extra help in reading.
But not long after that meeting, the arrival of COVID-19 in Georgia spurred Gov. Brian Kemp to close down in-person learning across the state. Schools struggled to adapt to the sudden shift to online instruction, and parents found themselves unexpectedly taking on the role of part-time educator.
"His teacher, on a very regular basis – I would say every other day – was sending us different resources, but he didn't finish kindergarten," Moss said. "And then as a working single mom, I work in the real estate industry, with the interest rates dropping, I was working 13 hour days. So even though I had bought a few workbooks off Amazon, I did not have the time to put a lot of focus on getting him caught up or getting him up to speed."
Jase's first-grade teacher has been great about working with Jase and keeping her informed, Moss said, but the year has been a challenge.
"There's only so much she can do," Moss said. "I mean, of course, all of her students didn't finish kindergarten. So with a kid who didn't finish kindergarten, and he was already falling behind, and then he gets thrown into first grade."
Moss said she wants what's best for her son, but it's not easy to know what that is.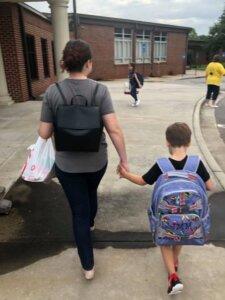 "I'm concerned, if I sent him to second grade, is he just going to drown? Or do I hold him back voluntarily if I decide he needs to be held back because he's not ready? And emotionally, psychologically, how would those things affect my child? I definitely am in a really crappy, for lack of a better word, position when it comes to my child and his education right now."
Concerns About Learning Loss
Moss is far from alone, but the full scope of the COVID-19 pandemic's effect on Georgia students remains to be seen. During a typical year, educators work to overcome so-called summer learning loss, which occurs when students forget some of what they learned before the break.
This loss of knowledge, though, was likely exacerbated last year by the sudden closure of school buildings here and across the nation. Some Georgia students are still studying online, but even those who have returned to school sometimes face unexpected transitions to online classes when a positive COVID-19 case triggers quarantines.
Standardized tests like Georgia Milestones are typically used to gauge student progress and learning loss, but most Georgia students have not taken a state standardized test since 2019.
Late last month, the U.S. Department of Education approved a request from Georgia to waive testing accountability requirements, which means Georgia Milestones tests will be administered this spring but results will not be held against schools.
Georgia was one of the first states to suspend testing altogether last year, and Superintendent Richard Woods pushed to request the waiver again and lower the stakes of tests this year.
"While I still believe strongly that the middle of a global pandemic is no time for high-stakes tests – especially high-stakes tests that must be administered in person – classroom teachers and building administrators can hopefully get some relief since the test results of students this year will be used purely as a gauge of student learning rather than a summative (College and Career Ready Performance Index) score," he said.
With a shortage of hard data, researchers have created projections of potential losses, which suggest schools could have much work ahead to get students caught up. A Stanford University study last fall found students across 19 states, not including Georgia, may have fallen up to 183 days behind in reading and up to 232 days behind in math.
Georgia school districts will likely fare differently based on factors including the timing of their return to in-person learning, the level of access to broadband internet and their racial and economic demographics. Researchers warn learning loss will likely be higher in already underserved populations.
Within Georgia's districts, students have reacted to the stress of the pandemic differently, said Bibb County Schools Superintendent Curtis Jones.
"Those students who really enjoyed working virtually and showed up every day, they ended up being OK. The ones who had attendance issues, and that was a large percentage of our students, they ended up not learning as much as they could have," Jones said.
'You Can't Create Time'
School officials around the state have been working since before classes began to identify which students need help and how best to give it to them. One of the biggest obstacles is the looming summer break, a major source of learning loss even in normal years.
"You can't create time," said Susan Manry, curriculum director for Lee County Schools in south Georgia. "That's the biggest problem that there is. You can purchase programs, you can pay more people, you can come up with all kinds of things, but at the end of the day, there's a time factor you have to think about. Cognitively, students can only learn so much at a given time."
In Lee County, compensating for limited time has meant extending learning for students who need it, sometimes in after-school classes and sometimes by modifying a student's schedule to allow for one-on-one time with a teacher. High school students are getting more opportunities to recover class credits they missed out on because of the pandemic during and after school hours.
Lee County is among the more than 93% of Georgia school systems that have administered their own assessments to measure student learning loss, according to a survey conducted by the state Department of Education. Teachers are using that data to help create lesson plans for the students who are the most behind.
"We have to really drill down to what we need to focus on with those students, and I am confident in saying that our teachers do an excellent job with that," Manry said. "They know how to use the data that we have on our students to be able to manage that, because you can't teach them everything that you would normally teach them in a year's time. That's just not logical, so we have to really be able to drill down as to the exact skills that those kids need."
Bibb County Schools' teachers have a similar focus, Jones said.
"We have to really narrow down our curriculum to what the essential standards are, stay focused on those, really have a strong tier one instruction and then do remediation about one day a week," he said.
Districts are also hoping more students will enroll in summer school this summer. More than 88% of schools have said  summer school will be a component of their strategy to fight learning loss, according to the state Department of Education's survey.
The state is set to receive more than $4 billion from the latest round of federal aid, and some superintendents say they are interested in dedicating a portion of that money to funding expanded learning opportunities during the summer, when lower class sizes could both give teachers more time for individual instruction and allow for better social distancing – if parents are interested in sending their children.
Some districts are hoping to eliminate the stigma of summer school by offering a more camp-like atmosphere with games, crafts and activities in addition to classroom time.
"We absolutely believe that in order to engage kids in this kind of learning, it's got to be fun," said Melissa Morse, Henry County Schools' chief learning and performance officer. "So we're looking at ways that we can bring the engagement really deep. This isn't a worksheet program, this isn't a sit at a computer program. This is intended to be fun, and that's why our incredible teachers are going to be hired to teach these kids, because we don't want to just put kids on a computer and expect that doing boring, rote lessons is going to get them excited about learning."
This story comes to GPB through a reporting partnership with Georgia Recorder.
Secondary Content
Bottom Content