WATCH LIVE | Former First Lady Rosalynn Carter's Tribute Service at Glenn Memorial Church at Emory University
Section Branding
Header Content
Georgia's Asian American Lawmakers Denounce Spa Shootings, Rise In Violence
Primary Content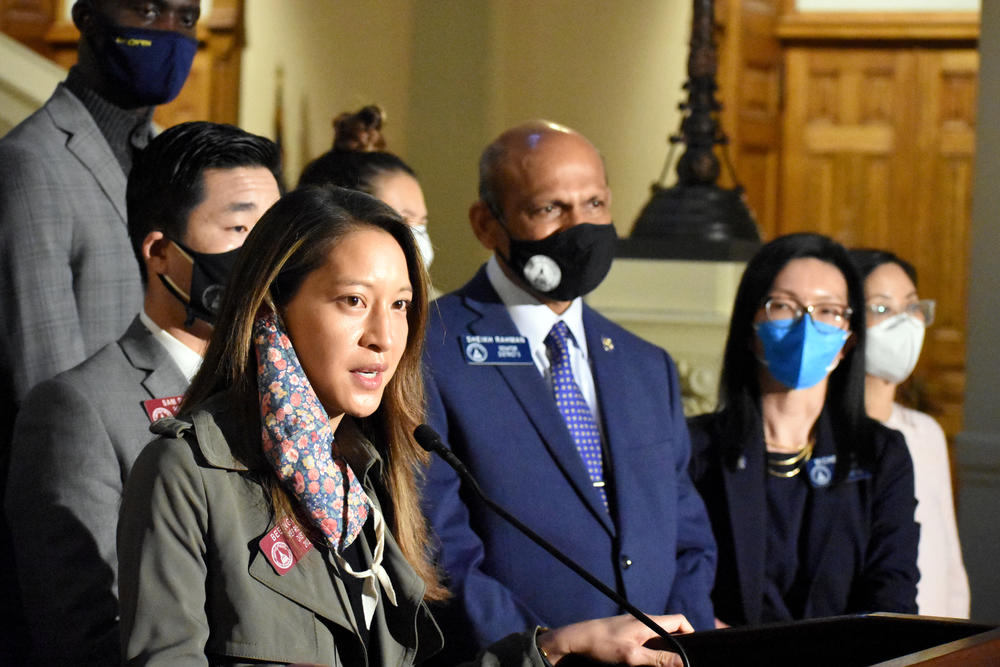 Georgia's five Asian American lawmakers — Sens. Michelle Au and Sheikh Rahman, and Reps. Sam Park, Marvin Lim and Bee Nguyen — and their allies are calling for action against racism and misogyny after a 21-year-old white man was charged with killing eight people, including six women of Asian descent, in three shootings across the metro Atlanta area Tuesday.
Park (D-Lawrenceville), who is Korean American, said he was "heartbroken and angry" at the mass shooting that comes amid a rise in anti-Asian American violence across the country.
"Now it is time for all of us to come together and unequivocally condemn racism and misogyny, and take meaningful action to protect the vulnerable and prevent these horrific mass shootings from continuing to take place in our country," he said. "The Asian-American community is resilient and strong... we have persevered in the face of hardship, and in spite of it all we have thrived."
Au (D-Johns Creek), the first East Asian elected to the state senate, pointed out that violence against Asian Americans is not a recent phenomenon — noting America's history of establishing internment camps for Japanese Americans during World War II.
"Misogyny and violence against women is not new, the epidemic of gun violence and gun injury is not new," she said. "What can be new is how we deal with it in this moment, and I want to implore our community and our fellow legislators to not let this moment go by."
Au said there needs to be better data collection about discrimination and attacks against Asian Americans, and said this week's shootings also highlight the need for conversations about gun safety.
"I think it's well past time that our legislature take a good, hard look at what we can do as a state to make our cities and our communities safer," she said. "I have a bill that is awaiting a committee hearing, SB 179, and it simply introduces that we should be doing universal background checks."
Rahman, a Bangladeshi-American Democrat and the first Asian American ever elected to the Senate, placed a lot of the blame for violence and rhetoric at the feet of former President Donald Trump.
"All of us, we have to come together and do whatever it takes to stop this violence, it has no place in America and we have come too far to go back," he said. "I want to say: Mr. Ex-President, I ask you to stop spreading hate and lies against our Asian American brothers and sisters. Be an American; be a decent human being!"
Lim, the first Filipino American in the state House, said that as the country undergoes a racial reckoning, the needs of Asian Americans must be included in the conversation, and the shootings this week underscore the importance of workplace safety, mental health and stopping violence against women.
In the initial reporting after police responded to the violence and apprehended the alleged gunman, Nguyen (D-Atlanta) said media outlets focused more on the shooter's narrative and stereotypes about Asian Americans than on those who were killed.
"We see that victims are relegated as a symptom of the perpetrator's sickness," the Vietnamese-American representative said. "I will continue to reject that premise. I will continue to call out the truth: this was a violent and brutal act targeting three Asian businesses, resulting in the death of Asian women, one that is laced with xenophobia, misogyny, gender-based violence and lax gun laws in the state of Georgia."
A Cherokee County Sheriff's office spokesman said in a Wednesday press conference that the suspect had "a really bad day" and that the man said he did not target the victims based on race but rather out of "sexual addiction." The spokesman, Capt. Jay Baker, also came under fire after reporters found old social media posts where Baker promoted racist T-shirts that talked about the COVID-19 "IMPORTED VIRUS FROM CHY-NA."
Georgia has a hate crimes law on the books after last year, when Black jogger Ahmaud Arbery was gunned down by three white men. The law adds enhanced penalties for crimes committed based on identities like race, religion, sexual orientation and gender.
Even though the shooter, who has been charged with eight counts of murder, said it was not racially motivated, Nguyen said the law should apply. Prosecutors have not yet indicated if the man, Robert Aaron Long, will be charged under the statute.
"When we think about taking the word of the perpetrator themselves, how many of them are going to admit that it was a racially motivated killing?" she asked.
Hate crimes laws are used as a prosecutorial tool after an incident, she added. So moving forward, Nguyen said more needs to be done to address xenophobia, racism and sexism that has fueled a surge in targeted attacks against those with an Asian American background.
"A hate crimes law does not prevent hate killings," she said.
Secondary Content
Bottom Content