Section Branding
Header Content
Local Reaction To Massage Parlor Shootings: 'Unspeakable Tragedy'
Primary Content
The deadly shooting attacks at three massage parlors in the Atlanta area raised fears the gunman may have targeted people of Asian descent — coming at a time when the Asian community has seen a wave of attacks amid the coronavirus pandemic. 
Eight people were killed, at least six of them Asian, authorities said. Officials have not yet released the names of the victims.
"A motive is still not clear, but a crime against any community is a crime against us all," Atlanta Mayor Keisha Lance Bottoms said. "I have remained in close contact with the White House and APD as they work with federal, state and local partners to investigate the suspect who is responsible for this senseless violence in our city. 
"My prayers are with the families and friends of the victims whose lives were cut short by these shootings."
The reaction among the Asian community was one of shock and outrage. 
"We are heartbroken by these acts of violence," said Stephanie Cho, executive director of Asian Americans Advancing Justice-Atlanta. "Six Asian women lost their lives. Now is the time to hold the victims and their families in our hearts and in our light. We're calling on our allies across communities of color to stand with us in grief and solidarity against racist violence in all its forms. When our most vulnerable community members are targeted, we all need to band together."
Her group added that while the details of the shootings are still emerging, the broader context cannot be ignored — that "the shootings happened under the trauma of increasing violence against Asian Americans nationwide, fueled by white supremacy and systemic racism."
Stop AAPI Hate, a group formed to prevent anti-Asian discrimination during the coronavirus pandemic, called the killings "an unspeakable tragedy" and said, "Right now, there is a great deal of fear and pain in the Asian American community that must be addressed."
But while a motive has yet to be identified, many across social media quickly connected the details of the shooting with racism and anti-Asian attacks. 
"My first thought was 'Asian American hate crimes,'" Sarah Addison of Cherokee County shared shortly after an arrest was made. "This is awful."
The FBI arrived Wednesday to investigate, and President Joe Biden has been briefed about the shootings.
Robert Aaron Long, a 21-year-old Woodstock man, was arrested in Crisp County about 8:30 p.m. That was about three-and-a-half hours after the first shooting, at Young's Asian Massage in Acworth.
Two people died immediately and two more died after being rushed to a local hospital, Jay Baker with the Cherokee County Sheriff's Office said.
Roughly an hour later, in Atlanta, police officers responded to a robbery call at Gold Spa, where they found the bodies of three women who had been fatally shot. Moments later, officers were called to a third shooting across the street at Aromatherapy Spa, where a woman had been shot to death.
Stephanie Webb of Canton acknowledged the possibility these women were targeted.
"At least half of the victims were Asian, and the murder suspect is young, white and from Woodstock," Webb said. "Chances are that it was a hate crime, but we will know more as the story develops. I am just sad that so many people are dead."
Kenyette Tisha Barnes, an Atlanta-based human rights activist, reacted to social commentary about the massage community.
"This is domestic terrorism, and this truly was an anti-Asian focus," she said, adding that she believes the shooter targeted Asian-owned establishments for access to Asian people.
According to the most recent data, hate incidents targeting Asian Americans rose by nearly 150% in 2020, with Asian American women twice as likely to be targeted. Stop AAPI Hate received 3,800 reports of anti-Asian hate since March 2020 to February 2021, with 35% of discriminatory acts happening at businesses and with women reporting hate incidents twice as men.
RELATED: 42 Lawmakers Silent On Hate Crimes 'No' Vote, 2 Explain Their Reasoning
The killings were unusually rare for Cherokee County; the sheriff's office only investigated one homicide in both 2019 and 2020. As Cherokee residents reacted to the crime, some insisted the solution is more guns.
One Woodstock man, who asked not to be named, suggested friends secure a Georgia Weapons Carry License, which allows for concealed carry.
His thoughts were echoed by comments of neighbors planning to carry guns to work Wednesday, and debate on whether a permit is needed to open carry in Georgia. One commenter wondered why Georgia hasn't tried to push a constitutional carry law yet, but Canton Republican Rep. Mandi Ballinger sponsored HB 218, which asks to expand weapons carry license reciprocity in Georgia and allow people who are not residents of this state to carry a weapon in this state if licensed to carry in any other state. The bill passed the House Feb. 25 and is being considered in the Senate.
Concerning what is known about Long's social media, an Instagram account that appeared to belong to the alleged shooter boasted about a good life with "pizza, guns, drums, music, family and God" at the center.
The church Long attended, Crabapple First Baptist, describes itself as an autonomous local church that is in friendly cooperation with the Southern Baptist Convention. Its website has recently been made non-viewable to the public, but a screenshot from March 5 shows its statement of belief.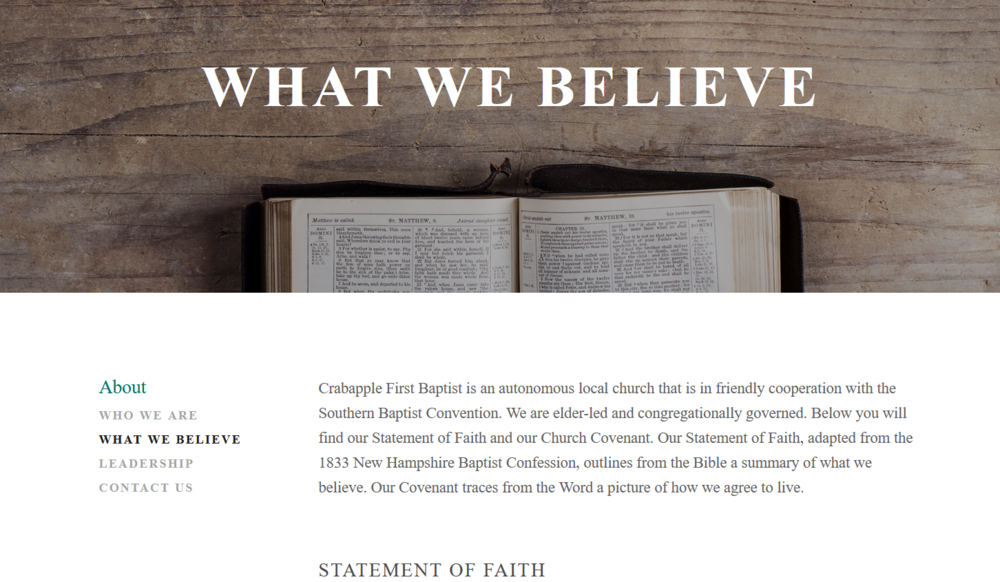 The Woodstock man graduated from Sequoyah High School in 2017.
"He was very innocent-seeming and wouldn't even cuss," a fellow classmate told The Daily Beast on the condition of anonymity. "He was sorta nerdy and didn't seem violent from what I remember. He was a hunter and his father was a youth minister or pastor. He was big into religion."
GPB News confirmed Long had three hunting and fishing licenses.
Please return to GPB News for updates.
Secondary Content
Bottom Content