Section Branding
Header Content
David Perdue Will Not Run For Senate In 2022, Opening Field For More GOP Challengers
Primary Content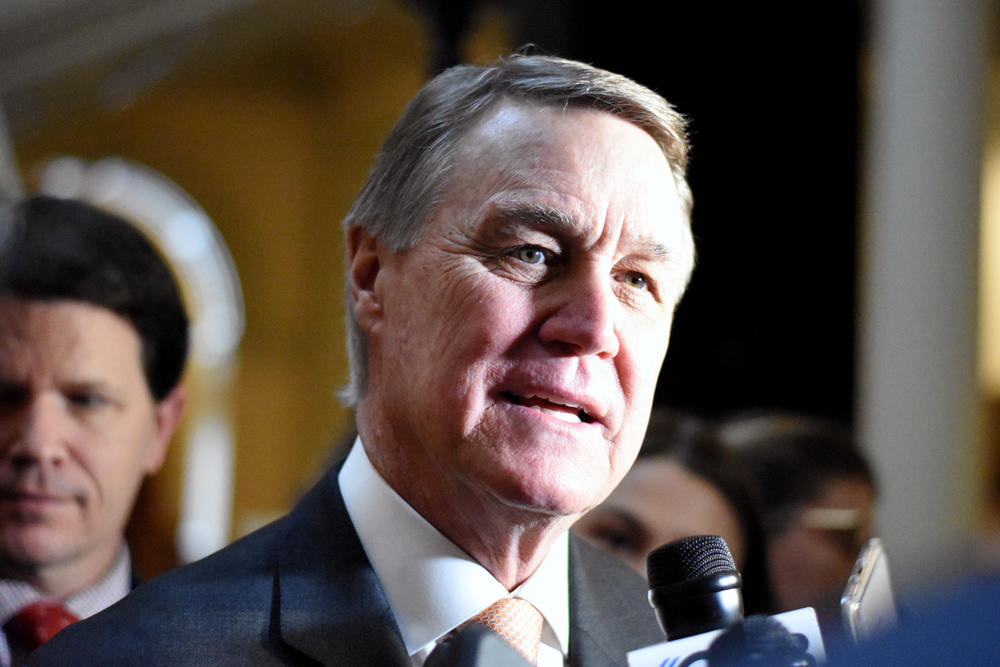 Former Republican Sen. David Perdue announced he will not be running for the Republican nomination to challenge Sen. Raphael Warnock in 2022 after losing to Sen. Jon Ossoff in the January runoff.
In a statement, the one-term senator said he is "confident that whoever wins the Republican Primary next year will defeat the Democrat candidate in the general election for this seat" and that he would do everything he could to make that happen.
Perdue also said the decision was personal, not political, and that he hoped Georgia lawmakers would "correct the inequities" in voting laws and election rules, despite no evidence of fraud or any "illegal votes" counting. 
Since November, Perdue has repeatedly said falsely that he "won" November's general election, despite failing to clear the required 50% plus one vote threshold to avoid a runoff and failed to mention Ossoff by name in several statements after his defeat.
After the presidential race, he joined former Sen. Kelly Loeffler in calling for Republican Secretary of State Brad Raffensperger to step down and applauded a failed Texas Supreme Court lawsuit seeking to invalidate results of Georgia's election. 
While quarantining in the final days of the runoff campaign because of potential exposure to the coronavirus, he even recorded a video message for a Trump rally that falsely claimed he was a longtime supporter of challenges to the Electoral College.
On Feb. 15, Perdue filed paperwork with the Federal Election Commission, signaling that he was considering a new run for U.S. Senate and temporarily freezing out other possible contenders. 
But with Perdue making it known he will not challenge Warnock, the 2022 landscape will start to come into focus.
Other names that have been floated as potential GOP candidates include former Rep. Doug Collins, who finished third in a 20-candidate special election for the seat in November; Georgia Supreme Court Chief Justice Harold Melton, the only Black justice currently on the court who is stepping down later this year; and Loeffler, who was appointed by Gov. Brian Kemp to fill the seat after Johnny Isakson's retirement.
Loeffler lost to Warnock in the runoff that saw lower Republican turnout after she closely aligned herself with former President Trump and his false claims of voter fraud.
Secondary Content
Bottom Content