Section Branding
Header Content
Pelican Oiled By Golden Ray Salvage Rescued, Rehabbed, Released
Primary Content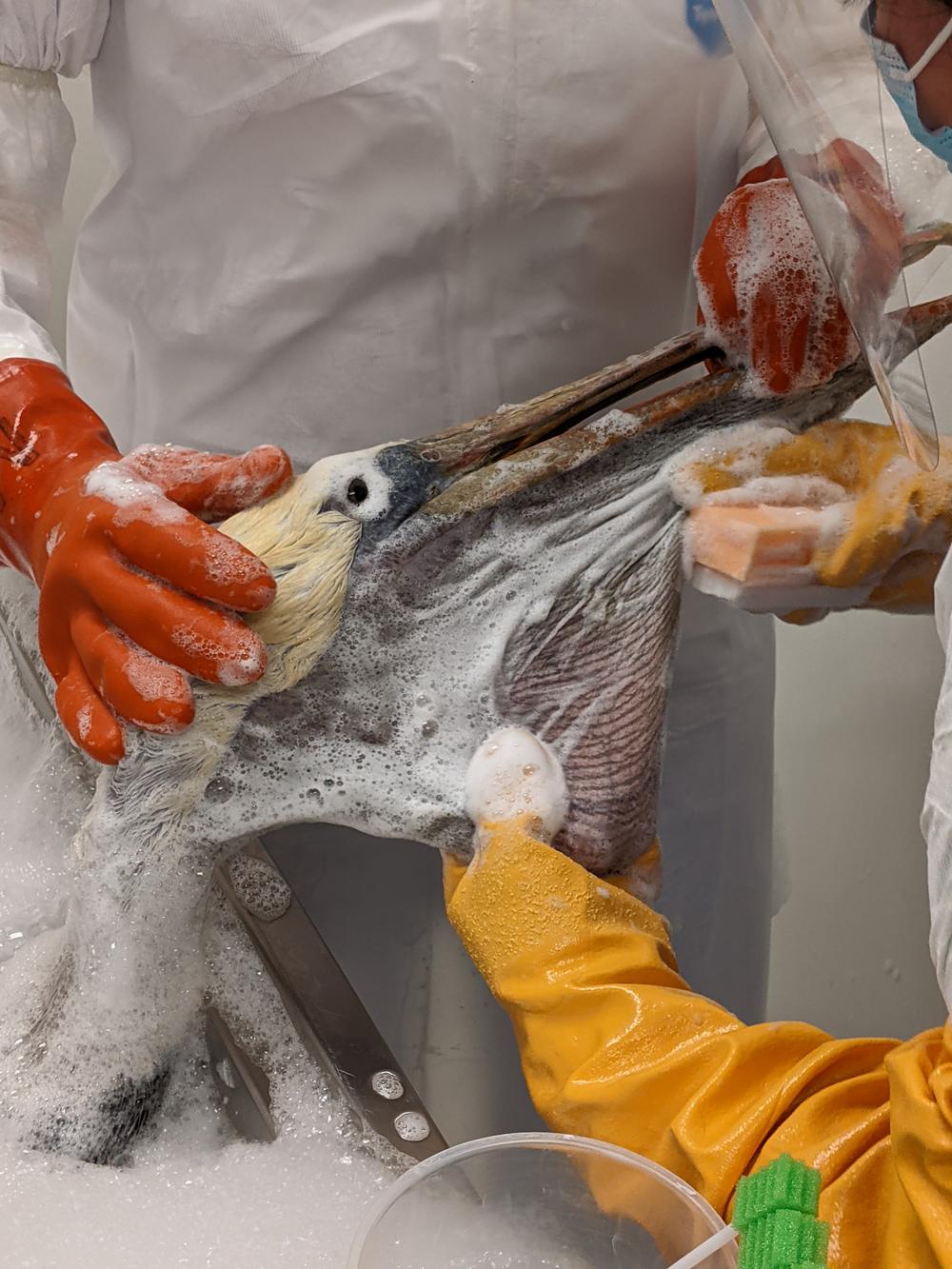 Responders cleaning up the wreck of the Golden Ray cargo ship in St. Simons Sound this week released a rehabilitated brown pelican that was found lightly oiled on Feb. 7.
Crews responding to the wreck regularly sweep the shoreline and surrounding area for debris and other environmental impacts, including affected wildlife. The bird was transferred to Tri-State Bird Rescue and Research, which has been handling any birds affected by the wreck and salvage operation since the ship capsized in September 2019.
This pelican spent about a week with the rehabbers before returning to the wild. 
"It's actually a misconception that we decontaminate patients right away," Michelle Knapp of Tri-State said, explaining that first they need to stabilize the birds so they're in good health before washing. "The wash itself is so stressful that we really need them at their best condition to be able to be put through a wash process."
While the bird is getting hydrated and back to a healthy body temperature, the researchers perform a "feather test" on one of its oiled feathers to determine exactly what substance is on the bird and how to effectively wash it off.
"The idea is you test on these feathers, so then by the time you set up your wash and you have your wash team ready to go, you're not in the tub with that live patient and the product's not coming off," Knapp said.
After its week of rehab, video shared by the incident response team shows the pelican loping out of a carrier before flying out over the water.
The pelican rescue comes as crews continue cutting operations to remove the Golden Ray from the sound. Currently, crews are making their third cutting, removing a section from the rear of the vessel.
They've also been working to remove cars that the Golden Ray was transporting from the front of the ship to help make that section lighter in weight for its eventual cutting and removal.
Environmental groups raised serious concerns about the plan to cut the ship into eight large sections, fearing it increased the possibility of a large oil release into the water and the surrounding marsh ecosystem. 
So far, some debris has washed up, along with individual oiled birds such as the pelican released this week.
Secondary Content
Bottom Content