Section Branding
Header Content
Georgians Hope To Get COVID-19 Vaccine Across State Lines
Primary Content
Educators in Georgia are not in the first priority group for COVID-19 vaccinations, but they are in Alabama. GPB's Ellen Eldridge reports.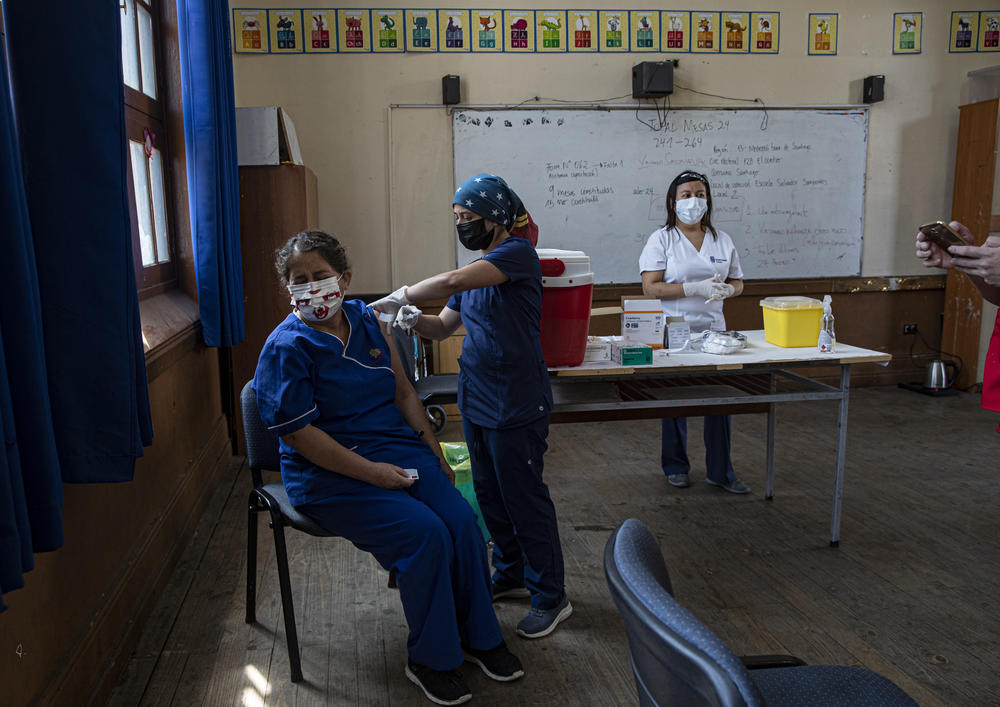 Public school educators in Chile are getting vaccinated against COVID-19, but teachers are not eligible for vaccinations in Georgia.
Some district superintendents, the Professional Association of Georgia Educators and the Atlanta School Board wrote letters to Gov. Brian Kemp urging him to prioritize COVID-19 vaccinations for teachers, but Kemp said the supply simply isn't available.
When the Medical Center of Elberton, a private provider, vaccinated individuals in the Elbert County School District last month, the state health department suspended it from the COVID-19 Vaccination Program in Georgia until July 27.
Now, some people are traveling across state lines for access.
Alabama's public health department developed its COVID-19 Vaccination Allocation Plan for those at highest risk. That includes educators including child care providers, according to the Cybersecurity and Infrastructure Security Agency of the U.S. Department of Homeland Security.
Debbie is a public school teacher in Georgia who asked GPB News not to use her last name. While she is nearing retirement, she is not over the age of 65 and therefore ineligible for any of the COVID-19 vaccine available under emergency use authorization.
She booked a Sunday appointment in Auburn, Ala., through Walmart's website. Residency was not a requirement, and the online form only asked her questions related to eligibility for the shot and allergies.
The dropdown menu of eligible categories included educators.
"I couldn't sleep last night and saw that teachers could get vaccinated in Alabama, which is the neighboring state for me," Debbie told GPB News. "And I went to the Walmart website, put vaccine in their search and signed up on my first try, which is much easier than most people I hear."
The school district where Debbie works has not mandated masks for students, and she said she feels let down.
"I don't feel like my district has protected me," she said. "I don't feel like my governor has protected me. And I've done what I can to stay well, but no, I don't feel like, you know, our lives matter."
Here's a look at where K-12 educators are currently eligible to get vaccinated in the U.S., according to ABC News.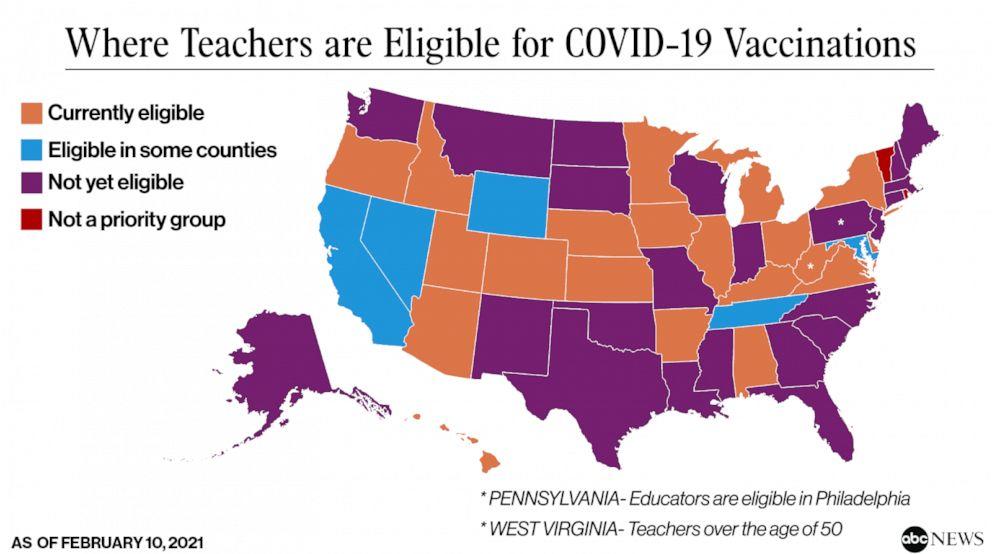 A public Facebook group helped Debbie and others, including a man with underlying health conditions who booked an appointment via Walmart's website to get vaccinated in Mississippi, find appointments out of state. The Georgia man said he expects to travel four hours each way for his appointment, and he didn't want to share his name out of fear of being turned away when he shows up.
Kelly Hanretta described herself as a full-time sales professional for a Fortune 500 company, a full-time mom and a daughter.
"It was really important to me for my parents to get vaccinated," she said. "As soon as the governor announced that he would be opening the vaccination to patients or people 65 and older, I just really made it my mission to get my parents vaccinated as quickly as possible."
MORE: Georgia To Expand Vaccination To Those Over Age 65
A friend of Hanretta's, who was also eager to get her own mother vaccinated, decided to start the Facebook group as a way to inform others without inundating people with text messages each week.
After roughly three weeks, the group has grown to nearly 5,700 members.
"It is a public group, so certainly you can have access to the information in the group, and people share it out frequently," Hanretta said. "So we definitely feel like we have a reach beyond the 5,700 people who have asked to join. And we're we're happy about that. We want the links to be shared."
Although Hanretta said she wants as many people in Georgia who qualify under 1A-plus to get vaccinated as quickly and as efficiently as possible, she cautions that the information is crowdsourced from people who have information from sources that they know at pharmacies in different states.
"Mississippi was pretty broad in advertising that originally they were taking people from out of state," Hanretta said. "And those other categories, I do think since they have restricted that back to in-state members only. But we definitely try to allow the free flowing of information."
Seven volunteers moderate the group and more than 100 volunteers post links and share resources about finding places with vaccine. In some cases, volunteers help less tech-savvy people book appointments.
Those who can travel farther outside their circle will have better luck, Hanretta said.
"Certainly, flexibility will lead you to getting an appointment much quickly," she said. "And some of it, quite frankly, is luck."
In more rural parts of the state, local health providers such as doctor's offices are helping seniors book appointments by phone, which Hanretta said older folks appreciate.
But there's a bottleneck of people trying to find vaccine in Columbus, she said, and people south of Atlanta in Henry and Fayette counties have a more challenging time signing up.
"We have a live booking for Whitfield County, which is Dalton, and they've had a significant number of appointments available for the past couple of weeks that we can pretty much get someone in there right away."
Secondary Content
Bottom Content