Section Branding
Header Content
Find A Georgia COVID-19 Vaccine Provider
Primary Content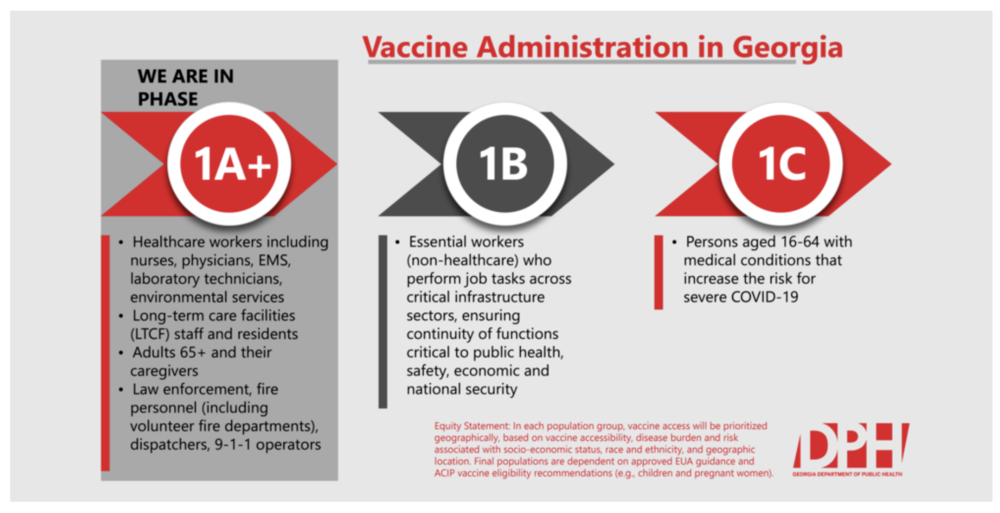 UPDATE: Four mass vaccination sites will soon open in Macon, Albany, Habersham County and Hapeville just south of Atlanta. Click here to go to the site to register for vaccines at any of those sites.
When it comes to getting vaccinated against COVID-19, you really want to answer a single question: How do I find an appointment?
First, check out the graphic above. It describes the current phase of Georgia COVID-19 vaccine administration. If you or the person for whom you are seeking an appointment don't fall under the current phase, it is probably best to wait before moving on.
The Georgia Department of Public Health has a new tool to help Georgians find providers where the COVID-19 vaccine is in stock. They also have a separate list of providers, what they call their "Vaccine Orders List", of places expecting vaccine shipments but who may be making appointments, too.
That list includes major chain grocers and pharmacies like Kroger, Publix, Ingles, CVS,  Walmart  and U Save It.
The locator tool provides a search window at the top of the page. The first step is searching under your county of residence. Some residents of rural counties may be disappointed to find a search result as shown below.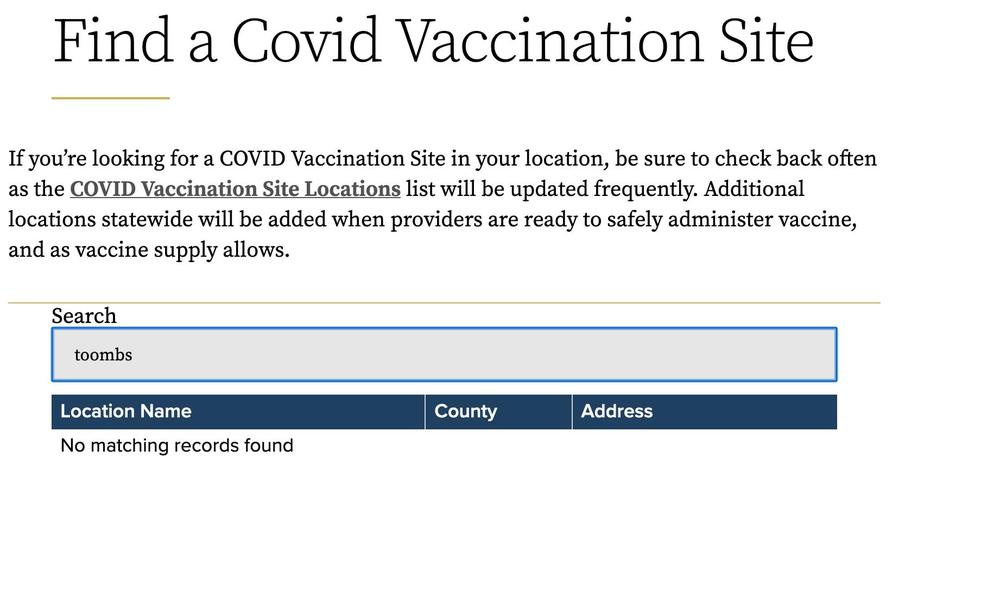 Georgia DPH spokesperson Nancy Nydam said such a result from the tool reflects that there is no vaccine in the county, in this case Toombs County. It does not mean you can't get vaccinated if you live in Toombs County.
Nydam said if you receive a result like this one, you should contact your regional health department. There are 18 regional health departments for all 159 of Georgia's counties.
This is where the map below comes in. When you hover over your county on the map, you will find a link to your regional health department's COVID-19 vaccination page.
But you aren't limited to searching for the vaccine in your county of residence! According to the Georgia Department of Public Health, you should feel free to book a vaccination in any county where you can manage.
So what can the DPH tool help you do? Unlike the map above, the DPH tool lists private vaccine providers. The state is bringing more private providers into the system every day, so the DPH tool is your best first stop to find a pharmacy, doctor's office or hospital where you may be vaccinated.
But there's one more wrinkle. Not every private provider who will be performing vaccinations is listed on the tool. That's because strictly speaking, the tool lists places that are known to have vaccine in stock.
Here's where that second list from DPH kicks in. Remember, it lists providers which are expecting shipments of vaccine soon and which are also in many cases making appointments.
That link, on the DPH COVID-19 page, includes major chain grocers like Kroger, Publix and Ingles.
Check all three resources frequently as the list of providers is changing daily and availability of the vaccine is extremely variable.
Secondary Content
Bottom Content