Section Branding
Header Content
Controversy, Conspiracies And Conflict Usher Marjorie Taylor Greene Into Congress
Primary Content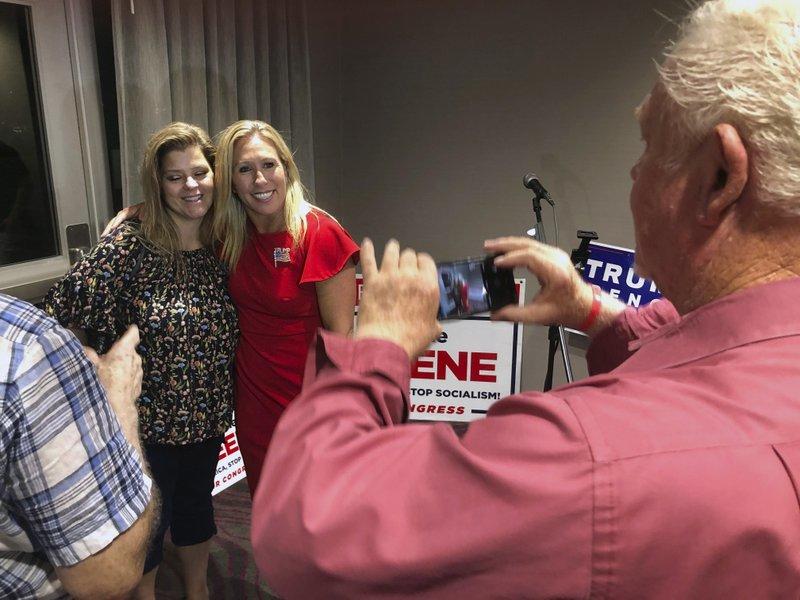 From filing provocative (and error-filled) articles of impeachment against President Biden to renewed scrutiny of inflammatory Facebook posts to ejecting a reporter from a town hall in Dalton, the opening weeks of U.S. Rep. Marjorie Taylor Greene's term in Congress have been heavy on controversy and light on substance.
Now, a Democratic colleague is drafting a resolution to expel her from the House.
The first-term conspiracy theorist and business owner representing the 14th Congressional District in northwest Georgia campaigned as a social media-savvy, ardent supporter of President Trump who pledged to "stop socialism" and take up conservative policies such as strengthening gun rights, opposing abortion and increasing support for military veterans.
But since taking the oath of office, Greene has focused more on pushing lies and litigating perceived grievances on social media than legislating in the U.S. Capitol.
A review of Greene's official House website shows no policy goals or platforms for issues like the economy, health, energy, the Second Amendment and education, directing constituents to contact her office for more information. For "Protecting The Unborn," a one-sentence statement says, "Congresswoman Marjorie Taylor Greene's number one policy goal is to end abortion in America."
During the campaign, numerous outlets reported on her history of posting racist and bigoted videos and comments on social media, yet she still won the deep-red district by nearly 50 points.
Politico unearthed videos where Greene "suggested that Muslims do not belong in government; thinks Black people 'are held slaves to the Democratic Party'; called George Soros, a Jewish Democratic megadonor, a Nazi; and said she would feel 'proud' to see a Confederate monument if she were Black because it symbolizes progress made since the Civil War. 
CNN found Facebook posts, now deleted, where Greene said House Speaker Nancy Pelosi is "guilty of treason" and would "suffer death or she'll be in prison" and highlighted a video where Greene harassed Parkland school shooting survivor David Hogg. 
 
The liberal-leaning media watchdog Media Matters For America reported on conspiracies Greene posted or liked, including a belief that a Jewish-backed group used space lasers to cause a California wildfire. It also reported on her calling multiple mass shootings "false flags" and endorsing a conspiracy theory that Hillary Clinton partook in satanic child sacrifice rituals.
Since her term began in January, Greene has stayed in the spotlight, garnering headlines for antagonism and antics more akin to a social media troll than an elected official.
Greene refused to wear a mask in the House on her first day — and when she did comply, opted for ones emblazoned with "censored" or "Trump won." She was a ringleader of challenges to the Electoral College, pushing false claims of fraud in Georgia's vote counting.
Greene has been temporarily suspended from Twitter at times for spreading lies about the election, spent hundreds of thousands on advertising on alternative social media site Parler and used the Internet and her position as a House representative to paint herself as a victim of "Big Tech" censorship.
The freshman lawmaker has cosponsored 10 bills and resolutions so far, many with little chance of passing the Democrat-controlled chamber, ranging from a congressional term limits bill to barring transgender athletes from competing in women's sports. 
At a trio of town halls this week, Greene largely repeated talking points found on her social media accounts, from bashing Pelosi (whom she called a "b***h" after winning the GOP runoff) to defending her attempts to challenge Electoral College results on Jan. 6. 
"The main reason why I objected is because there were thousands of people across this country that signed affidavits at risk of perjuring themselves in a court of law," she said.
Courts at every level rejected attempts to overturn Georgia's election results, which also showed Greene won, from Fulton County Superior Court to the U.S. Supreme Court. There is no evidence that voting machines or absentee-by-mail voting were marred with widespread fraud.
The congresswoman also spoke at length about her error-filled articles of impeachment against President Biden filed shortly after he took office, falsely claiming that Biden committed crimes while vice president, answering questions from her constituents.
Each of the town halls limited access, required attendees to submit questions in advance and barred media members from asking questions. So Greene had a Chattanooga television reporter ejected for asking about her social media posts, and a Whitfield County deputy threatened the reporter with arrest if she did not leave.
At Thursday's town hall in Paulding County, Greene read a question that asked about holding the "liberal bias media accountable for their incessant lies and slander" that came with a recommendation of the electric chair.
Greene's actions have not gone unnoticed, both in her district and nationwide. The Dalton Daily Citizen-News editorial board called her "long on theatrics, short on substance" and asked what she would do about the pandemic or the economy. State Sen. Chuck Hufstetler of Rome said his fellow Republican was an "embarrassment." Behind the scenes, several deep-pocketed contenders are preparing to primary her in 2022.
But Greene has a large fan base online and also in northwest Georgia, and some of her biggest backers say they like what they see.
Meanwhile, Pelosi blasted Republicans for failing to act after the recent round of posts came to light, including criticizing Greene's assignment to the House Education Committee after her mocking and questioning mass shootings inside schools and harassing survivors. Minority Leader Kevin McCarthy is reportedly planning to have a conversation with Greene. Democratic Rep. Jimmy Gomez of California is introducing a resolution to expel Greene from the House, and while that seems unlikely, top GOP leadership is beginning to face pressure to take some sort of action to rein her in as the party seeks to move forward from losing the White House and control of the Senate.
Without Trump on the ballot in 2022, Republicans nationally may avoid his antics harming races, but Georgia's governor's race and control of the state House could be up for grabs with Greene as the poster child for what the future of the Republican Party could look like.
Secondary Content
Bottom Content