Section Branding
Header Content
Kemp 'Optimistic' About Georgia Economy, $27B State Budget Proposal
Primary Content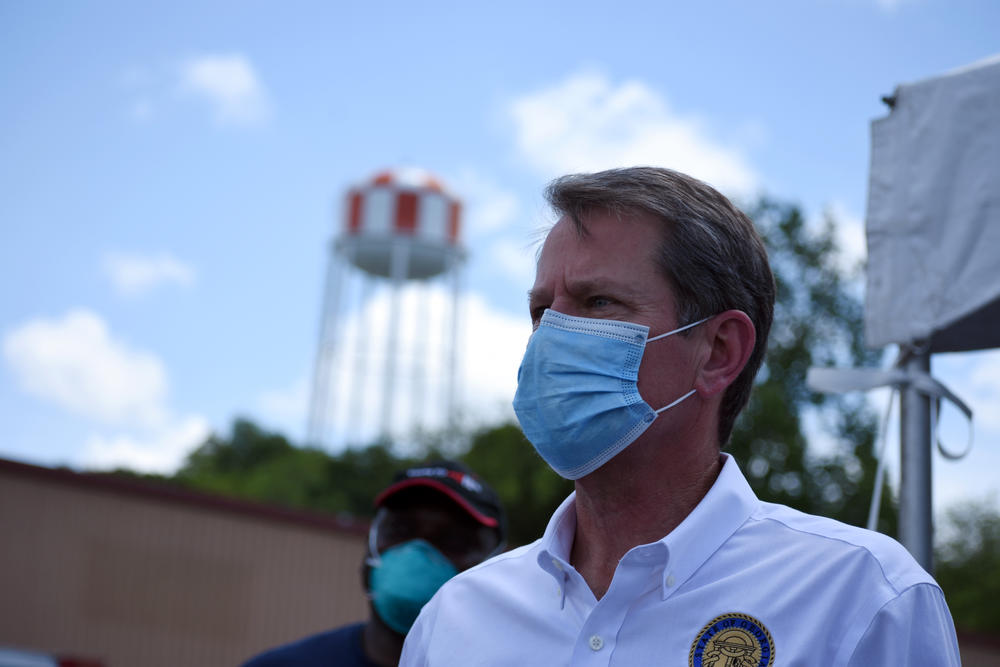 The coronavirus pandemic decimated Georgia's state budget last year, with everything from education to agriculture seeing cuts as revenue slowed. But several months later, Gov. Brian Kemp is painting a rosier picture about the state's economic outlook and spending plan.
Kemp's 364-page proposal for the amended fiscal year budget that ends June 30 and the 2022 fiscal year that starts July 1 includes no new cuts to spending or jobs, and avoids drawing money from the rainy day fund to cover $27.2 billion in appropriations.
"While our final revenues came in moderately under what we estimated in January of last year, we avoided the dire deficits predicted, combed the budget to find any possible savings, and ultimately returned $534 million unspent dollars to the Treasury to offset revenue declines," Kemp told lawmakers Tuesday. "As a result, instead of ending 2020 with a billion dollar deficit... we will have added more than $150 million to our reserve fund balance."
In the governor's State of the State address, he previewed some new spending priorities included in the budget, such as restoring about 60% of the cuts made to K-12 education, or about 99% of the new money added into the amended fiscal year budget.
Other priorities include $10 million next fiscal year to boost rural broadband internet access, nearly a billion dollars in bonds for various construction projects and nearly $40 million for a "rural innovation fund" to help attract more jobs to sites outside metro Atlanta.
The legislature approved a "bittersweet" $25.9 billion budget last year that cut about 10% from most agencies, something that positioned the state well to weather the economic uncertainty from COVID-19, Kemp said. 
State agencies were asked to submit flat budget proposals with no new cuts or no additions if possible, and head of the Governor's Office of Planning and Budget Kelly Farr told lawmakers that the stagnant spending plans were the result of restructuring how existing money was used.
 
"We've had agencies find innovative ways to do more with less to effectively manage their budgets while still meeting the mission of their agencies," he said, likening these budgets to a crepe — still flat, but with substantive filling.
Some of the savings came from eliminating long-vacant positions, or switching to teleworking because of the pandemic. And another reason Georgia's economic outlook is peachier than other states' is the flood of federal funding that has flowed into the state to cover the cost of the coronavirus pandemic.
The Department of Public Health alone has received more than a billion dollars in federal grant money to cover lab capacity and quarantine facilities, for example. 
In a typical non-COVID year, most of the agency's funding comes from the federal government, DPH Commissioner Dr. Kathleen Toomey said.
"The good news and the bad news is that we get a considerable amount of federal funds — almost 60% of our budget is federally funded," she said. "About 50% of the state general funds go to grants and aid to counties."
In both budget proposals, DPH asks for a small increase to continue funding the Grady Regional Coordinating Center to manage hospital bed capacity.
But still, some agency heads said more is needed to retain the employees they have left, from agriculture inspectors to corrections officers.
In Kemp's budget proposal, existing savings from eliminating vacant positions would give a 10% raise for correctional guards across the state.
"It speaks volumes to our employees to let them know that we're actually listening to them," Juvenile Justice Commissioner Tyrone Oliver told lawmakers this week.
Agriculture Commissioner Gary Black said his agency could use $780,000 to address salary deficiencies for "heroes" that help keep food on the table.
"I come before you today with a request for these heroes — they've gone to work every day, they didn't stop, there was no hesitation," he said. "And a lot of people in this government did the same thing."
As more time passes and state officials have a better idea of how much revenue is coming in, there could be flexibility to restore some of the coronavirus cuts to agencies that serve the state, Kemp said.
"As we look ahead to the second half of fiscal year 2021 and fiscal year 2022, I am optimistic that the strong economic foundation we have built together will continue to support our robust recovery," he said.
For now, state House and Senate leaders will start working on their take for the multi-billion dollar spending plan — the only thing lawmakers are required to approve each year.
Secondary Content
Bottom Content