Section Branding
Header Content
FDA Says Public Health Risk Exists In Delaying Second COVID-19 Vaccine Dose
Primary Content
Local health departments and pharmacies are distributing COVID-19 vaccines as fast as possible. But appointment hotlines are overwhelmed, making it tough to schedule a first dose, let alone a second. GPB's Ellen Eldridge reports.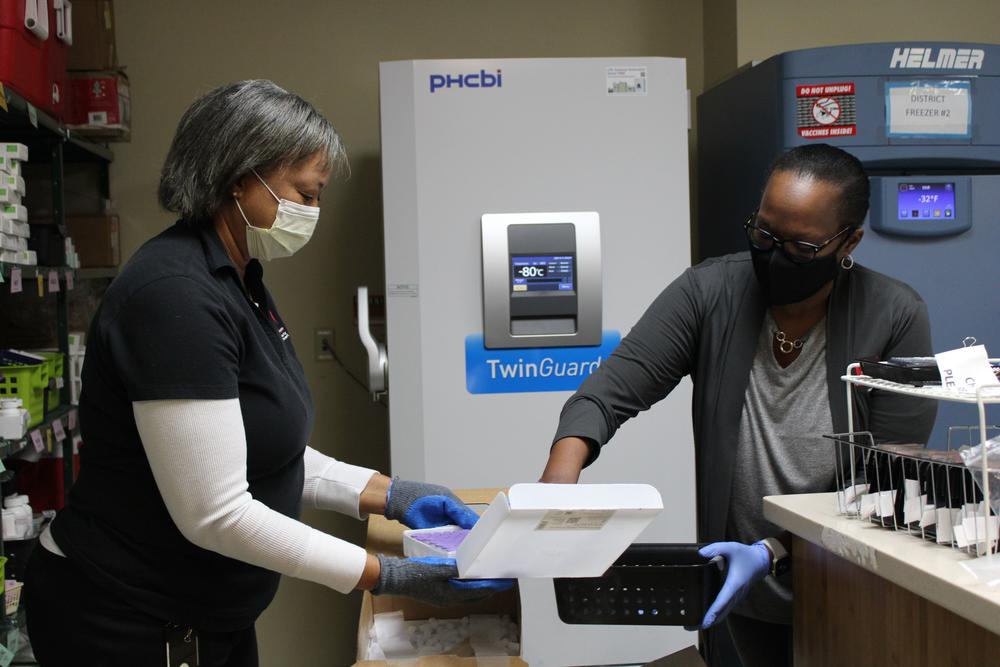 Georgia is currently receiving about 80,000 doses per week to vaccinate the 11 million residents in the state, state health department Commissioner Kathleen Toomey said Tuesday. 
But at the current rate, it will take "many, many months" to get everyone vaccinated, she said.
She believes the number of doses will increase, but has no information about when or how many.
PREVIOUS COVERAGE: More COVID-19 Vaccines Hoped For In Georgia As Biden Takes Office
Issues at some local health departments left people who received a first dose nervous because they couldn't make an appointment for their second shot.
Sashie Brown, 74, said she felt excited when she and her 74-year-old husband visited a health department about a 90-minute drive away because they could not get through on the phone to schedule an appointment locally.
"I was worried when I went there that they wouldn't give it to me because the health department initially told me that I had to get it within (my) own county," Brown said. "And then later I got information that I could go to any county and get the vaccine if they would take me."
All the health officials asked of the Browns was proof of age and their Medicare cards. 
As soon as she sat down, Brown asked about scheduling an appointment for the second shot.
"'I can't do that ... We're not sure we'll have the vaccine,' " the administrator told Brown. "And I thought, well, that might be a real problem, but I decided that I wouldn't give up my opportunity to get at least one of the injections. So I went ahead, and then she told me that close to the time when I'm due, they would contact me and say whether or not I could come get another one."
Now, the Browns are hoping for a call mid-February.
RELATED: Find A Georgia COVID-19 Vaccine Provider
"We are not scheduling the second appointment at the time of the initial dose," Michael Hokanson with the North Central Health District told GPB News via email. "We have been told repeatedly by higher ups not to let vaccine 'sit in freezers,' so we are not holding a second dose."
Hokanson said officials are scheduling appointments as they receive shipments of new doses.
"We are asking people to schedule their second dose two to three days before the 28th day after dose 1," Hokanson said. "We know that this is an issue, especially with the call volume we continue to experience, but we can only schedule appointments for vaccine supply we have on hand. We cannot book our appointments based on speculation of when vaccines come in and in what amount, especially when we have consistently received less vaccine than requested."
While the Moderna vaccine is shown to be 80% effective after the first dose, he said, people want and need to get the second dose for the 94% effectiveness rate seen in clinical trials. But it's a Catch-22: health officials are being told not to hold onto doses.
"We want to get people their first dose, but we're not getting the full number of doses requested," Hokanson said.
The U.S. Food and Drug Administration cautions against changing or delaying the dosing schedule. 
"Making such changes that are not supported by adequate scientific evidence may ultimately be counterproductive to public health," the FDA says.
If people do not know how protective their vaccine is, they may erroneously assume they are fully protected when they are not. 
Efficacy of both authorized COVID-19 vaccines was studied in the two-dose regimens. For the Pfizer-BioNTech COVID-19 vaccine, the studied and approved interval is 21 days between the first and second dose. For the Moderna COVID-19 vaccine, the interval is 28 days.
Nearly 700,000 positive COVID-19 cases were confirmed in Georgia as of Sunday afternoon, with huge increases seen since November that culminated in a record-high 10,389 new cases reported on Jan. 8, according to state Department of Public Health data. The virus has killed more than 11,000 Georgians.
GPB's Grant Blankenship contributed to this reporting.
Secondary Content
Bottom Content