Section Branding
Header Content
Tense Calm Amid Heavy Police Presence Around Georgia Capitol
Primary Content
Heavily armed National Guard troops stood watch near the statue of Martin Luther King Jr. outside the Georgia state Capitol, ahead of the national holiday honoring the civil rights icon and amid the potential for pro-Trump militants to stage violent protests.
Streets in downtown Atlanta were cordoned off with dump trucks blocking roads and other barricades serving as added protection around state, local and federal buildings. Police kept a close eye on passersby at street corners, including filming them.
By early afternoon Sunday, a tense calm blanketed downtown Atlanta as law enforcement braced for the possibility of clashes over the election results and before the inauguration of Democratic President-elect Joe Biden.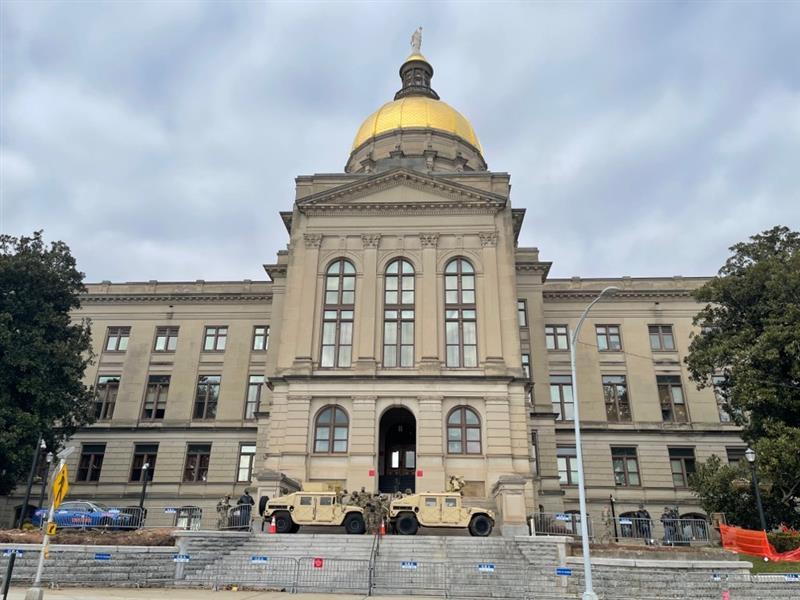 Authorities said there were no known credible threats, but they were taking no chances following the Jan. 6. insurrection at the nation's Capitol that saw thousands of supporters of President Donald Trump storm the hallowed halls of Congress. Five people, including a Capitol Police officer, were killed amid the clashes.
With potential violent unrest ahead of Biden's inauguration on Jan. 20, the FBI in Atlanta deployed bomb technicians, tactical teams, special agents and other personnel to "help combat threats of violence to our state Capitol, federal buildings and communities."
"At this time, FBI Atlanta has not received any specific and substantiated threats to the capitol or other government buildings in Georgia," FBI spokesman Kevin Rowson said on Friday. "However, we are working together with our law enforcement partners to continuously share information based on tips submitted by the public."
He said the FBI set up a command post to gather intelligence and coordinate with federal, state and local law enforcement about any potential threats.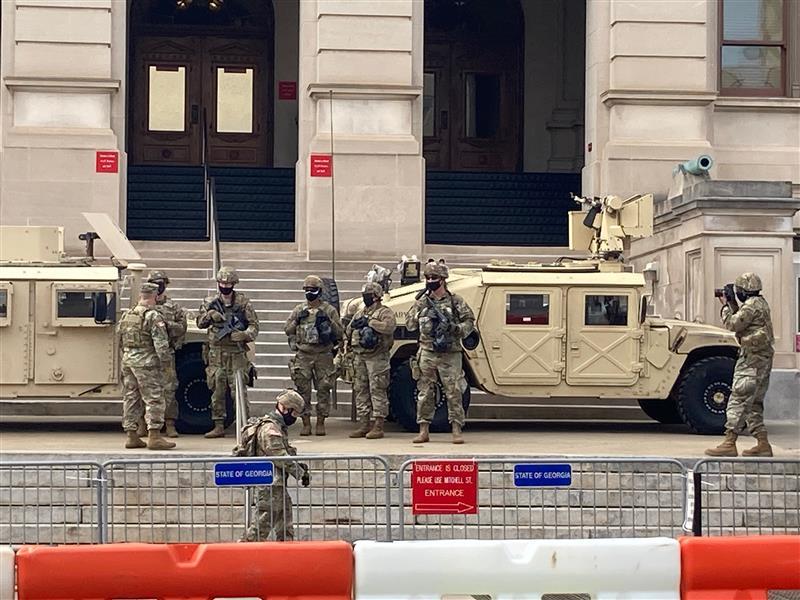 "Between now and the presidential inauguration on Jan. 20, we will be maintaining a heightened posture to monitor for any emerging threats to the area," Rowson said. "Our efforts are focused on identifying, investigating, and disrupting individuals that are inciting violence and engaging in criminal activity."
A "Refuse To Be Silenced" flyer circulated online, calling for armed marches Sunday on all 50 state capitol buildings and the nation's Capitol. "Demand freedom. End the corruption. Stand up for liberty," it said.
There was no immediate sign of protesters in early afternoon — the heavy police presence and barricaded streets seeming to serve as a deterrent. Gov. Brian Kemp earlier this week warned against people causing harm in Georgia.
"As you know, we welcome peaceful protests," Kemp said at a Tuesday news conference. "But let me be clear: Lawbreaking like we saw last week will not be tolerated here. Period."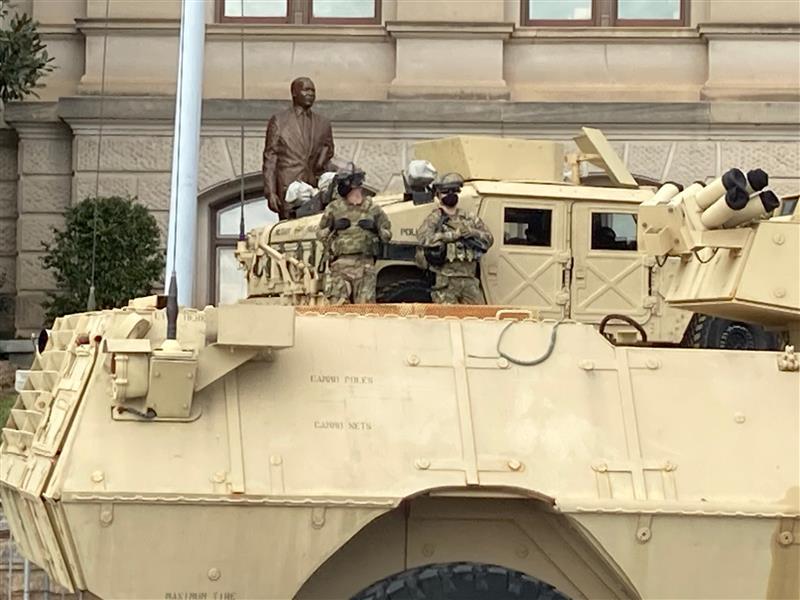 Georgia has been at the epicenter of the political universe in recent months after Biden defeated President Trump by about 12,000 votes in the November election, the first time a Democrat won Georgia since 1992.
Trump and his allies launched a disinformation campaign in the weeks afterward, claiming without evidence the election was stolen. His legal team lost challenge after legal challenge in dozens of courtrooms around the nation, repeatedly thrown out of court for lack of evidence. The day before Trump's team was to present evidence in a court in Georgia, it withdrew the case. 
Trump even called Secretary of State Brad Raffensperger to pressure him to overturn the state's election results — an effort the state's top election official rejected. "Mr. President, the challenge that you have is the data you have is wrong," Raffensperger told Trump.
Georgia was thrust into the national spotlight again when Democrats Raphael Warnock and Jon Ossoff defeated Republican incumbents Kelly Loeffler and David Perdue in the Jan. 5 runoffs, tipping control of the U.S. Senate to the Democratic Party.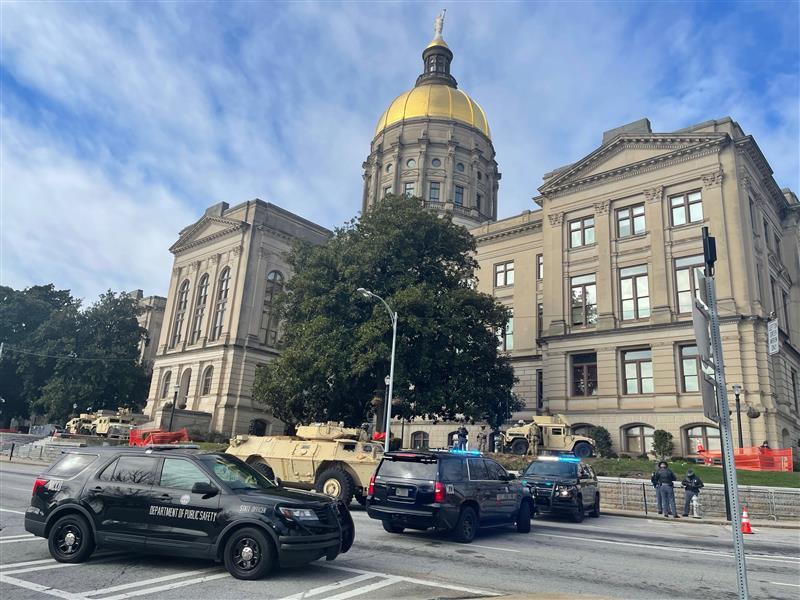 A supporter of the far-right Proud Boys group  was arrested this week after authorities said he threatened to kill Warnock.
In wake of the insurrection on Capitol Hill, social media platforms have cracked down on far-right extremism, including Twitter banning Trump from tweeting.
Lecia Brooks, chief of staff of the Southern Poverty Law Center, said the "de-platforming" of the far-right has created an unintended consequence for organizations like SLPC trying to monitor hate groups, as it has forced militants into the "dark" where it is harder to monitor.
"It's left us blind a little bit," she said.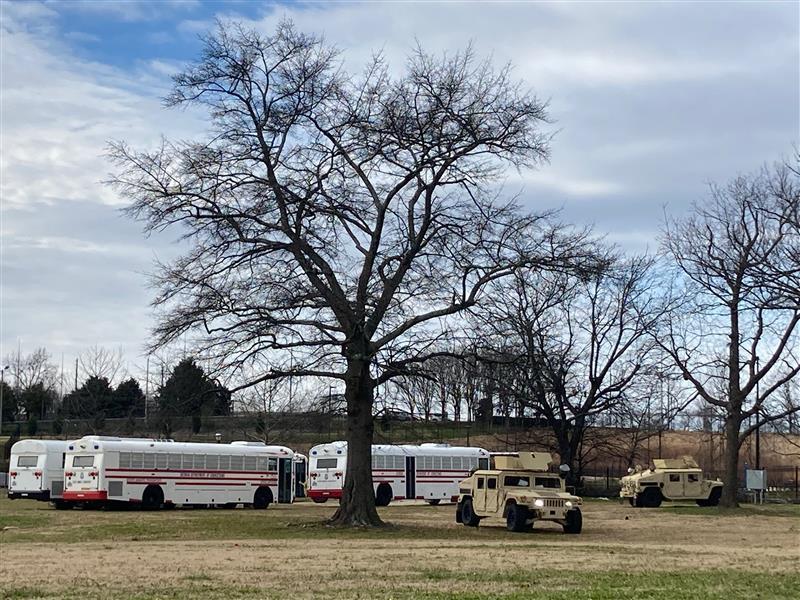 Brooks said there are at least 20 different active militia groups in Georgia. One notable group is the Three Percenters, which has at least 50 members. She said these militias' claims shouldn't be taken lightly due to their loyalty to Trump.
"It's people who have been fed a steady diet of disinformation from the Trump administration for the last four years," Brooks said.
Secondary Content
Bottom Content