Section Branding
Header Content
Amid Georgia's Slow Vaccine Rollout, Persistence Pays Off
Primary Content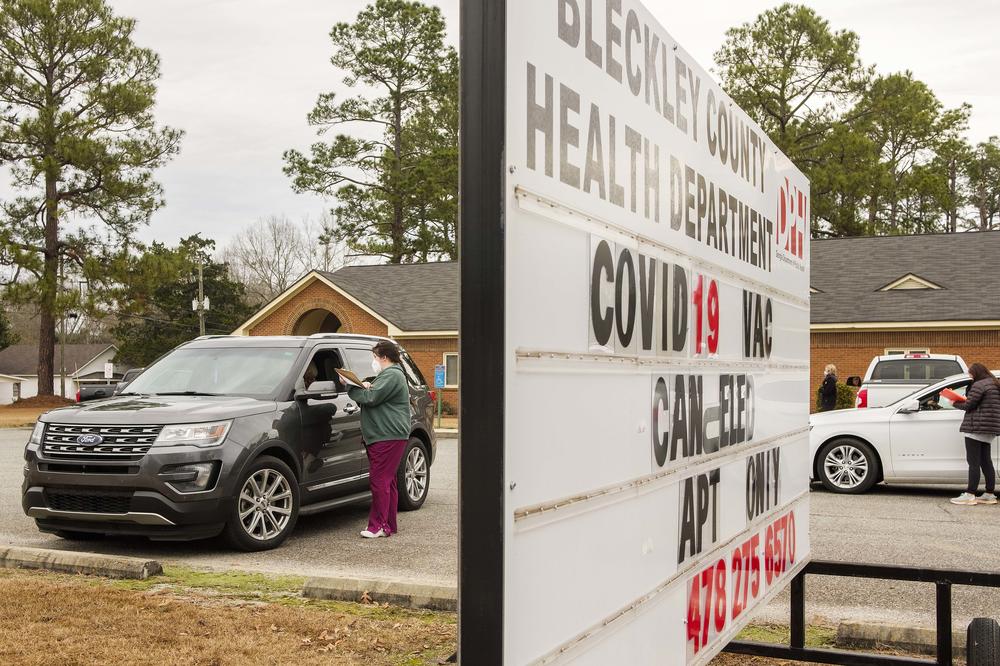 Monday morning, Larry Dillard came to the Bleckley County Health Department in Cochran with high hopes.
"Well, I was hoping to get a shot this morning, but seems to be some confusion as to whether or not there's a vaccine here or are they going to do it by appointment only because of the numbers of people that are actually trying to do it," Dillard said.
This wasn't a pipe dream, either. The health department had been listed on the South Central Health District website as a no appointment vaccine site for Monday. Dillard and others found out otherwise when they saw the reader board at the edge of the parking lot, with a "U" on its side for the second "C" in "canceled."
"It's kind of confusing," Dillard said.
As confusing as that may have been, people like Dillard who got to see health workers face to face in Bleckley County were kind of lucky. They left with vaccination appointments, in most cases for a week later.
That's a bright spot in what so far has been a very slow expanded rollout of the COVID-19 vaccine across Georgia. According to the CDC, Georgia has had one of the slowest rollouts in the entire nation.
Elsewhere in the state, websites for health districts in some of the most populous counties in the state, such as Cobb and Gwinnett, went down early. Phone lines in the South Central Health District failed due to the high volume of calls. And in the North Central Health District where Monica Miller was trying to get an appointment for her mother, lines were jammed, too.
Miller's mother started dialing from her home in Crawford County at around 9 a.m. Monday. Miller said she lasted about half an hour.
"She really was frustrated," Miller said. "So I was thinking to myself, 'Oh, OK, we're just going to keep trying.'"
Miller went high tech. She found an app for her phone that let her tell her phone to call the health department, wait 10 seconds, then dial again. That gave her time to hear a busy signal — again and again. The app dialed more than 400 times over the ensuing six hours. 
"So finally, about 3:45 p.m., it picked up and it says you are placed in queue," Miller said.
Success followed. She got appointments for her parents at a vaccine site in Houston County.
"But for the way that I did it, like, I would not expect the average senior to be able to do that. And that just took a lot of patience," Miller said.
In Cherokee County, Courtney Holder Smith had embarked on a similar odyssey to book vaccinations for both her parents and her husband's.
"I felt like I was buying concert tickets," Holder Smith said in a nod to the Gen X status of many working the phones for their parents.  "The site had crashed and I kept the refresh, refresh, refresh, and I was not able to get in to Cherokee County."
Holder Smith was eventually able to get an appointment through the Pickens County health department where her parents have a second home.
RELATED: HOW TO FIND A COVID-19 VACCINE IN GEORGIA
The Coastal Health District was the first out to begin scheduling appointments for vaccinations. That was how Sarah Ediss in McIntosh County started trying to book a vaccine last week for her mother who is over 65, plus her husband and herself, eligible as caregivers.
"There was that thought that, you know, she needs this. I need this. My husband's also type two diabetic. So we're all pretty high risk here," Ediss said.
All three were vaccinated Monday. All three have sore arms. But they got the shot.
"It's really been like a big exhale," Ediss said.
The Coastal Health Department that helped Ediss get vaccinated has paused appointments, for now, after scheduling some 3,000 vaccinations last week. Dr. Lawton Davis, head of the district, said that didn't stop people from lining up outside the office without appointments. Although officials pleaded with them to stop, a long line still stretched outside the building in the afternoon Monday.
"Traditionally, Public Health acts as somewhat of a safety net for health care, the provision of health care," Davis said. "We'd love to have anybody out there who can enroll as a vaccine provider do so."
Back in Bleckley County, Larry Dillard wondered aloud if someone in charge couldn't somehow make all of this just work better.
"I don't know how you deal with all that. But, you know, we put a man on the moon in the '60s. We ought to be able to figure this out," Dillard said.
So far, about 300,000 people have been vaccinated in Georgia. And if you are one of them, experts say, you should still wear a mask and keep up your social distancing. At least for now. 
GPB News' Ellen Eldridge and Emily Jones contributed to this report.
Secondary Content
Bottom Content