Section Branding
Header Content
Kemp: Georgia's COVID-19 Vaccine Rollout Must Pick Up Speed
Primary Content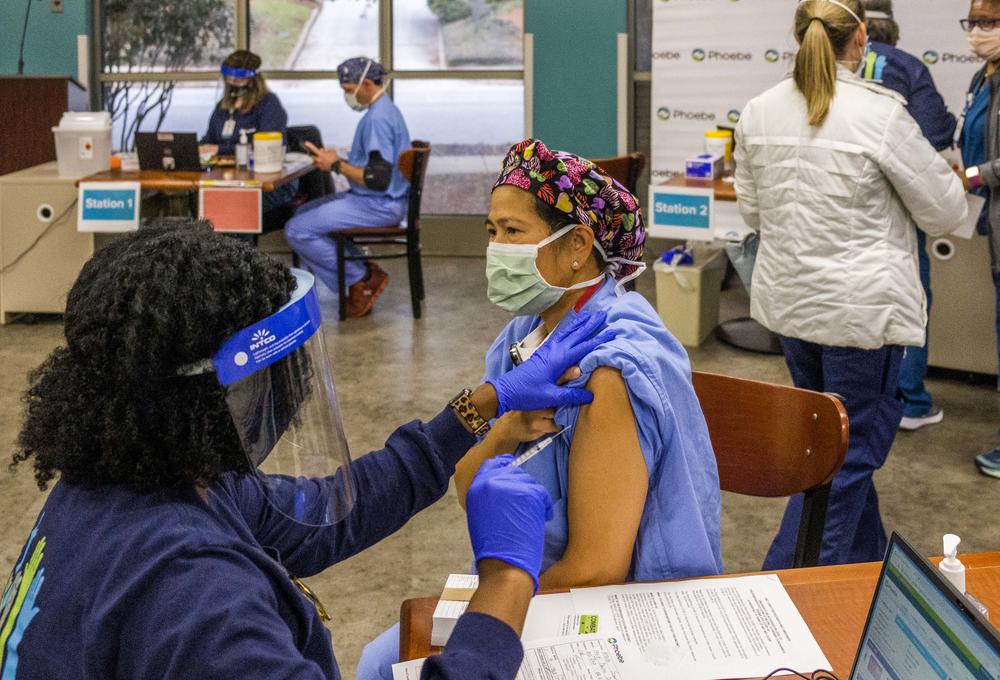 Georgia's health workers are doing incredible work getting the COVID-19 vaccine into people's arms, but they have to pick up the pace. 
That was the message from Gov. Brian Kemp during a Friday press conference about the vaccine rollout. 
First, the praise. Kemp said about 135,000 Georgians have at least begun the two-shot process of COVID-19 inoculation. That's just under a quarter of the original shipment of vaccines to the state.
"The state now has the capacity to administer 11,428 doses of the Pfizer and Moderna vaccines per day," Kemp said. "That is approximately 80,000 doses a week."
At that rate, the state has about a month's worth of doses left in its first allocation. But over the longer term, that rate also means it could take a long as two and-a-half years to vaccinate everyone in the state. Kemp said the pace has to quicken. 
"I'm pleased with how hard everybody's working, but I'm not happy with where we are," Kemp said. "We've got to keep moving the needle. We're working on that every single day. But we also told people, 'Look, this is a heavy logistical lift.' "
According to the Centers for Disease Control and Prevention, Georgia, along with Mississippi and Alabama, have the slowest per capita COVID-19 vaccination rates in the country.
Map compiled by Grant Blankenship/GPB
Meanwhile, the logistics of getting vaccinated have been left to each of Georgia's 18 regional health districts. As the first out of the gate this week to offer vaccination scheduling to anyone over 65, the Coastal Health District has already dealt with overwhelmed phone lines. For much of Friday, the website for the North Georgia Health District was down. That district takes in Whitfield County, one of Georgia's pandemic hotspots for months. 
Michael Hokanson, spokesperson for the North Central Health District headquartered in Macon, has already heard from frustrated people even before the NCHD begins scheduling Phase 1a-plus vaccinations for people over 65 and first responders next week.
"All we can do in that specific instance is tell them the truth: the fact that vaccine is limited, that we are hamstrung not only by the supply of vaccine, but by the manpower that we have to actually put shots in arms," Hokanson said. 
In Friday's press conference, Kemp said emergency medical technicians and paramedics are now certified to administer the vaccine, something he hopes will speed up the process. 
And then there are those who have already been eligible for the vaccine but who have decided they don't want it. Kemp said he found that "unimaginable."
"I want to encourage everyone, please ... This vaccine is safe," Kemp said. "It is highly effective. It has been through the rigors of any other vaccine. And it's miraculous how quickly that was done. But I have complete confidence in the vaccine."
Kemp said he's ready to take the shot in the arm himself, as soon as he's allowed to make an appointment.
Secondary Content
Bottom Content