Section Branding
Header Content
Democrats Flip U.S. Senate With Ossoff, Warnock Wins
Primary Content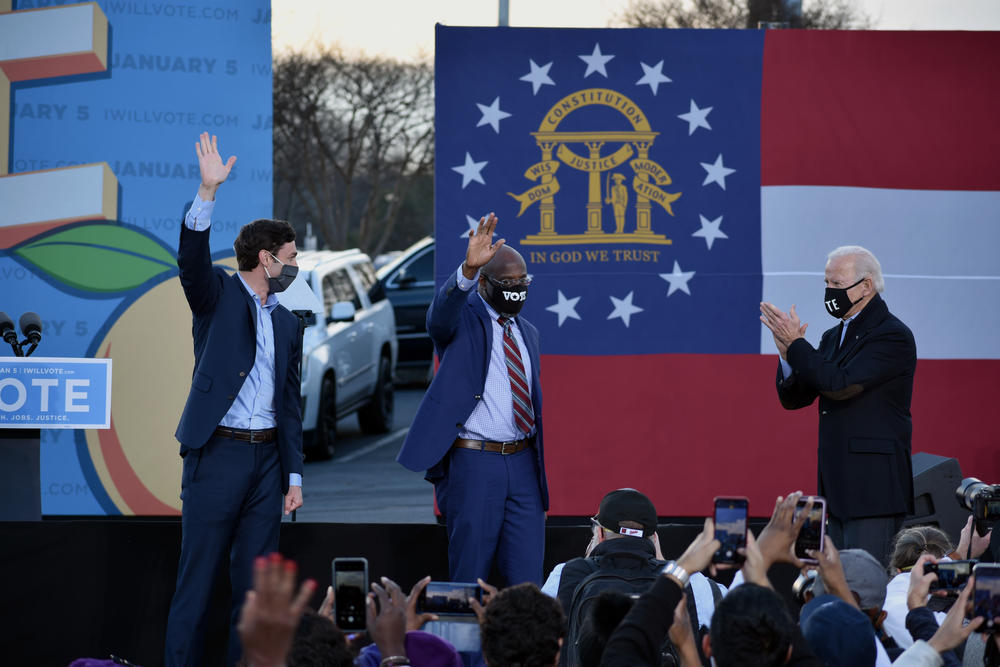 Democrats have flipped the Senate majority now that Raphael Warnock and Jon Ossoff are projected to win their runoffs with most of Georgia's votes counted.
With a small number of ballots left to be counted, including about 19,000 in heavily Democratic DeKalb County,  the Associated Press has now projected Warnock to win his race as he leads Kelly Loeffler by about 62,000 votes, while Ossoff's 25,000-vote lead over David Perdue is now outside the margin of a recount.
With surprising speed, nearly all of the million or so absentee-by-mail ballots were counted by the end of Tuesday, alongside a surprisingly robust 1.3 million Jan. 5 votes. Much of the suspense and intrigue from the general election has evaporated in part from a State Election Board rule change that required counties to process absentee ballots starting last Monday.
Ossoff and Warnock would both make history if the results stand and they become certified winners.
Warnock, the senior pastor of historic Ebenezer Baptist Church, the spiritual home of Martin Luther King Jr., would become Georgia's first senator of color. Jon Ossoff, an investigative documentary filmmaker, would be the state's first Jewish senator.
"I stand before you as a man who knows that the improbable journey that led me to this place in this historic moment in America could only happen here," Warnock said in what sounded like a victory speech shortly after midnight. "We were told we couldn't win this election, but tonight we proved that, with hope, hard work and the people by our side, anything is possible."
Ossoff claimed victory Wednesday morning, although Perdue has not conceded. 
"It is with humility that I thank the people of Georgia for electing me to serve you in the United States Senate," Ossoff said.
It will take days for counties to finalize their totals and certify the results — in part, to count any military and overseas ballots postmarked by Tuesday that arrive by Friday — plus, voters have time to cure absentee ballots rejected for signature issues.
In the general election, a large number of outstanding absentee ballots took days to process, agonizing some and helping spread conspiracies of fraud for others. Since the election, which President-elect Joe Biden won by about 12,000 votes, President Donald Trump and other top Republicans have assailed election integrity and claimed without evidence that widespread fraud cost Trump the White House and Georgia's 16 electoral votes.
Those claims have only grown in the leadup to the runoff, culminating in the president angrily asking Republican Secretary of State Brad Raffensperger to "find 11,780 votes, which is one more than we have, because we won the state," in a recorded call released over the weekend. Some Republicans feared Trump's baseless attacks on Georgia's voting system would keep some of the most loyal base of the party home.
Early analysis of the turnout suggest Democrats' investment in younger voters and the Black Belt in southwest Georgia is a deciding factor, as well as lower turnout in Republican strongholds, including northwest Georgia where Trump rallied Monday night.
The day of the runoff election went remarkably smooth, state officials said, with shorter lines and only one major county reported an issue with election equipment that nevertheless did not interrupt voting.
Secondary Content
Bottom Content