Section Branding
Header Content
Macon-Bibb County, Volunteers Set To Open, Staff New Homeless Shelter
Primary Content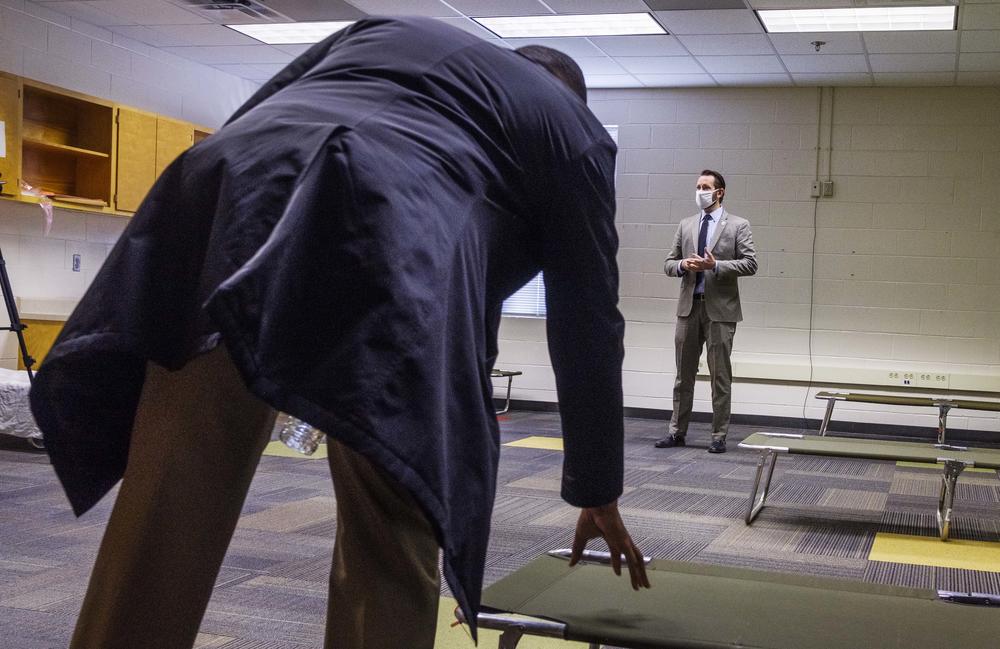 A new 24-hour, seven-day-a-week warming shelter for the homeless will open this week in Macon-Bibb County. The shelter was put together in the wake of the freezing deaths of two men, one of whom had slept under Interstate 75 Christmas Eve.
The shelter being set up in Macon's old Brookdale Elementary school building came together quickly in the days after the deaths of Manuel Foster, 63, and Larry Howard, 61.
According to Macon-Bibb County Emergency Management Director Spencer Hawkins, the Brookdale warming center will have capacity for about 60 people under normal circumstances but for as many as 130 or so at absolute maximum. At that level it would almost double the bedspace for the housing insecure in the county.
Hawkins said the space will be filled while sticking to the strictest COVID-19 safety measures.
The $26,000 seed money for the shelter came from the COVID-19 relief fund set up in March 2020 by two Bibb County charitable nonprofits, the United Way of Central Georgia and the Community Foundation of Central Georgia. Much of the supplies for the shelter were donated. And newly elected Macon-Bibb County Mayor Lester Miller said for the time being, the shelter will depend on volunteer staffing.
"It's you sitting at home, you that's on Facebook every day talking about how somebody needs to do something for the homeless.... you're going to have your opportunity," Miller said in a press conference announcing the shelter opening.  "And I want you to step up to the plate. I hope you hear the call. I will hold you accountable, just like you hold me accountable."
The United Way of Central Georgia is managing volunteer staffing through their website.
Miller said the center will also become a hub for social services, which are also key to helping people get on their feet but often hard to access. Miller said one day he hopes to make the whole thing work with paid staff.
"That's the ultimate goal here," Miller said. "This is just a temporary solution to get us through the winter months. We think we can use this as a pilot program to see what works and what doesn't work and actually put some financing behind it in the near future."
Miller said he envisions a private/public partnership running the shelter eventually.
The Brookdale Warming Center in Macon opens Wednesday.
Secondary Content
Bottom Content