Section Branding
Header Content
Overall Hospitalizations Up 145% In Georgia Since Thanksgiving
Primary Content
Health experts are concerned about rising coronavirus cases and warn people to play it safe during the end-of-year holidays. GPB's Ellen Eldridge reports.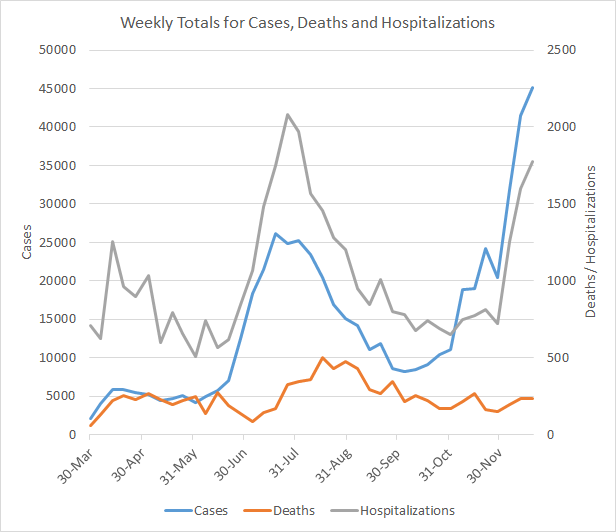 The hospitals in Georgia are nearing capacity and cases of coronavirus are surging. That's why health experts are begging folks to stay home unless they absolutely must travel.
Overall hospitalizations increased this week, with 1,775 Georgians newly admitted to the hospital for COVID-19 disease, Dr. Amber Schmidtke reported in her Sunday blog.
"Hospitalizations have risen 145% over the past three weeks," she wrote. "Whereas cases have quickly surpassed the records we set during the summer surge, hospitalizations have not yet reached that point. But if current trends continue, we might meet that previous record next week."
Schools are out for the end-of-year holiday break, and it's a good time to slow the spread of new cases.
"We are in the midst of an infectious disease pandemic, the severity of which we have not seen in over 100 years," Emory University's Dr. Henry Wu said. "Since Thanksgiving, we have seen cases and deaths rise in Georgia. And I don't see how the trend will change in the coming weeks."
The fact that two COVID-19 vaccines have received emergency use authorization does not affect the current rise in cases because the vaccines are not widely available yet.
Wu said he is encouraged by the efficacy data, but the general public will have to wait months for access to the COVID-19 vaccines.
"Unfortunately, I have to advise that people don't travel if you don't have to," he said.
Additionally, those who choose to stay home make it safer for those who do have to travel. 
"So don't be a disease spreader," he said. "Nobody wants that holiday gift."
Georgians should continue to take the precautions of hand washing, social distancing and masking, and everyone over the age of 6 months should get their flu shot if they haven't already done so, Wu said.
Secondary Content
Bottom Content