Section Branding
Header Content
Georgia Tops 1 Million Early Voters In Senate Runoffs
Primary Content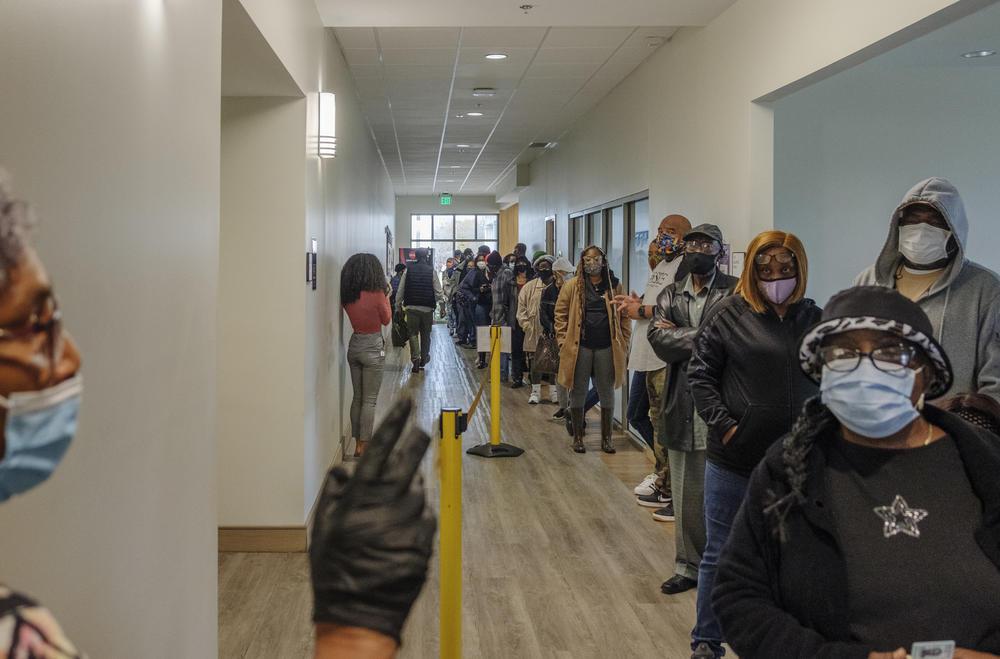 More than 1.1 million Georgians have already cast their ballots, as both in-person and absentee-by-mail early voting for the Jan. 5 runoffs in Georgia continues at a rapid pace.
At this point in the November general election, about 1.2 million votes had been accepted. On Thursday, more than 154,000 people flocked to the polls across 159 counties, up from 149,000 Wednesday and after 166,000 showed up on Tuesday and 169,000 on Monday. 
In Fulton County, more than 125,000 people have already voted in the race that pits Sen. David Perdue against Democrat Jon Ossoff and Sen. Kelly Loeffler against Raphael Warnock that will decide control of the U.S. Senate. Incumbent Republican Bubba McDonald faces Democrat Daniel Blackman in a runoff for a seat on the Public Service Commission. 
On the lower end of the turnout spectrum, only 7% of the active voters in Stephens County in northeast Georgia have voted early. In-person early voting runs for two more weeks, though with the holidays voters should check their local election office for times and locations. Absentee ballots must be received by your county election office on Election Day by 7 p.m. when the polls close.
You can mail that ballot back, hand-deliver to your county elections office or use a secure drop box if the county has them.
According to absentee data from the Secretary of State's office, 477,138 of more than 1.2 million absentee-by-mail ballots requested have been returned, and about 1,900 have been rejected for a signature mismatch or missing signature on the ballot envelope - a source of much controversy after top Republicans claimed without evidence the matching process enables fraud.
On Thursday, two different judges in two different federal courts dismissed Republican-backed lawsuits seeking to change absentee rules for the January runoff, each for lacking standing. 
One sought to ban the use of 24/7 monitored secure absentee drop boxes and prohibit county officials from processing absentee ballots until Election Day. Another, signed on to by Perdue and Loeffler, sought to enact further restrictions and parameters around the process used to check the validity of absentee ballot signatures.
After President Trump narrowly lost Georgia's 16 electoral votes to President-Elect Joe Biden on the strength of absentee ballots, national and local Republicans have rushed to attack Georgia's voting system and vowed to undo laws and procedures they themselves enacted and benefitted from primarily until now.
Another pending lawsuit in Fulton County Superior Court filed by Republicans seeks to limit the use of absentee drop boxes to certain hours, and last night the Republican National Committee filed another challenge that questions the validity of new voter registrations processed after the general election.
8.5.5
Secondary Content
Bottom Content