Section Branding
Header Content
Courts Dismiss Challenges To Georgia's Absentee Rules For U.S. Senate Runoff
Primary Content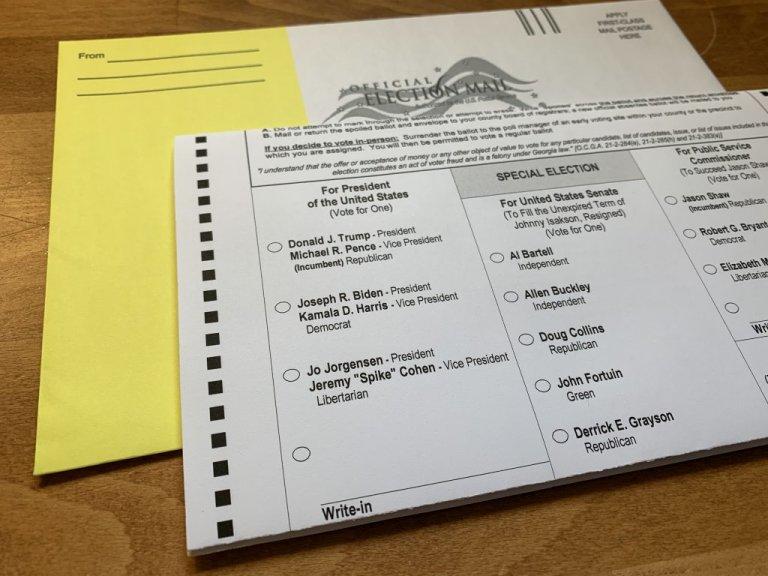 A pair of Republican-backed lawsuits seeking to restrict Georgia's absentee voting rules were dismissed from the bench Thursday by two different federal judges.
Judge Eleanor Ross of the Northern District of Georgia dismissed a case brought by the Georgia Republican Party, the National Republican Senatorial Committee and the campaigns of Republican Sens. David Perdue and Kelly Loeffler that sought to add more parameters to the signature matching component of verifying absentee ballots.
Ross ruled that the plaintiffs lacked standing to bring the claims, stating that they were "based in theories of potential future injuries."
Attorneys for the plaintiffs argued that the state's current method of verifying absentee ballot signatures on the applications and envelopes was lacking.
"It takes a three person panel to reject a signature as being mismatched in the current election process in the state of Georgia," George Terwilliger said. "It only takes one person to decide that the signatures match."
Also, the plaintiffs alleged that Georgia counties rejected an "impossibly low number of ballots for signature issues and asked the court to require more observers of the match process and direct the state to provide better, more uniform instructions to minimize differences in how each county handles ballots.
But Charlene McGowan with the Georgia Attorney General's office argued that recent law changes allow voters to cure issues with signatures and reduced the number of reasons ballots could be rejected, making comparisons to previous years irreleveant.
"I'm not aware of any legal authority that says a state has to have a certain percentage of rejected absentee ballots or else the election results are not valid," she added.
In the Southern District of Georgia, chief judge J. Randal Hall dismissed a request from the 12th Congressional District Republican Committee on Thursday morning to eliminate the use of absentee drop boxes and prevent county elections officials from processing absentee ballots before Jan. 5.
Hall said claims of potential voter fraud from the expanded voting rules were "highly speculative" and that precedent from the U.S. Supreme Court encouraged federal judges to avoid changing the rules of an election so close to when ballots are being cast.
"We are not on the eve of an election," the President George W. Bush-appointed judge said. "We are, as it relates to this particular election, closing in on halftime."
More than 914,000 Georgians have already cast a ballot in the race that features both U.S. Senate seats and a statewide Public Service Commission race. Lawyers for the state argued, among other things, that the plaintiffs waited too long to file the suit.
The pair of challenges comes as Georgia Republicans have launched repeated attacks against the validity of the November general election where President Donald Trump narrowly lost the state by about 12,000 votes.
8.5.5
Secondary Content
Bottom Content