Section Branding
Header Content
Most PPP Aid In Georgia Went To Big, Not Small Businesses, Data Show
Primary Content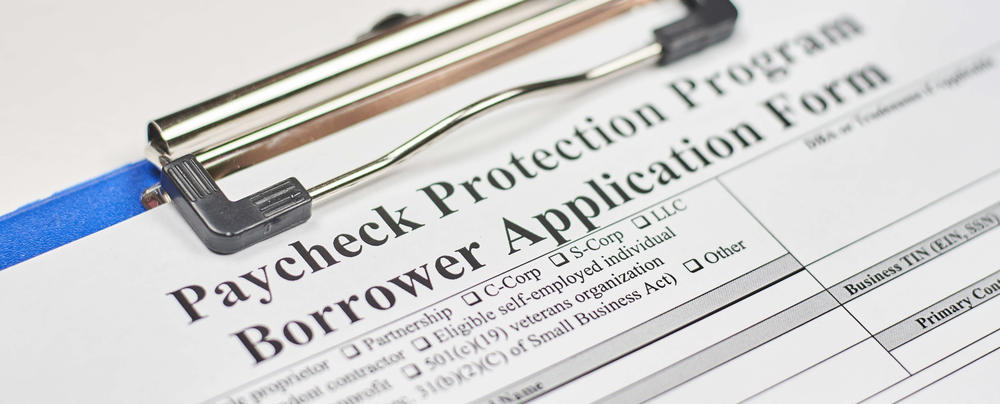 More than half the funds received by Georgia companies as part of a federal loan program meant to support small businesses during the pandemic went to large companies that received loans of $3 million or more, according to newly released data from the U.S. Small Business Administration.
An analysis by the Georgia News Lab found that just 5% of the nearly 170,000 Georgia companies that received loans as part of the Paycheck Protection Program got 54% of the $14.4 billion of funds provided to the state, totaling about $7.8 billion. The loans went to a wide range of industries, from technology companies and real estate firms to independent restaurants and beauty salons.  
The analysis found that while 89% of loans to Georgia companies were $150,000 or less, those smaller businesses received just 31% of the funds provided to the state, or $4.5 billion. The bottom 50% of recipients — those receiving a loan of about $20,000 or less — got just 6% of the money received by the state.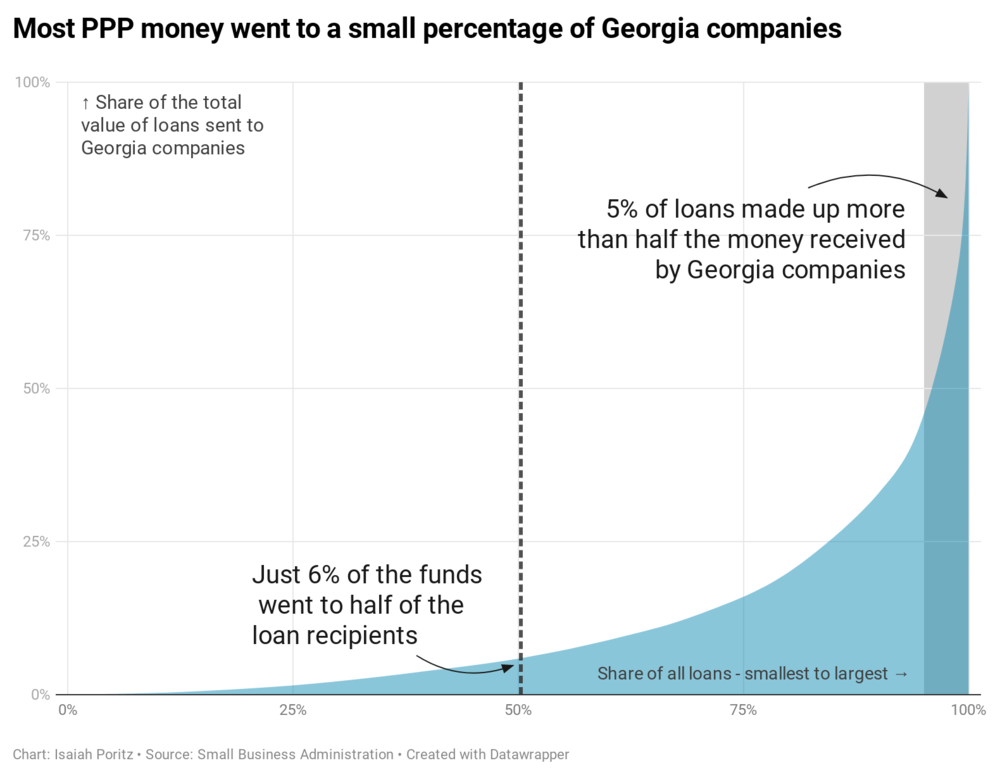 In all, the loans to Georgia companies supported a reported 1.4 million employees, according to the SBA data. 
The loan distribution in Georgia is consistent with a nationwide trend in which most of the PPP money went to larger, well-established companies and far less to smaller businesses. 
"What I find to be the really gross abuse is the fact that the bulk of the money went to large businesses, not to small businesses for the purpose of retaining employees," said Craig Holman, an advocate for the government watchdog Public Citizen. 
The PPP, which was created under the federal CARES Act in April, was intended to provide financial relief to small businesses affected by the coronavirus pandemic. The $659 billion program provided low-interest loans of up to $10 million to companies with 500 or fewer employees. The loans can be used to cover payroll costs, rent and utilities but may be partially or fully forgiven if the business can prove it was able to prevent layoffs through the summer. 
The new loan data, released by the SBA on Dec. 1, reveal company names, addresses and exact loan amounts, far more information than an initial release in July, which only provided ranges of loan values and no information about individual companies receiving $150,000 or less. 
The more detailed information was made public only after a protracted legal fight in which news organizations sued the SBA under the Freedom of Information Act. The agency originally withheld details of the loans, citing borrower privacy concerns. 
The new insights into the program come as lawmakers in Washington continue to consider another round of loans to help businesses retain employees as they struggle through the pandemic. 
In all, 13 Georgia businesses received the maximum loan amount of $10 million. The data show they employ a combined 5,946 people. 
More than half of those businesses are in the restaurant industry. They include Ted's Montana Grill, founded by media mogul Ted Turner, two Applebee's franchisers and two Hooters franchisers.
Exemptions in the original PPP legislation allowed certain multi-site businesses such as restaurant and hotel chains to receive loans as long as they have no more than 500 employees "per physical location." That exemption sparked outcry among independent restaurant owners with few employees, leading some large chains such as Shake Shack to return their loans. 
The other Georgia companies that received a loan of $10 million include a tutoring and test prep business, a John Deere dealership, a real estate legal services firm and a physician-owned medical group based in Gainesville, Ga. 
RELATED: Scores Of Private Charitable Foundations Got Paycheck Protection Program Money 
Under SBA guidelines, the amount of each loan was based on a company's monthly payroll figures, excluding employees with salaries of more than $100,000. 
SBA Georgia District Director Terri Denison said in a statement to the Georgia News Lab that the SBA processed loan applications on a first-come, first-served basis and that there were "no allocations or quotas for PPP loans by state."
Some businesses and government watchdog groups have criticized the SBA's data for being riddled with errors, such as including loans that were never received, listing incorrect loan amounts and showing incorrect numbers of employees.  
The data show more than 13,000 Georgia loan recipients with zero "jobs reported," suggesting they have no employees. Those companies, about 7.6% of the total, received $1.1 billion in loans, according to the data.  
Dennison told the News Lab that companies listed as having zero employees could be "sole proprietors, [the] self-employed, and independent contractors."
A check by the Georgia News Lab found that at least some of the Georgia companies listed as having no employees do, in fact, have workers.  
Datapath Inc., a communications and information technology firm with offices in Atlanta, received a $6.8 million loan but the SBA data list the company as having no employees. Barry Botts, vice president of sales and marketing, said Datapath employs 300 people and the company reported that number on the loan application. 
"Whoever compiles that data, I have no idea," Botts said. "I searched for about five or six companies where I have friends and a couple of them show employees and a couple of them don't, so there really seems to be no rhyme or reason for why that is."
Similar problems exist with the employee information for other companies. 
The data show that Williams Enterprises of Georgia, a steel erection company located in Smyrna, received a $7.2 million loan but had no employees. A spokeswoman for the company confirmed it received the loan but said it has more than 400 employees. 
The data also show National DCP, a $2 billion supply chain management company based in Duluth, that serves Dunkin' Donuts franchisees, receiving a $10 million loan but having no employees. The company's website indicates it has more than 1,700 employees at its headquarters in Atlanta and sites across the nation. The company did not respond to a request for comment. 
The data also include businesses that say they did not receive a PPP loan. One of those is Barco Inc., a Belgian technology company with offices in Duluth, Ga., that SBA reported receiving a $8.9 million loan. 
Barco's director of finance, Scott Brown, said that's incorrect. Brown said the company applied for a loan in the spring but determined that it did not qualify because it has more than 500 employees. He said he did not know why Barco is still listed in the data.
Georgia Power Company, the largest utilities provider in the state, was also listed as receiving a loan of between $1 million and $2 million in the July data release, but a spokesperson for the company told The Atlanta Journal-Constitution that it did not receive a loan. The company is not included in the new data.  
The SBA has also received criticism for a lack of oversight of the loan program, which Holman and others say has contributed to widespread fraud. 
"Not only did it [SBA] not exercise direct oversight over the requests, it really relied on businesses certifying themselves," Holman said. "So when businesses submitted an application, the Small Business Administration just took it as true."
The SBA inspector general's office has received thousands of fraud tips and the Justice Department has charged 57 people nationwide with trying to steal PPP loans. Reality TV star Maurice Fayne of Dacula was arrested in May on charges that include using PPP funds to purchase jewelry and to rent a Rolls-Royce automobile.
Nathan Humphrey, the Georgia state director for the National Federation of Independent Business, said that while the initial distribution of PPP loans in the spring was very disorganized, the funds were a lifeline for countless businesses. 
The sheer volume of loans and money the SBA had to distribute in a short period of time was a likely cause of the chaos, he said. 
"It's like I-285 traffic at rush hour being funneled into a single lane," Humphrey said. "The magnitude of it all was so big that it's expected that there would be hiccups." 
He said that many small service businesses such as restaurants and barber shops were thrown into limbo because the SBA changed loan eligibility on short notice in the spring. 
"Most of the businesses that received PPP are now saying that they're going to need additional funding to stay afloat," Humphrey said. "They also want assurances that it's tax-deductible as well. Most of these businesses won't take it if they thought they were going to get taxed on the back end."
Secondary Content
Bottom Content