Section Branding
Header Content
Georgia To Conduct Hand Recount In Razor-Thin Presidential Race
Primary Content
GPB's Stephen Fowler joins Rickey Bevington on All Things Considered to explain further Georgia's announced hand recount of the 2020 presidential election.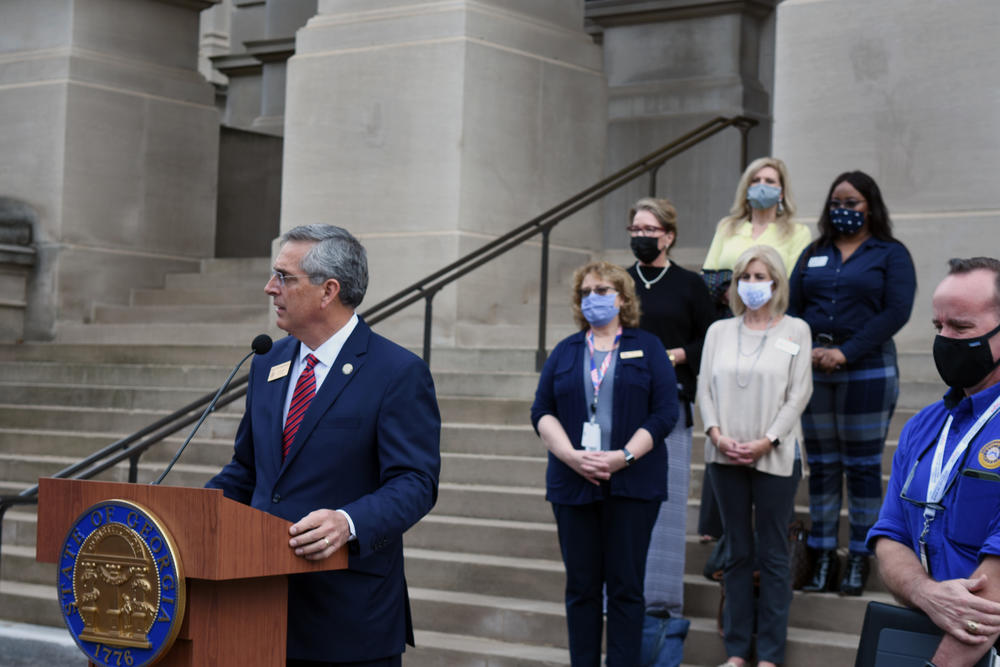 The statewide risk-limiting audit of Georgia's presidential race will require a hand recount to verify the outcome, meaning 159 counties will have fewer than 10 days to review nearly 5 million ballots to confirm that President-elect Joe Biden narrowly won the state over President Donald Trump. 
Republican Secretary of State Brad Raffensperger also announced he was using his emergency powers to postpone the Dec. 1 statewide Public Service Commission runoff election to coincide with the Jan. 5 runoffs for both U.S. Senate seats, to give local elections officials more time to prepare.
"This will help build confidence: It will be an audit, a recount and a recanvass all at once," Raffensperger said. "It will be a heavy lift. But we will work with the counties to get this done in time for our state certification."
The hand recount will use the human-readable text of what the voter selected instead of the QR code for ballots cast in person, and will involve all 159 counties working around the clock to complete the task before the state must certify its election results next Friday, Nov. 20.
Raffensperger said the hand recount was necessary because of the margins in the race chosen, where Biden leads by about 14,000 votes. The state is required to do a risk-limiting audit, or RLA, under a state law passed in 2019.
The RLA uses advanced statistics and a log of every ballot cast in the state to determine a minimum number of randomly sampled ballots needed to have a certain level of confidence that the correct person won a contest. 
Because the presidential race is so close, the state said every ballot would need to be reexamined. A hand recount is much more costly, time-consuming and less accurate than a recount that sees every ballot put back through a high-speed scanner.
It is not yet clear who will pay for the recount, or how much it will cost, but Raffensperger said there would be additional resources to ensure things are completed on time.
Raffensperger and the state's election system have been under fire from fellow Republicans hurling baseless accusations of fraud or misconduct in a handful of races where Republicans did not win or were forced to a runoff, including demands from the two Republican U.S. Senators that he resign. One letter called for a hand recount, something the secretary of state's office said did not sway their decision.
The state's top election official has stood firm against the criticism, promising Georgians that they can trust the results of the election even if they wish they were different. The new $104 million voting system prints out a paper ballot with the voters' choices and a QR code, and Raffensperger said that will make the audit process easier and better.
"Because we now have that verifiable paper ballot, for the first time in 18 years, we're gonna have something to count instead of just pressing a button and getting the same answer," he said. "So we'll be counting every single piece of paper, every single ballot and every single lawfully cast legal ballot."
Secondary Content
Bottom Content