Section Branding
Header Content
Students In Macon-Bibb County Ease Back To Face-To-Face Instruction
Primary Content
Principal Danielle Howard has not seen her students in nine months. 
It was March when the Bibb County School District tried to land the COVID-19-shortened school year as gently as possible and when a six-month long break from any school for Macon students kicked in. 
Every student in the district, with the exception of some special education students, has been in school online since the school year started late, in September.
But Monday, Howard, who is the principal of Ingram Pye Elementary School in Macon, welcomed students back to the building. The same thing happened across the district as some grades began easing back to in-person instruction, making the district one of the last in the state to scale back online instruction during the COVID-19 pandemic.  
At Ingram-Pye, students queued up on royal blue paw prints painted on the sidewalk outside the school, meant to invoke their mascot, the Wildcat, before heading in. 
Kids ranging from pre-K to second grade were the first through the door. Masks were mandatory, as were computer tablets provided by the school district. 
And greeting every child at the door was Principal Howard.  
"I'm glad to see you! I have missed you so much!" Howard told a student before sending them in for a temperature scan and then on to class.  
Other students were praised for their growth in height since she'd last seen them or for the designs on their masks. But each time, Howard pointed down the hall and made sure the students saw their teachers waving for them at the entrance to the classroom which, before Monday, they had only seen on a screen.  
"Do you know who I am?" Howard asked one child. The shook their head no, to which Howard could only laugh.  
"They haven't been here since March," she said. "I was glad to basically lay my eyes on them. Just to see their faces. And for the most part, once they recognized us, then their anxiety went down."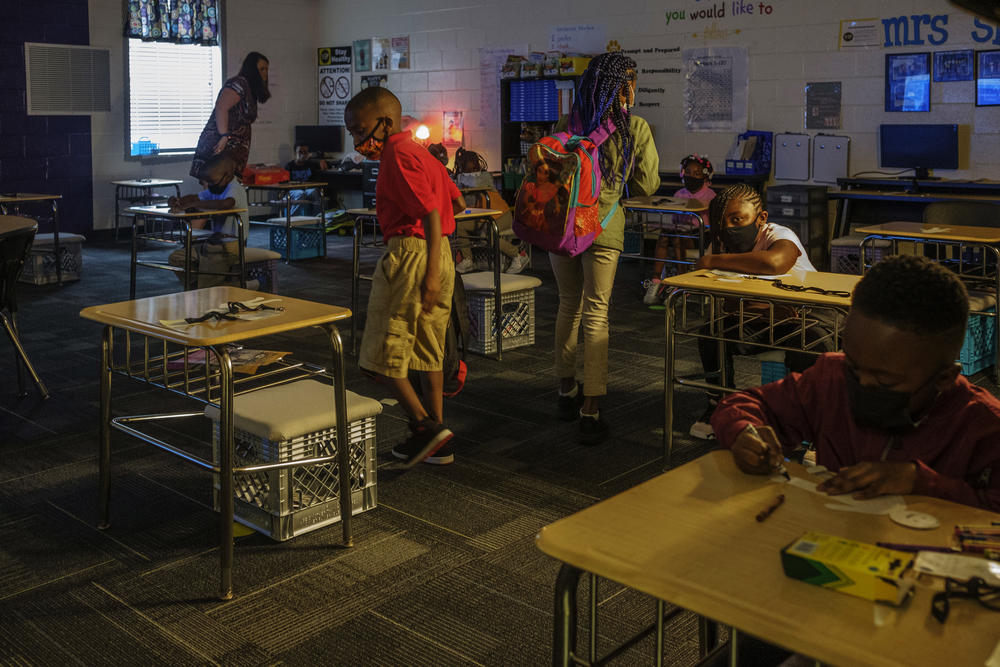 The students were welcomed back against a backdrop of a relatively low COVID-19 case rate for Bibb County, 155 cases per 100,000 people, over the last two weeks. That reflects a drop of about 50 cases per 100,000 people compared to the previous two-week period. Testing is at a 5% positivity rate, too, right at the mark the World Health Organization says should mark adequate disease surveillance.
Once in their classes, students found desks spaced far apart. And Job 1? Washing hands. 
All of that happened ahead of the school bell ring and in time for parents such as Kierra Higgins to head to work. Higgins said bringing her son to school capped off a tough nine months.  
"Because I was, like, how I was going to work and still make sure that he was getting his work done and he was comprehending and understanding first grade?" Higgins asked. She said she was lucky, though: Her employer was supportive of her bringing her son to work every day so she could mind his work while she still did her own.  
"So it was it was just a lot. It was a toll," Higgins said.  
Bibb County schools are doing a phased reentry for students. That means another cohort will walk through the doors across the county next week. 
Meanwhile, some families in the county are still electing to ride out the pandemic at home using online school.
Secondary Content
Bottom Content