Section Branding
Header Content
Georgians Have Many More Runoffs Ahead — Along With Both U.S. Senate Seats
Primary Content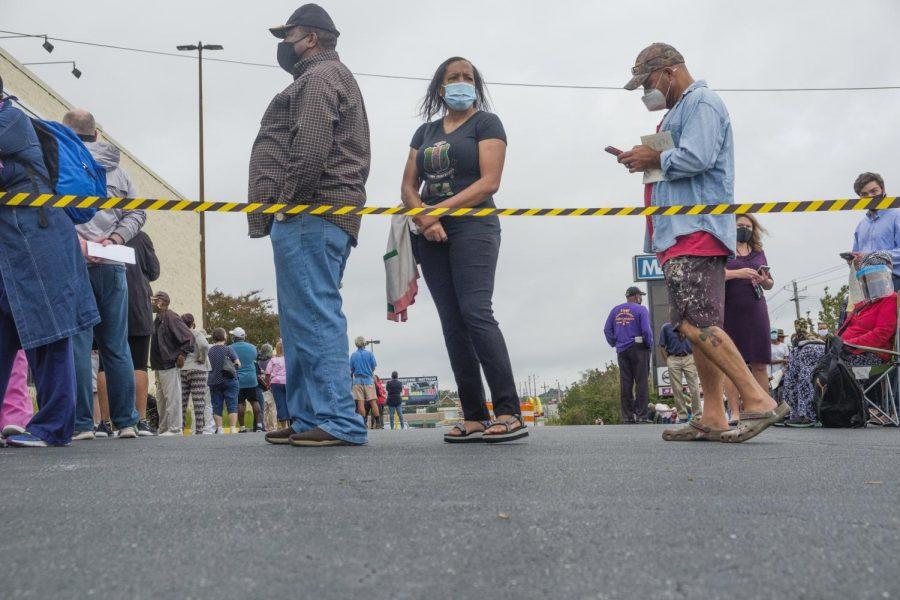 For most of the next two months there will still be voting happening in Georgia as several high-profile runoff elections must still be decided, culminating in the nationally watched U.S. Senate elections that will decide control of the chamber.
Starting today, voters in Georgia's 5th Congressional District in Atlanta can vote early in person in the special election runoff to fill, essentially, a few weeks of the late Rep. John Lewis' term after the civil rights icon's death earlier this year. That runoff election between former Atlanta City Council member Kwanza Hall and former Morehouse College President Robert Franklin will be held Dec. 1.
Democratic Party of Georgia chairwoman and state Sen. Nikema Williams won the election for the next term of the 5th Congressional District and will assume office in January.
Also on the ballot will be runoffs for several state and local races, including the Public Service Commission District 4 contest, where incumbent Republican Bubba McDonald is just over 3,000 votes shy of winning outright, as of Monday morning. He faces Democrat Daniel Blackman.
Voters in State Senate District 39 will decide who will succeed Williams' next term in a special Democratic primary runoff between Sonya Halpern and Linda Pritchett on Dec. 1. 
Also Dec. 1, the Western Judicial Circuit District Attorney special election will see Democrat Deborah Gonzalez and nonpartisan candidate James Chafin face off to replace Brian Patterson, the interim DA and third-place finisher in the contest.
Patterson served since former DA Ken Mauldin's abrupt resignation in February, and while a legal battle that made its way to the Georgia Supreme Court ultimately overturned a law that would have allowed the governor to choose a replacement without an election.
But all eyes are on Jan. 5's double-barreled Senate runoff election that will see record spending and attention as Democrats and Republicans clash over control of the Senate.
In the regularly scheduled Senate contest, Republican Sen. David Perdue and Democrat Jon Ossoff advanced to a runoff after Libertarian Shane Hazel earned enough votes to keep Perdue under the majority threshold needed to win outright.
In the runoff following the 20-candidate special election to fill the final two years of Sen. Johnny Isakson's term, Democrat Raphael Warnock and incumbent appointed Sen. Kelly Loeffler will face off.
The voter registration deadline for the U.S. Senate special election is Dec. 7, but the deadline for unregistered voters wishing to cast their ballot in the state and local runoffs has already passed. Voters can request their absentee ballot for both runoffs now, but can only use the state's online request portal for the Senate runoffs.
8.5.2
Secondary Content
Bottom Content