Section Branding
Header Content
Half Of Georgia's Voters Cast Their Ballots During Early Voting Period
Primary Content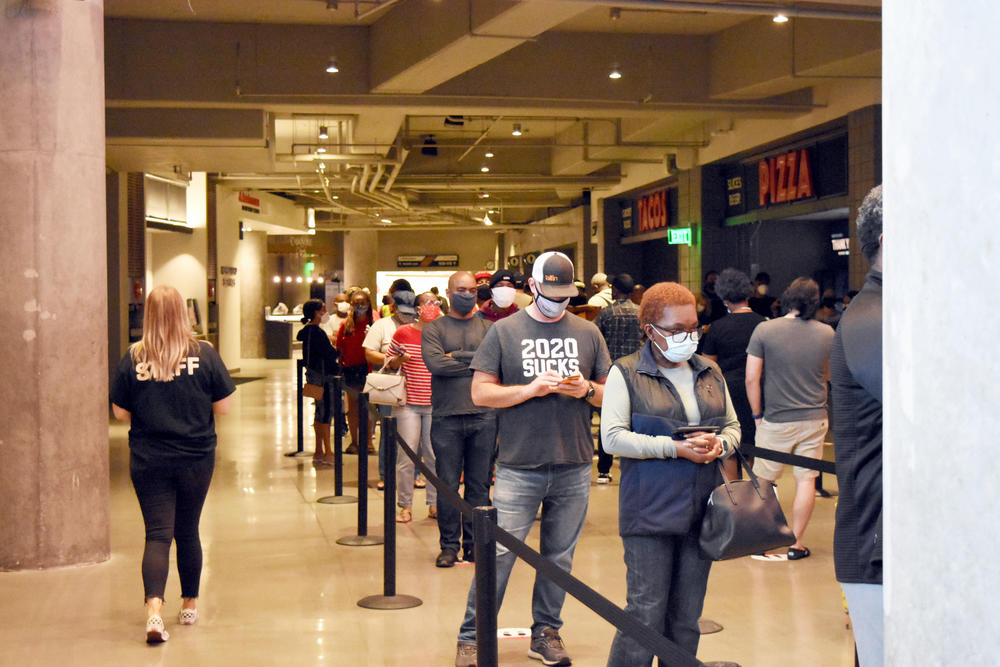 Just over 50% of Georgia's 7.6 million registered voters have already cast their ballots, nearly eclipsing the total votes in the 2016 presidential election and potentially contributing to shorter Election Day lines in crowded polls across the state.
According to the state's absentee file, 3.88 million voters have participated in the election so far, including 2,685,477 that voted during Georgia's three-week in-person early voting period and a whopping 1.2 million absentee-by-mail votes.
Speaking Friday morning, Republican Secretary of State Brad Raffensperger said that another 2 million could show up to the polls on Tuesday. He advised Georgians to expect longer lines from high turnout.
An analysis of Georgia's early voting data finds 48% of Georgia's 2,652 precincts have seen more than half of their registered voters turn out so far, and 78 of 159 counties report the same. 
The more voters that vote early, the fewer possible voters there are that could show up to the polls on Election Day, meaning potentially shorter lines. This is especially important after the June 9 primary that saw Black voters in metro Atlanta wait in disproportionately longer lines at polling places larger than the state average, according to a GPB News/ProPublica investigation.
For example, 76% of 2,665 voters in DeKalb County's DI precinct in Dunwoody cast their ballot already, leaving just 641 possible voters at most that could vote Tuesday. That's a much smaller number than Tattnall County's precinct 7, which has 1,242 people that have not voted while having the same number of registered voters.
Looking at how many potential voters are remaining can be a slightly misleading metric though, since not every registered voter participates in every election, and not every precinct or polling place has the same level of turnout. 
Still, we can see that in major metropolitan counties across Georgia, there is no precinct that has more than 5,000 people left to vote, including some problem areas in the primary. In fact, some of the precincts and counties with the lowest turnout from early voting are in rural parts of the state, like Stephens County in northeast Georgia, which has one Election Day polling place.
Another benefit of overwhelming early voting turnout is faster processing of election results. If 6 million Georgians vote in the election and two-thirds of those votes come before Election Day, many county officials will have those early votes processed ahead of time and ready to count once polls close.
As Georgia emerges as one of the closest battleground states in the country, all signs point to the record-setting turnout continuing on Election Day.
Secondary Content
Bottom Content