Section Branding
Header Content
New Monmouth Poll Shows Late Democratic Surge In Georgia
Primary Content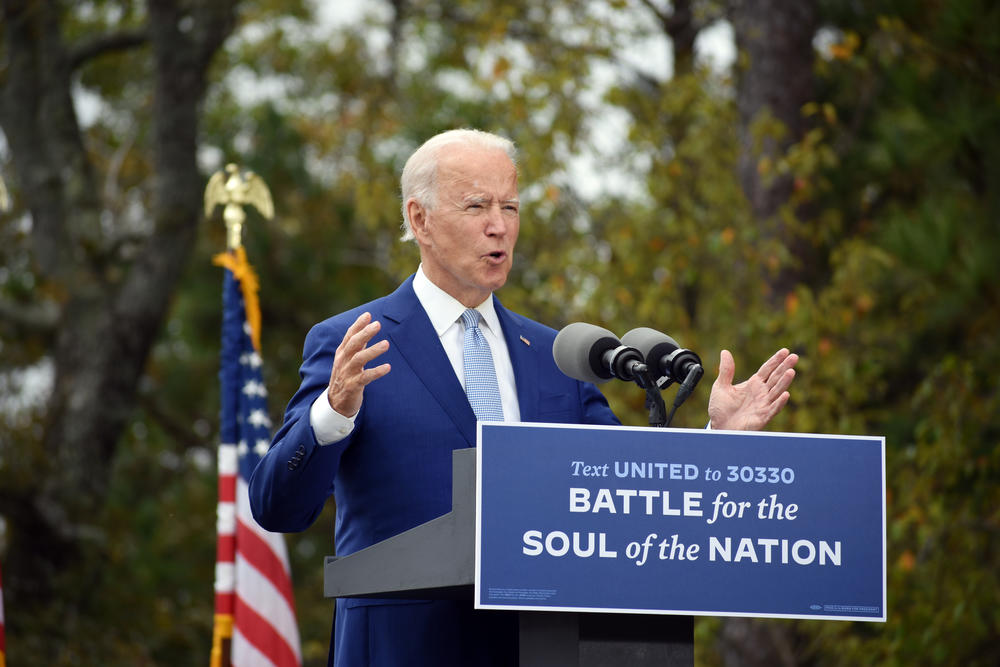 A new poll from Monmouth University shows Joe Biden open up a late-breaking lead in the battle for the White House in Georgia, with Democratic candidates having a slight edge in both U.S. Senate races as well.
The survey, conducted by phone Oct. 23-27 and released Wednesday, finds that Biden leads Donald Trump 50-45, Jon Ossoff leads Sen. David Perdue 49-46 and Raphael Warnock, Sen. Kelly Loeffler and Rep. Doug Collins top the 20-candidate special election at 41-21-18, respectively.
Previous Monmouth polls released in July and September showed Republicans slightly ahead in all three races, and all three polls have been within the margin of error.
A record 3.2 million Georgians have already cast their ballots so far, with Biden leading among the 504 registered voters in the poll who said they already voted.
"Trump is likely to win the Election Day vote; the question is by how much," said Patrick Murray, director of the independent Monmouth University Polling Institute. "The Democratic voters left on the table at this point tend to be less engaged and thus harder to turn out. So, it is still possible for Trump to make up his deficit in the early vote."
In the regularly scheduled Senate race between Perdue, Ossoff and Libertarian Shane Hazel, if no candidate gets above 50%, the top two head to a January runoff. The special election will almost certainly see the top two candidates, regardless of party, advance to a January runoff.
Collins and Loeffler have been fiercely battling for Republican votes over the duration of the campaign, each positioning themselves as the strongest Trump defender in a state that voted for the president by five points in 2016.
Both Democrats and Republicans have increasingly poured resources into Georgia and made campaign stops in recent weeks to attempt to win the state — including Biden and Harris stopping in the final week and Trump holding several rallies and events across the state.
Secondary Content
Bottom Content