Section Branding
Header Content
In Georgia, Biden Delivers Closing Message Of Unity And Healing
Primary Content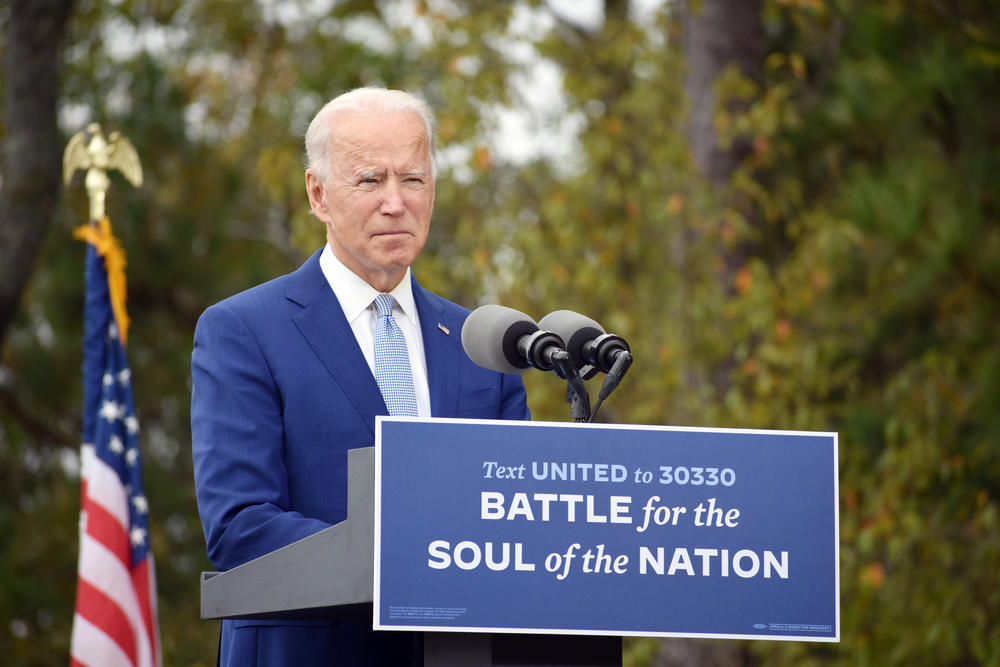 In a spot not far from where Jimmy Carter launched his White House run and Franklin D. Roosevelt sought refuge from polio, former Vice President Joe Biden on Tuesday brought a message of unity to the country in a speech from battleground Georgia.
"This place, Warm Springs, is a reminder that though broken, each of us can be healed," Biden said.
Flanked by a misty mountaintop vista in rural Meriwether County, about 75 miles southwest of Atlanta, the Democratic presidential nominee invoked the name of the New Deal president as a touchstone for navigating trials and tribulations as part of his campaign's closing message for voters.
"Warm Springs is a good place to talk about hope and healing. ... Warm Springs offered therapy for the body, and I might add — the soul," Biden said. "But it offered something else: FDR came looking for a cure, but it was the lessons learned here that he used to lift a nation."
RELATED: Kemp At Pro-Trump Rally: 'If we grow tired and weary, we can lose'
Much like the Great Depression era when Roosevelt took office, America is at a crossroads, Biden said. And if he is elected president, Biden said the country would tackle issues facing the nation on day one.
"These are historic painful crises: The insidious virus, the economic anguish, the systematic discrimination," he said. "Any one of them could have rocked the nation, yet we've been hit by all three at once."
Polls show Biden in a statistical dead heat with President Donald Trump in a state that has not supported a Democrat for the nation's highest office since 1992. With both U.S. Senate seats on the ballot (as well as potential control of the chamber on the line), millions of dollars from both sides have poured into a state that reliably supported Trump in 2016.
Rep. Debbie Buckner, a Junction City Democrat who represents Meriwether County along with Minority Leader Bob Trammell of Luthersville, said that having Biden in rural Georgia sends a strong message that the Democratic Party is for all voters.
"It lets us know that we're being heard and that we're valued and that somebody knows we're out here," she said. "That doesn't always happen with candidates - most of them go to big areas where the big number of voters are."
Meriwether is a Republican county yet represented in the state House by Democrats, something Buckner noted would resonate with Biden's bipartisan push in his speech.
"I'm running as a proud Democrat, but I will govern as an American president," he said. "I work with Democrats and Republicans, I work as hard for those who don't support me as for those who do. That's the job of a president."
Biden promised to be a unifier-in-chief if elected, lamenting a culture where "too many among us spend more time shouting than listening" and vitriolic divisions rule political discourse.
"Many wonder, 'Has it gone too far? Have we passed the point of no return? Has the heart of this nation turned to stone?'" he asked. "I don't think so. I refuse to believe it. I know this country, I know our people and I know we can unite and heal this nation."
Much of the speech also hammered Trump's response to the coronavirus pandemic that has killed more than 225,000 people in the country, including a recent comment by his chief of staff that the administration was "not going to control" the pandemic.
"It's a waving of a white flag," Biden said. "I'm here to tell you we can and we will control this virus. As president, I will never wave the white flag of surrender."
Before heading to a get-out-the-vote rally in Atlanta, Biden said that his run for president was so he could unite and heal the country, citing a biblical passage from Ecclesiastes that says there is a season for everything, including a time to heal and a time to build up. 
As historic voter turnout continues in Georgia with a week to go before polls close, there will soon come a time to see how the race plays out.
Secondary Content
Bottom Content